How To Arrange Furniture in a Small Living Room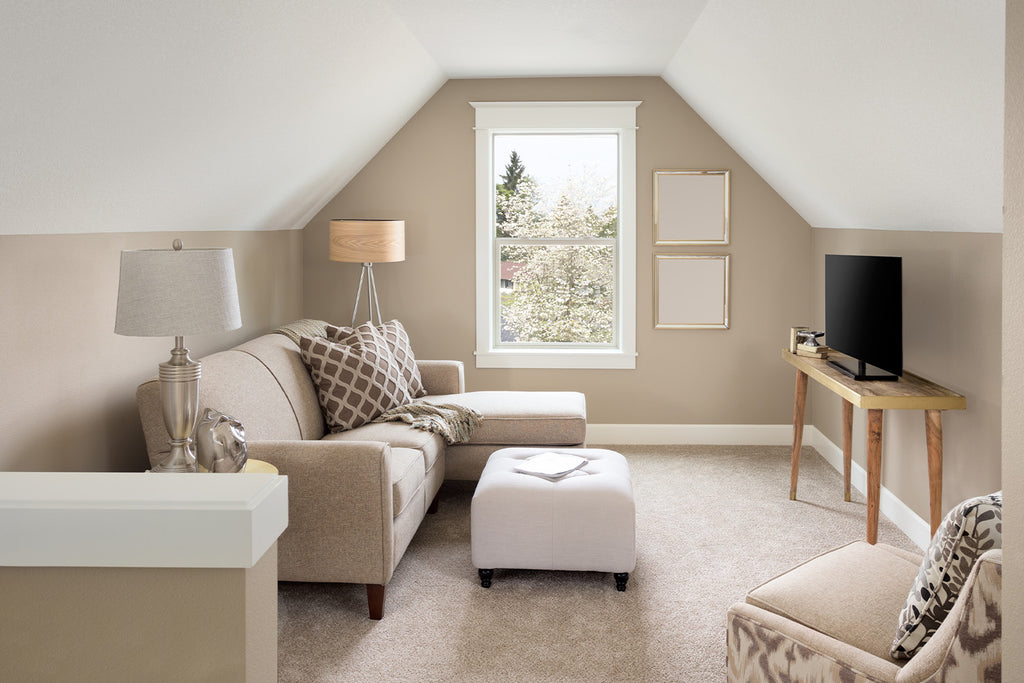 The living room is one of the most important rooms of your house. It's where you spend most of your waking hours at home, it's where you relax, and, well, it's where you live! But if you have a smaller living room, it can be difficult to arrange all of your fantastic furniture in a way that feels open and comfortable. 
Furniture arranging might not come naturally to some — don't worry, we're here to help. After you read this short article, you'll have a ton of important knowledge about arranging furniture in your living room and any other room in your house. 
The Function of a Living Room
Before we talk about specific tactics in interior design and furniture arrangement, we need to establish what the purpose of a living room actually is. This will help to guide us by getting our priorities in the right place. 
Watching TV
One of the main things everybody does in the modern living room is watch TV. It's a way to unwind after a long day, and so much of our entertainment and culture comes to us through television. It's a way to keep our kids occupied for a little bit while we do some much-needed work or rest. 
Because this is one of the main things we do in the living room, we need to make sure that our living rooms are laid out with TV time in mind. 
Hosting
When you have people over to your home, the group will typically end up spending time in the living room, whether it's two people or a whole party. People like to sit back on the couch with a drink to relax and talk about their lives, so it's important that there is a place for this in your living room. 
You also might want to serve up some appetizers in your living room for people to snack on. Ideally, you have a convenient place to put your snacks so people can dig in and enjoy them.
Relaxing and Lounging
Everybody has different ways that they want to relax. Whether it's lounging on the couch under a blanket while on your phone or propped up in a reading nook with a book and some cozy tea. 
Whatever way you like to recharge, you should set up your living room to serve that purpose well. It's your space, so arrange it in a way that fits your needs and desires as best as you can. Personalize it not only with your decor but also with your living room layout. 
General Guidelines on Interior Design and Home Decor
Believe it or not, maximizing space is important in all aspects of interior design, not just in small spaces. So, by diving into some general principles for interior design, we can learn some tips and decorating ideas for how to better utilize a small, narrow living room.
Feng Shui
One common interior design tactic that we get from our friends in the east is the idea of feng shui. It's a holistic approach to interior design that prioritizes a good flow of energy throughout the room and utilizes the space to fit the user's needs. 
One of the primary ways to help keep your space feeling open in feng shui is by utilizing what is called the commanding position. The commanding position is the most prominent, attention-grabbing point of the room. Most of the time, this location is on the other side of the room from the entryway but not directly in line with it, making it diagonal to the door. 
Put your most prominent elements of the room in the commanding position. Perhaps this is where you put your couch or sectional. If you'd like to prioritize TV watching, place your TV at this location. Your focal point of the room should be in the commanding position. 
Feng shui also utilizes color schemes to its advantage in a similar way to modern design. 
Color invokes emotion, and you can utilize that to make your small space feel bigger. White and other bright colors can make a room feel more open. Bright colors invoke happiness, dark colors shed a more formal aura, and earthy tones help to make a place feel cozy. 
Reduce and Organize Clutter
Clutter is the number one enemy of a small living room. It makes a space feel and behave smaller than it actually is. So, if you have a small living space, you should be sure to keep your room neat to prioritize living room furniture that has storage for everything you need in your living room. 
Coffee tables with drawers and cabinets, ottomans with inside storage space, couches whose cushions lift up for storage, shelving to keep art pieces and other important things. All of these can help maximize the space in your small living room. 
Tips for Maximizing a Small Space
Now that we've gone over a few guiding principles, let's talk through some practical ways that you can arrange your furniture layout to make your living room feel spacious and comfortable. 
Choose the Right Furniture
Bulky furniture that only serves one purpose can really hurt you in your arrangements, so there are some things you will want to prioritize and some you'll want to avoid. 
Avoid furniture with a lot of depth. Every inch matters in the length and width of your couch, so pick one that doesn't jut out too far into the room. Go for modular furniture that serves multiple purposes or can move around easily. 
For your smaller pieces of furniture, go for things on the smaller side that has round edges instead of sharp ones. A side table, end table, or coffee table with no corners can help give you those precious few extra inches of floor space. 
Maybe some of your furniture is getting in the way of your optimal layout. Perhaps that big sectional sofa you love so much could be replaced by a loveseat and a nice armchair or accent chair to make the seating area feel more open. Or perhaps you could opt for a modular couch with a chaise to get that sectional feel without using as much space. 
Floating Furniture
Placing a piece of furniture in the center of the room instead of against the wall, also called floating your furniture, can be a great way to add layers to the room and create more depth. 
For example, place your couch in the center of the room and leave a walkway behind it. Use a desk or long table to divide the room into two smaller "rooms" to make maximal use of the space. This isn't going to work well in every room (especially if you have a more narrow living room), but it's definitely worth a try. 
Floating furniture can also help to embrace the smallness of the room by creating a more cozy environment. 
Use Walls as Much as Possible 
Walls are your friend in living room design. While furniture placement is of the utmost importance, it's equally important that you use the room's vertical space, too. 
Take full advantage of the height of your room, creating storage all the way up to the top of the room if you can. Shelving units, bookcases, or floating shelves really work to maximize the space without having to shift furniture pieces around.

Also, make sure to decorate your walls to make the room feel more like you. Art walls can create a cozy environment that embraces the tiny space, or a stylish mirror can make the room look and feel way bigger than it is. 
Use Rugs To Help Section the Space
Rugs help to ground the space and provide a foundation for furniture pieces. Area rugs are especially important if you're opting for floating furniture. They help to state an area of the room and designate it from other parts. You can have one rug in the seating area and one in the walking space to divide the room effectively. 
Design for the Day-to-Day
When designing your living room furniture arrangement, it can be easy to get carried away. Many of us want to have a living room that seats almost 10 people so we can host parties and get-togethers in our conversation areas.
However, it might be good to accept that you just don't have enough room to arrange your room for parties. Instead, opt for a more open floor plan that is really well suited for your day-to-day needs. 
Then, buy a couple of folding chairs to break out for extra seating when you have company over. Get lots of seating on an as-needed basis rather than as a permanent installment. This simple living room layout idea will help you feel so much better about your room while still giving yourself the ability to host. 
The Small Living Room
Coming up with functional design ideas for a small living room is tough, there's no question about it. Thankfully, now you know everything you need to know to get this design project done. Take these tips and make your living room space cozy and comfortable without feeling crowded. You've got this!
If you need more information on interior design or are looking for a selection of amazing furniture and bedding, head to eLuxury for everything you need.
Sources:
Importance of Rugs for Interior Design | AA Home Network
Meaning, Principles & Elements of Interior Design | Indian Institute of Art and Design
Reasons Interior Designers Should Use Feng Shui Principles | Society of British Interior Designers