How To Decorate a Guest Bedroom for Friends & Family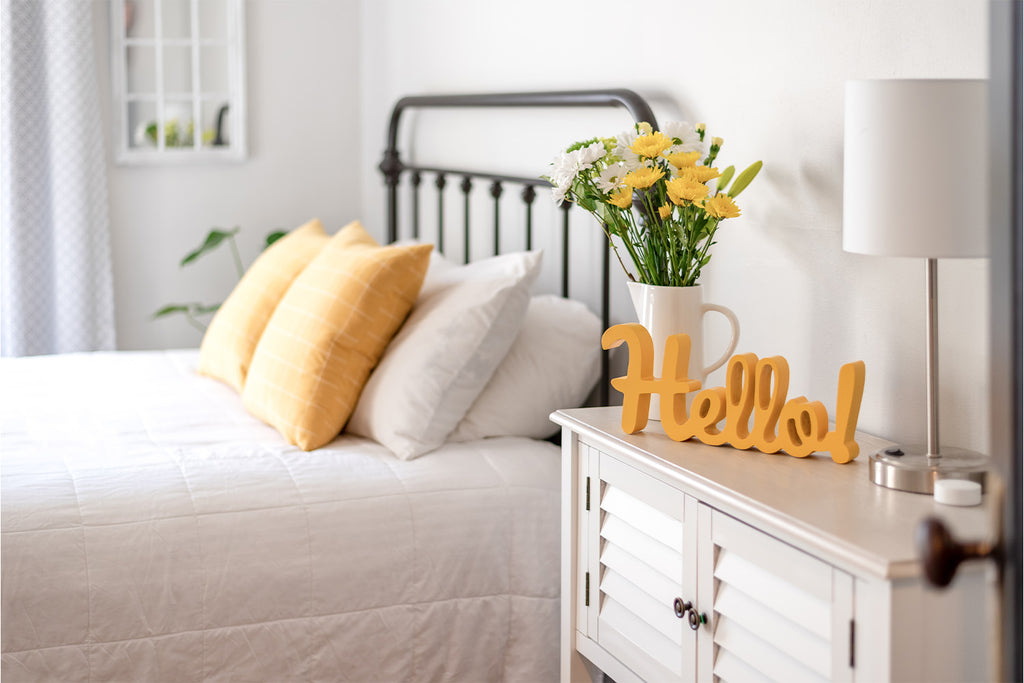 Hosting a close friend or family member in your home is one of the greatest joys in life.
Sure, sometimes it may feel a little stressful trying to make your guests comfortable, but remember that your family and friends are there to visit you — not for a five-star hotel experience. The companionship, late-night talks, and memories made together are what really matters. 
A guest room is what allows you to host somebody well. Giving people their own bed and space is a great way to show somebody you care about them, and making it a cozy, comfortable place to be will help them to enjoy their trip all the more. 
So today, let's talk about decorating your guest bedroom to make it the best place possible for your friends and family to stay. After taking in these decor ideas for bedroom design, you'll have loved ones itching to visit you. 
Create a Cohesive Theme
A great theme is the first step to creating a great guest room. Just like a master bedroom or a living room, you want the look of the place to be put together and cohesive. That's far better than just throwing a bunch of random old furniture into a room. 
So pick a style for your guest room. You don't have to go as far as themed restaurants do, but pick an interior design style and stick with it.
There are plenty to choose from: 
Scandinavian
Mid-century modern
Bohemian
Art deco
Industrial
Tropical
Farmhouse
The possibilities are endless. You can even opt to decorate your guest room based on the nearest upcoming holiday to make a fun and festive place that your guests will love. 
Make It Comfortable and Complete
You love your guests, and you want them to feel at home when they stay with you. So go to extra lengths to make sure that they feel comfortable in this room. 
Get a high-quality mattress with a comfortable mattress pad to help them sleep well. Decorate the bed with a stylish duvet cover and throw pillows. Get good lighting in the room to improve the atmosphere. Fill the walls with beautiful art and design elements. 
It's also a good idea to invest in quality furniture. Get a beautiful bed frame and headboard that match your theme and color scheme. Give them bedside tables or nightstands to place their phones on at night. 
A Full, Multifunctional Room
Your guests should enjoy being in this room. So a really important guest bedroom idea is putting in a reading nook, seating area, or even a small home office space. Your friends and family love you, but they might need some time to themselves on the trip. Giving them a space to relax and recharge or get some work done is a great way to make the room feel complete. 
So consider the layout of your room and set it up so that your guests can make full use of the space in more ways than just sleeping there. 
Give Them Everything They Need
If you've ever stayed at somebody else's place, you know that a traveler needs far more than just a bed to sleep on when they're on the go. Sleeping is just the beginning, so it's a great idea to add stylish furniture to your guest room that serves a purpose for your guests. 
For example, a dresser makes all the difference when you're traveling. Living out of a suitcase is never fun, so giving your guests an empty dresser or some storage space to put their clothes in will go a long way toward improving their quality of travel life. 
And to make it extra helpful, leave your guests some extra odds and ins to help them with their stay. Put some extra linens and towels in the bottom drawer of the dresser, and leave some extra toiletries on the side table or the bathroom so that they're not out of luck if they forgot something. 
You can also leave extra blankets at the end of the bed and even decorate the windows with blackout curtains so they can easily sleep in if they need to. 
Decorate Like You Mean It
You can add so many personal touches to the modern bedroom to make it feel more stylish and comfortable. Here are some guest room ideas for home decor that can spice up your room to really complete the theme that you picked. 
Accent Walls
Accent walls are a prevalent design idea for any room of the house, and the guest room is no exception. They bring a splash of life and color to a room and inject personality in a foundational way. They can make a room feel bigger, happier, more formal, or whatever you want. Just choose the color that fits the mood you want to create. 
Accent walls are best accompanied by other wall decors. You could add a few paintings to the wall, put a bookshelf or other storage piece on it, light the area with a nice sconce, or even place a nice reading nook in the corner. 
Gallery Wall
Another way to add personality and character to a room is with a gallery wall. A gallery wall is a combination of several paintings and/or photographs that are placed right next to each other to create a cohesive art installment. 
They go great on the wall behind the bed or next to a nice seating area. They make a room feel more lively and homey. 
Plants and Greenery
Another great guest bedroom decor idea is relatively simple: add some plants and greenery. Nothing breathes more life, coziness, and happiness into a room than a houseplant or two. Just remember to water them even when the bedroom isn't in use. 
And if you're looking for an even more personal touch, a bouquet of fresh flowers in a beautiful vase is a great way to say, "Welcome!" to your guests. 
Convert a Spare Room 
If you live in a city like Los Angeles or New York, where houses and apartments are small and don't have a lot of extra rooms or space, you may want to convert a spare room into your guest room, allowing you to use it for other things when you don't have guests staying with you. 
It's becoming common practice to have a home office space that can easily convert to a guest room. Daybeds are great multifunctional pieces of furniture that can be a seating area during the day and a bed at night. You could even opt for a murphy bed that folds up into the wall when not in use. 
Having a room that can serve double duty can be invaluable if you live in a small space, freeing you to be able to host when you need to but still have full ownership of your home when your guests leave. 
If you go this route, it's even more essential that you decorate this room cohesively. Both you and your guests are going to enjoy it, so it needs to be motivating, comfy, and spot-on. 
Go for Symmetry
In interior design, symmetry, and balance always help a room to feel open and put together. By reducing the visual clutter in a space in this way, you can make the room feel a lot better. 
For example, if you choose to have two twin beds as your sleeping arrangement, use them to make symmetry in the room by putting them equidistant from each wall. 
On the Subject of Beds
Beds are what make a guest room a guest room, so it's important that you choose your sleeping situation carefully for the guest room. When selecting a bed, think about what kinds of guests typically come to stay at your house. 
Do you host families or just couples? Do you host individuals for sleepovers? Are you going to be renting this room out on Airbnb or VRBO? Ask yourself these questions and then choose the bed frame that best fits your individual hosting needs. 
Keep the Clutter Out
Clutter is your enemy when it comes to any room, and your guest room is no exception. It's really tempting to use your guest bedroom as a landing zone for any random knick-knacks, furniture pieces, and decor that doesn't have a place in the rest of your house. Sometimes it may even act as an impromptu storage room. 
To ensure your guest room is a comfortable place for your friends and family, try to avoid all of this clutter. Instead, keep it neat, get rid of anything that doesn't support a comfortable atmosphere, and you'll have a great guest room.
The Guest Bedroom of Your Dreams
Now you have the tips and tricks you need to create the guest bedroom that your friends and family deserve. Take this info and give your guest room a makeover. Your loved ones and travelers will thank you. 
For more help with interior design and a great selection of bedding, furniture, and more, head to eLuxury.
Sources:
8 Interior Design Styles You Can Do to Refresh Your Home | Academy of Art University
Are houseplants good for your mental health? | Ohio State Medical Center
Meaning, Principles & Elements of Interior Design | Indian Institute of Art and Design