How To Make a Bed: 5 Steps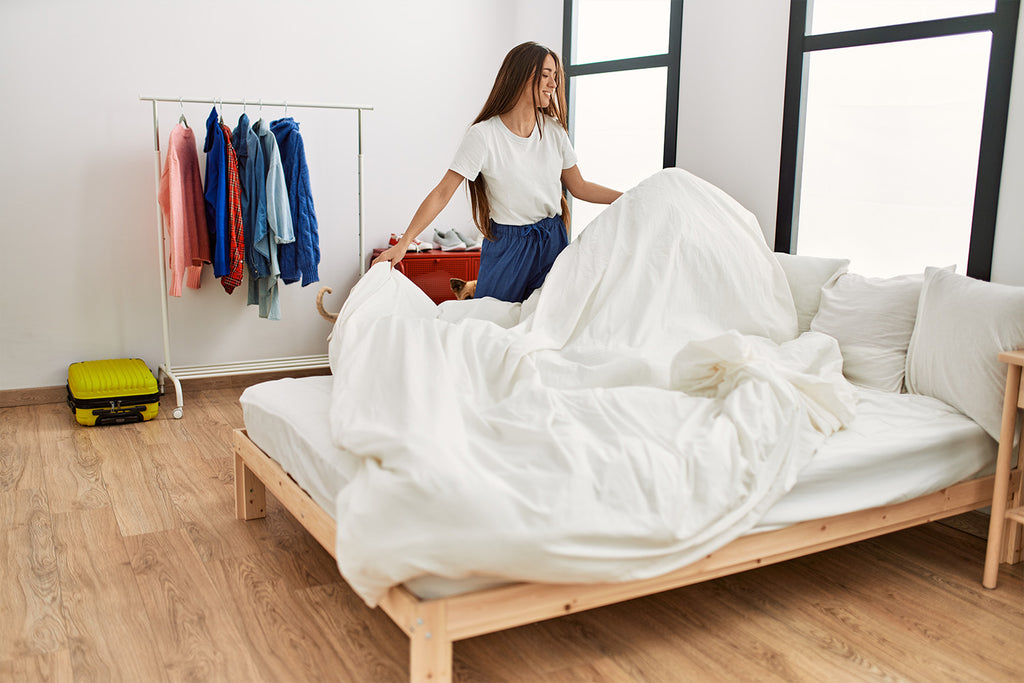 Making your bed: the ancient morning ritual our parents pleaded with us to accomplish from an early age. If you're anything like most people, making your bed can be a bit of a hassle, and you probably don't do it every day. 
But making your bed is a great way to start off your day. There are so many reasons why making your bed the correct way can help you to live a better life, even if it's just in a small way. 
So today, we're going to bring up that slightly annoying subject and talk about making our bed. After this short article, you'll learn why making your bed is essential and how to do it in the best way. 
Why Make Your Bed Anyway?
Bed-making is such a chore. If you're going to get back into your bed that night, it can seem a little unnecessary to put it all together to look nice and neat. It may feel like it doesn't matter, but making your bed can make a big difference in your life.
Here's why you should do it:
For Guests and Visitors
It might not be often that a guest in your home comes to look in your bedroom, but you never know. You don't want your guest to happen to wander into your bedroom and see an unmade bed and a messy room. It's just not a good look. 
And if you're having a romantic partner over, you definitely want the bedroom to look spick and span! 
Of course, if you're having family or friends visiting, you'll need to make the guest bed. It helps them feel welcome and taken care of. 
Start the Day off Right
Making your bed at the beginning of each day is the perfect way to start your day. Instead of rolling out of bed and flying out the door, taking a breath to make things neat and tidy sets an amazing tone for the day. 
A well-made bed starts the day off with productivity, organization, and a clear mind. Routines like this are a great way to put yourself in a good headspace for the rest of the day. 
General Bed-Making Tips
Before we get into the specific steps for making your bed, here are a few quick things to think about to guide you in the bed-making process.
Gather Everything You Need for Sleep
Make sure that everything you sleep with every night is there when you make your bed. All your pillows, blankets, and other accessories you sleep with should be easily accessible. So make sure you use all of them in your bed-making.
Take Your Bed Frame Headboard Into Account
If you have a headboard, make sure your bedding fits in with your headboard and frame into account. For starters, the colors and style should be similar to create a cohesive look that helps to create an atmosphere for the room. 
Second, if you have a large, stately headboard, you might not need as many throw pillows, quilts, duvets, or other visual fluff. You can make your bed look great even with just a few neat elements.
At the end of the day, consider the style of your room and match it. If you have a minimalistic room, don't use as much decor or accessories. If you have a farmhouse-style space, purchase quilts and blankets that match that style. Make your bed look in a way that makes you happy.
Hospital Corners
Knowing how to fold hospital corners will help you have an easier time making your bed. Hospital corners are a special way to fold your top sheet on a bed that makes a tight, neat look.
To make hospital corners, start by placing your flat sheet on top of your bed in the position you want it to rest in. Then, tuck the bottom edge of the sheet under the bottom of the bed. 
Now go to the side and take the bottom corner of the sheet and place it on top of the mattress to form a 45-degree angle. Tuck in the overhang, and then fold the 45-degree angle piece over the side again to let it hang. The folded edge should be in line with the vertical corner of the mattress. 
Now, tuck the side of the sheet in along the side of the mattress, starting at the end of the bed. Repeat on the other side.
How To Make Your Bed
Now, let's get into the nitty-gritty of making your bed. These are all the steps you'll need to make your bed the right way every time.
1. Strip Your Bed
Today, we're going to start with stripping your bed. On a day-to-day basis, this step is unnecessary. But you should change your bedsheets about once every week or two, so we've included this step for the times when you're changing into new, clean sheets. 
Take off your decorative pillows, comforter, quilts, duvet covers, and throw blankets. Set them to the side (wash them if they need to be washed). Now remove your sleeping pillows, take the pillowcases off, and remove the top sheet and then the fitted sheet. 
Throw this sheet set in the wash and grab your clean cotton sheets with a high-quality thread count and bring them to the bed. 
2. Put on Your Fitted Sheet
Now grab your fitted sheet. This is the sheet with the elastic band in it that holds it firmly to the bed. Make sure your mattress pad is centered on your mattress, and then place your fitted sheet over the bed. 
Find the seams in the corners of the fitted sheet and bring them to each corner, tucking the elastic portion of the corner under the mattress one at a time. Check that it's securely tucked so that it doesn't come undone as you tuck in the other corners. 
Also, if you have a box spring, ensure the sheet isn't tucked underneath your box spring. Your box spring shouldn't have any sheets on it. In addition, check that if you have a bed skirt, you don't accidentally move the skirt while tucking in your sheets.
3. Put on Your Top Sheet
Now it's time for the top sheet. Drape your top sheet over the bed and keep the top of the sheet perfectly aligned with the top of the bed. It should be centered on the mattress, with equal amounts overhanging on each side of the bed. 
Now follow the steps to make hospital corners for your sheets. Tuck in the bottom edge, use the hospital fold in the corners, and then tuck in the sides, leaving the top untucked. After that, fold the top edge of the sheet over a couple of inches to create a neat crease. 
4. Time for Your Blankets
Now it's time to get creative. Everybody sleeps with a different type of blanket or bedspread. Some people sleep with a nice comforter and duvet cover, others sleep under a quilt or two, and others sleep with a different setup altogether. 
Whatever your setup is, make it look neat. Lots of people opt for a duvet over the whole bed, and a quilt folded neatly at the foot of the bed or vice versa. 
Double-check that your bedding is centered on the bed with equal overhang on both sides. Adjust any overhang at the head of the bed so that getting in and out will be easy.
5. Pillow Arrangement
Now that your bedding is in place, it's time for the pillows. On the subject of pillows, if you're unhappy with the colors or style of your bedding, getting pillow shams for your throw pillows is a great way to change up the look for a low price. 
First, place down the sleeping pillows that you actually use to support your head at night. You can either lay them flat or lean them against the wall or headboard. Now arrange your decorative pillows on top. Go for symmetry to create a clean look. And put the bigger pillows in the back and the smaller ones in the front. 
Making Your Bed Every Day
And there you have it, a perfectly-made comfy bed. You can do this no matter what size bed you have, although sometimes bigger beds are tougher to make. You have the know-how to make whatever bed you have before you, whether it's your bed, your children's bed, or a guest bed. 
For more information on bedding and for a great selection of mattresses, mattress toppers, furniture, and more, head to eLuxury for everything you'll need. 
Sources:
How Daily Routines Can Benefit Your Mental Health | Resources to Recover
How often should you wash your sheets? | Ohio State Medical Center
How to do a hospital corner (Mitre sheets) on a bed | Professional Executive Housekeepers Network