How to Roll Your Towels Like a Spa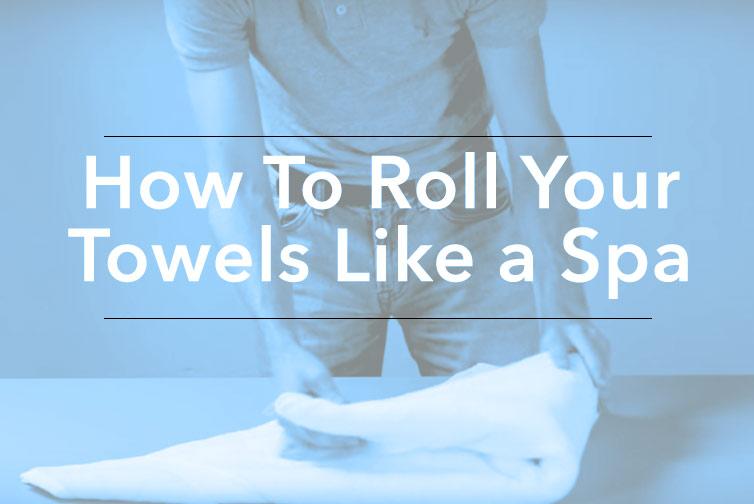 Are you looking to create the perfect look in your bathroom, but aren't quite sure how? Maybe your closet full of towels lacks personality. If this is the case, then you should learn how to roll your towels like they are straight from the spa. 
Keeping your towels rolled elegantly will elevate the look of whatever space you keep them in, whether that be on a shelf in your bathroom or over the top of someone's bed in the guest bedroom you have. 
With these simple steps, you should be able to fold your towels like a pro in no time! 
Why Rolling Your Towels Like a Spa Is Important 
You may be wondering: what difference does it make whether or not my towels are rolled like they are straight from the spa? It may seem like an unnecessary task when you first think about it, but that is far from the truth. 
Rolling your towels like this can make you feel like you're out at the spa every day from the comfort of your own home. This will create a better experience for you and anyone who comes to your bathroom. You deserve that luxurious feeling every time you want to head to the shower, so allow yourself to feel like you are being treated every day. 
How To Roll Your Towels Like They're From the Spa 
It may seem daunting and complicated when you are beginning to process, but just stick to these steps, and you should have no problem rolling your towels.
1. Fold the Towel In Half 
Grab the bottom of the towel, and fold it over the top half of the towel. Make sure you have folded the towel vertically as opposed to folding it horizontally.
2. Fold the Corners 
Once the towel is folded in half, grab one of the bottom corners and bring it across the towel until it lays parallel to the far edge. 
3. Flip the Towel 
Flip the towel over on its opposite side. Before doing so, make sure that you have completed the second step correctly, with some space left above where you folded the towel. 
4. Fold in the Corners 
Once the towel is flipped over, you should have a triangular shape. Take one corner from the bottom of the triangle and fold it over. Take the other corner on the bottom of the triangle and fold it atop the current fold. This should leave you with a shape that looks something like a house, with a square on the bottom and a triangular/pointed top. Then, flip the towel over on its other side. 
5. Begin Rolling the Towel 
This is the simple final step. Once the towel is flipped over, grab the end with a flat edge and tightly roll it all the way up to the pointed top of the towel, and there you have it: a towel that looks like it came right out of the spa. 
Simple enough, isn't it? Place these towels wherever you would like throughout your home, but make sure that they are somewhere where you can show them off to your guests. Perhaps keep an extra hand towel in the bathroom rolled up in such a way or have a couple outside your shower so your guests can see how elegantly rolled your towels are. 
The Type of Towel You Use Matters 
You can use this rolling method with a number of different towels you have lying around the house, but the more high-quality the towel, the more easily aesthetically pleasing the roll of towels will be. Such a technique should be used on the very best, anyways. Keep on reading to learn more about some eLuxury's best towels so you are only using this technique on the finest products. 
Grams Per Square (GSM) 
Before we take a look into some of the finest towels that we offer, let's break down what GSM really means when it comes to our towels. GSM refers to grams per square meter and it measures the towel's weight. 
A general rule of thumb is the higher the GSM, the higher quality the towel will be. A high GSM means you'll be buying towels that are thicker, softer, and absorb water more easily. 
eLuxury's Towels
eLuxury has multiple sets of towels that come in a variety of colors, sizes, and quantities. If you are looking for a simple bathroom set, our 600 GSM 6-Piece Long Staple Combed Cotton Towel Set comes with six towels. Two of them are bath towels, two are face towels and the remaining two are hand towels. This set is great for couples or pairs of roommates. 
If you have a larger family and are looking for a set of towels that has more to offer in terms of quantity, eLuxury's 900 GSM 8-Piece Long Staple Combed Cotton Towel Set should do the trick. The set is equipped with four bath towels compared to our six-piece set, so this would be perfect for those of you with a family at the house or just a larger headcount in your home. 
Maybe you already have face and hand towels, or are just looking for a set of bath towels. Don't worry; we have you covered. We have our 900 GSM 2-Piece Long Staple Combed Cotton Bath Towel Set which just comes with two of our highest-quality towels. 
Final Remarks
Now that you have this guide, folding your towels to make them look like they are directly from the spa should be no problem at all. If you purchase some of our towels from eLuxury, the spa will seem like it is right in the comfort of your own home.