How To Wash a Mattress Encasement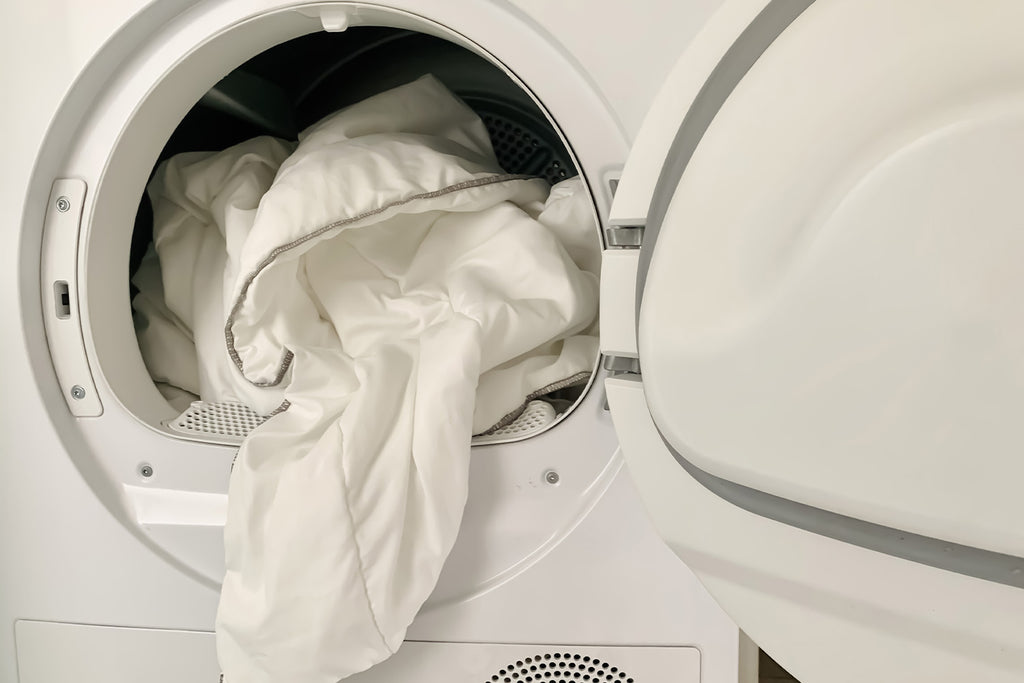 Keeping your sleeping setup clean is an incredibly important thing. You spend hours and hours each night resting on your mattress and curled up underneath your bedding, so you'd better hope that everything there is sanitary and clean for you. 
If you really want to help keep your mattress clean and last for the long run, you may have considered or have already bought a mattress encasement. They're an excellent investment for each of those things. 
But now you need to keep your mattress encasement clean. So today, we're going to teach you how to do just that. By the end, you'll be ready to clean your new mattress upgrade for better sleep and peace of mind. 
What Is a Mattress Encasement?
Let's start by talking about what a mattress encasement is. In short, a mattress encasement is a mattress protector that completely encloses your mattress, protecting it on all sides from dirt, grime, and more. 
It's essentially a protective barrier that keeps your mattress safe from the elements. Without one, lots of the dirt that gets through your fitted sheet lands on your mattress and stays there for who knows how long. 
What Are the Benefits?
For starters, mattress encasements help you rest easy knowing that you're sleeping on a super clean surface. Believe it or not, there's a lot of stuff that can dirty up your mattress in a hurry. 
The biggest culprit is actually your own skin. Your body sheds approximately 500 million skin cells every single day! That means during the seven to eight hours you're asleep, you're shedding somewhere around 166 million skin cells into your PJs, bedding, and mattress. Night after night that adds up quickly. 
There's also the issue of dust. Dust is naturally going to accumulate on your mattress. Not only does dust gather on the top surface from the usual day-to-day activities, but it also gathers on the underside of your mattress. 
If you're like most people, you don't deep-clean under the bed super often, so lots of dust can gather there, especially if you have a mattress lying directly on top of a platform bed. 
Pet dander, drink spills, dirt you gathered on your body throughout the day, and more all end up on your bed. A mattress encasement acts as another layer between you and your mattress that you can wash more regularly and far more easily than your mattress. 
This will not only give you a more sanitary sleep setup, but it can also extend the life of your mattress and reduce the amount of damage it accumulates over the years. 
Encasement vs. Protector
Mattress encasements aren't the only way to keep your mattress cleaner. There are also mattress protectors. Both of them serve the same purpose. 
The main difference is that an encasement covers each side of your mattress, top, bottom, and sides. A mattress cover, on the other hand, only covers the top and sides of your mattress. It's designed much like a fitted sheet, with an elastic band that holds it on the mattress. 
Both do well to keep dirt off the top of the mattress, but only the encasement can protect the mattress from the dirt that would get onto it from the underside. 
Are They Comfortable?
Many people might have bed memories associated with mattress protectors and encasements. Maybe your mind goes back to a time when your parents forced you to sleep on top of an uncomfortable, plasticky covering because you wet the bed too much. Those things were terrible to sleep on, and they made so much noise throughout the night. 
But we've come a long way since your bed-wetting days as a child. Modern technology has helped us to create waterproof mattress encasements with fabric. These incredible encasements are so much more comfortable than those plastic ones. They can even add to the comfort of your bed. 
Are They Actually Waterproof?
The eLuxury mattress encasements are truly 100% waterproof. It will help protect your mattress from stains, moisture, dust mites, bed bugs, skin cells, and pet dander. 
For starters, the fabric is completely waterproof, but even the zippers of the encasement are made with a unique "v-lock" velcro that perfectly seals the zipper so no liquid can get inside. 
These encasements are perfect for people trying to prolong the lives of their mattresses to save them money and headaches in the long run. 
So How Do You Clean Mattress Encasements?
Now that you understand what mattress encasements are, let's talk about how to clean them. After all, the whole point of a mattress encasement is to be able to clean your sleeping surface better, so let's get into it. 
1. Remove the Mattress Encasement
First things first: We need to take the encasement off of the mattress. Remove all of your bedding so you can access the encasement. Then undo the velcro that seals in the zipper, and unzip the encasement. 
Once it's all unzipped, slide it off of the mattress, being careful not to rip it by pulling it too hard or getting it snagged on the bed frame. 
2. Remove Any Stains
Now lay your encasement out flat and check every surface for any stains that might be on it. Drinks, blood, urine, and other liquids can all leave stains on your encasement, but that just means it's doing its job of protecting your mattress. 
If there are some stains, there are two ways to go about getting them out. First, you can use enzyme-based stain removers. Enzymes are natural substances that can remove the fine particles left behind by a stain. Brush some of the stain remover into the stain and let it sit for about ten minutes. 
Alternatively, you could use a high-quality laundry detergent instead of the stain remover, still brushing it in and letting it sit for ten minutes. 
3. Choose Your Detergent
The type of detergent you need for your encasement depends on what kind of encasement you have. If your encasement is just made of fabric, worry not. Your regular laundry detergent will work great. 
If you have a down encasement or mattress protector, you'll need to get a detergent that is specific for down products. These special detergents will clean the product while protecting the down feathers so that they can still repel moisture. 
4. Put It in the Washer
Now that you've selected your detergent, it's time to throw your encasement in the washing machine and use that detergent to wash it. It's probably best if you wash the mattress protector by itself, with no other clothes or sheets in the wash with it. This will help protect the encasement. 
Also, it's best to use the cold water cycle, but warm water should also be fine. And finally, use the normal or bulky items setting. This has a slower final spin cycle, which will help the washer stay balanced throughout the final spin. 
5. Dry Your Encasement
The method you use for drying will depend on what kind of mattress protector or encasement you have. Let's walk through them all. 
If you have a normal fabric encasement, it's fine to throw it in your dryer on a normal setting. But if you have a down protector, you'll want to use low heat and add some wool dryer balls to the load to keep the down feathers from clumping up in one place. 
Finally, if you have a protector or encasement with polyurethane, like ours, you should not put it in the dryer at all. It needs to hang up and air dry. This will take longer, but if you put it in the dryer, the encasement will get damaged. 
6. Make Your Bed Again
Now that your encasement or protector is all dry, it's time to put it back where it belongs. Put your encasement back on the bed, and then make your bed up with fresh, clean sheets. Now you have a perfectly clean bed and mattress ready for sleeping. 
How Often Should I Wash My Mattress Encasement?
As we've talked about before, your mattress can get dirty in a hurry, and your encasement is no different. To keep your mattress truly protected and your encasement healthy, it's best to take it off and wash it every month, but if you have allergies, you could benefit from washing it every two weeks or so. 
A Clean Mattress and a Healthy Sleep
Now you know everything you need to know about mattress encasements and how to clean them. With this simple tool, you can protect your mattress from any dirt, dust, or spills and help it to last for the long haul. So go and enjoy a nice, clean sleep!
If you're interested in mattress encasements, protectors, and a great selection of high-quality bedding and mattresses, check out eLuxury. 
Sources:
FAQ: Acrylic, Polyurethane and Silicone Proofing Techniques | Bushwalking NSW
Laundry Detergent Enzymes | Center for Research on Ingredient Safety | Michigan State University