Introducing the NEW eLuxury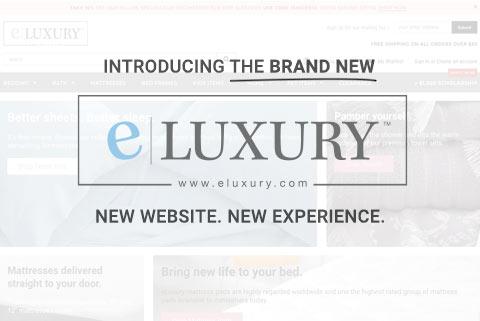 Web design trends and standards are fickle things. What works one day is obsolete the next. As an e-commerce company, we're constantly trying to find ways to improve our websites to better serve you, our customers. How can we make products easier to find? How can we keep you engaged with our site? There are a thousand different blogs on the topic and a thousand more user experience "gurus". In the end, my best route was going with my gut.
As the lead in-house designer here at eLuxury, I've been looking at essentially the same website design every day for three years or so. The thought in the forefront of my mind became "this site got us this far, but what can get us further?". Bearing that in mind, I set forth researching ways to better our website, our brand, and how you interact with each. After about a month of Googling, researching, designing, refining, and working with our programmer, we finally produced a product our team was happy with. As of this past Friday, May 11, I'm happy to say that eLuxury's facelift is live. What's new? Let's run through all of the new features together as we go about introducing the new eLuxury! 
Right off the bat, it's clear to see that this is a brand new website -- not merely a slight revision. For simplicity's sake, I'll break this down into key points:
A lot of attention went into the product collection pages. The goal here was to make it as quick and easy as possible for you to find what you're looking for. In addition, it also makes it simple to "window shop" if you're not 100% on what you're looking for.
 Now that you've made your way to a product you're interested in, we've made it easier to find the info you want to know as well as key bits about the ordering process and related products.
 Here I'll summarize changes made across the website that do not necessarily fit into any one category.
 All in all, this new look for eLuxury is a top-to-bottom overhaul. Overall, the design is much cleaner, modern, and reflects our brand name. This site quite simply says "luxury", and that is exactly what you get when shopping with us. I am very proud to roll it out and allow you to shop, explore, and let us know what you think! In the coming days we will continue to improve, expand, and add new features. Welcome to the brand new eLuxury 2.0!