10 Inch Gel Memory Foam Mattress Vs. 12 Inch Memory Foam Hybrid Mattress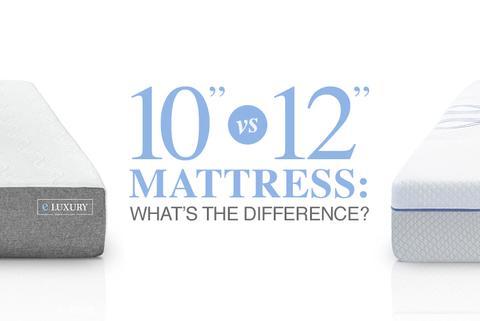 When you think of a comfortable night's sleep, what product jumps out to you as the most influential in achieving this goal? ANSWER: The mattress, of course! 
Your mattress is the base of comfort upon which other bedding, such as pillows, sheets, and comforters, build. Think of it as the crust of a delicious pizza. If the crust of a pizza is bad, it doesn't matter how great the toppings are; the pizza is no good!
It is essential to find a mattress that fits your sleeping style, as it can be frustrating and expensive to try and make your uncomfortable mattress work well for you. Here at eLuxury, we carry two different mattresses to provide comfort to a wide arrange of our customers! 
We present to you our new product comparison mattress review to help you choose which is best for you. Take a look at our exploration of the 10" Gel Memory Foam Mattress vs. the 12" Memory Foam Hybrid Mattress. 
10-Inch Gel Memory Foam Mattress 
Our 10" Gel Memory Foam Mattress is the first mattress in our lineup. This is the best-selling memory foam mattress we have ever carried! It is a two-layer mattress, with the bottom 7'' of the mattress being a firm 3.0 lb memory foam. 
This base layer of foam helps to strengthen the mattress and keep the sides rigid when sitting on the side of the bed. It also helps to provide support for your spine to prevent any backaches. This extra thick layer of high-quality foam serves as the perfect foundation and support layer for the comfortable top layer. 
The upper layer of the mattress is a 1.8lb density 3'' gel-infused memory foam. The beads in this foam helps to keep the bed from retaining excess body heat by dispersing it evenly. This comfort layer keeps the mattress soft and comfortable and keeps your body cool at night. 
All of this works together to give you a medium-firm and relatively thin mattress. Because of its firmness, you're going to experience a bit less sinkage, making for easy body position adjustments throughout the night. Can you believe that just two foam layers can accomplish all that?
Our 10-inch mattress is considered to be a 7/10 on the firmness scale and is the best memory foam mattress for stomach sleepers, but can work well for people with any type of sleeping position.
12-Inch Memory Foam Hybrid Mattress
The second mattress that we offer is our 12" Memory Foam Hybrid Mattress. This 12-inch mattress has four different layers to provide maximum comfort. The bottom 7.5 inches of support foam act very similarly to the support layer of the 10-inch mattress as its primary job is to help support you while you sleep. The next layer is 1.5'' of individually encased micro coils. This layer helps to provide additional bounce to your mattress and improves the airflow. 
By integrating coil technology into this mattress, we can increase its softness and the amount that the mattress contours to your figure. Because they're individually encased, they are loud and squeaky like normal innerspring mattresses. By combining these two mattress technologies, we can create one of the best mattresses on the market. 
After the coils, we have a 1'' layer of latex that helps reduce the recovery time of the bed. With faster recovery time, it minimizes that "stuck" feeling you get when changing positions. The top 2'' of Gel Memory Foam adds additional softness to the bed for comfort, while the infused gel beads help to reduce heat retention in the mattress. 
This bed uses every bit of its extra mattress thickness to give you more features that make your bed softer than thinner mattresses can. The result is a sturdy, yet cushy mattress. 
Our thicker mattress is considered to be a 5.5/10 for firmness and is the best memory foam mattress for side sleepers to help cushion shoulders and hips. It is also a favorite for those who enjoy a soft mattress for their optimal night of sleep.
The 10-Inch vs. the 12-Inch
Which mattress should you get? Well, that all depends on your specific needs and preferences. 
If you're a stomach or back sleeper or if you're a person who likes a relatively firm mattress to sleep on night after night, then the 10-inch mattress is the pick for you. If you love softer beds, the 12-inch provides the perfect harmony between softness and support, so that's the better option for you.
Why Gel Memory Foam?
Memory foam is one of the most popular modern mattresses out there. But why is that the case? And why is gel memory foam the best mattress to go for? 
Memory Foam
Memory foam has been the trending mattress for the past couple of decades. More and more people are changing out their innerspring mattresses and box springs for memory foam. And many more are putting foam mattress toppers on top of their current mattress. 
The reason for this is that they are the best mattresses for supporting the big pressure points in your body: your hips, your shoulders, and your back. By contouring your body, high-quality foam mattresses can provide relief from aches and pains far better than standard mattresses. This pressure-relieving quality can improve your sleep quality by meeting your sleep needs. 
On top of that, memory foam mattresses don't use a box spring, so they can rest on platform bed frames with no mattress foundation. This lowers the height of your bed and makes it more low-profile, putting it more in line with modern design styles. 
Gel Memory Foam
All of those benefits sometimes come at a cost. These are thick mattresses with dense material, so standard memory foam traps body heat and can increase your body temperature at night. This can be bad for your sleep and make it not as restful as it should be. 
That's where gel memory foam comes in. Gel memory foam uses gel beads to widen the gaps between the foam molecules, allowing more airflow throughout the mattress. This makes the mattress far more breathable, which can help lower your body temperature to the ideal range of 60 to 70 degrees Fahrenheit. 
This unique technology still maintains the benefits of memory foam, from support to reduced motion transfer, but adds a quality that standard memory foam was missing. 
Gel memory foam is the best of both worlds. It's the perfect mattress for average sleepers of any body type, and it gives you a sleep surface that your body and joints will thank you for. That's why both our 10-inch memory foam mattress and our 12-inch memory foam hybrid mattress are made with gel memory foam. 
Innerspring Mattresses
Why not an innerspring mattress? Well, for starters, you're going to need a box spring for this mattress, increasing the visual footprint of your bed. Modern beds tend to be low-profile and low to the ground, which can be tough to accomplish with a thick box spring.
Second, innerspring mattresses have much lower lifespans than memory foam ones. The springs inside them will eventually lose their tension, causing the mattress to sag and not support you as it needs to. This can lead to back pain, joint pain, and more if not taken care of. 
On top of that, innerspring mattresses can get pretty noisy. The springs inside squeak around as you move in bed, which doesn't have any practical drawbacks. 
Buy Your Mattress Online Risk-Free!
While buying a mattress online can be scary for some consumers, we find it to be one of the most convenient ways to shop. Your mattress is delivered directly to your door in a box and, once opened, expands quickly so that you can enjoy your new slice of paradise. Our memory foam mattress reviews that come directly from our customers have spoken, and they are getting some great nights of sleep! 
Let's face it: A new mattress is a pretty big purchase, so we want to ensure that our customers are satisfied. We offer a 120-day return policy to give ample time to try out the mattress. If it does not work out well, we have it picked up from your home for a full refund! 
Our goal is to ensure that our customers are 100% satisfied with their new memory foam mattresses. We also offer a 10 Year Limited Warranty on both mattresses, so this is truly a risk-free purchase! 
If you are debating between the 10" Gel Memory Foam Mattress vs. the 12" Memory Foam Hybrid Mattress and have questions, please contact us directly at service@eluxury.com or by phone at 1.800.977.7433! 
Have you purchased one of our mattresses? Let us know what you think in the comment section below!
Sources:
Memory Foam vs. Hybrid | Sleep Foundation
What Is a Mattress Pad? | Healthy Americans