How To Choose the Perfect Mattress Pad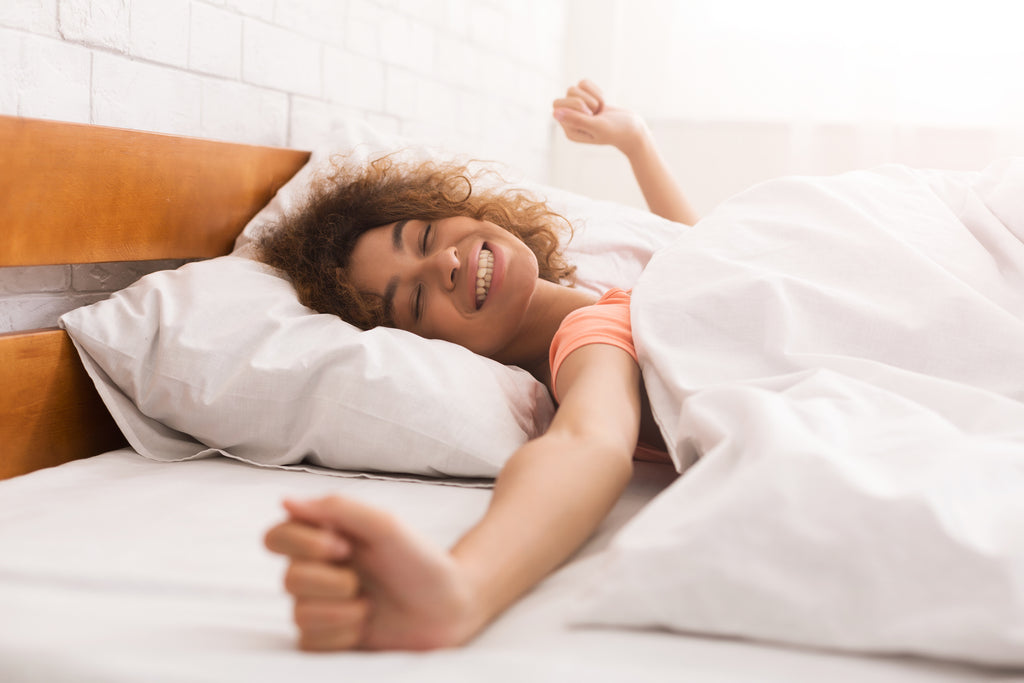 Getting a good night's sleep is important to our physical and mental health. It affects how we think, function, and feel every day. Therefore, finding the right materials for your bed is vital in gaining the quality sleep you need to thrive. 
Mattress pads can provide you with the support that your usual mattress and bed sheets may not give. Want to learn more about how a high-qualitymattress pad can help improve your quality of sleep — and what else it can do for you? 
Keep reading for our exclusive guide to choosing the best mattress pad for your precious nights. 
What Is a Mattress Pad? 
We all know what a mattress is, but what is a mattress pad? 
You can think of it as a complementary bedding layer that provides support, protection, and comfort for a good night's sleep. 
Mattress pads vary in thickness, material, and size depending on your personal preferences and bedtime needs. They sit on top of your mattress and below your sheets. 
Since mattress pads come in a variety of different sizes and thicknesses, it's essential to know the different types of distinctions among the different types. We'll break it down further for you, so you know exactly what you'll be purchasing when looking for that extra layer of comfort to elevate your sleeping experience. 
What Is the Purpose of a Mattress Pad?
So, what is a mattress pad used for? Sometimes, our usual mattresses and bed sheets are not enough for our bodies; they don't provide the necessary support that we need. Thus, mattress pads serve a variety of valuable purposes: 
They provide extra cushion to a firm mattress.


While they are not exactly the same thing as mattress protectors, they can still help to create a barrier against allergens like dust mites, as well as dead skin and stains. Like a traditional mattress cover, mattress pads can also provide a barrier of protection against bed bugs.


They add a longer lifespan to your mattress.


Depending on the material, they can even work to relieve small amounts of back pain within the body. 
Over time, your entire mattress can lose its quality. Oils and dead skin cells from our bodies, grime, and dust mites accumulate, adding weight to our mattresses. 
As a result, they lack the support needed to provide a comfortable night's sleep. Although your bed sheets may be soft, depending on the material and thickness, they cannot provide substantial insulation for your body, nor can they sufficiently protect your mattress. 
Why Use a Mattress Pad?
So mattress pads add longevity to your mattress and enhance the overall comfort of your bed. Why use a mattress pad? Here are some reasons: 
If you are unhappy with your current mattress, a mattress pad can be a short-term solution to add comfort to an older mattress.
It's also a more cost-friendly solution as opposed to tossing out your whole mattress for a new one. As we said, while it's a short-term solution, adding a mattress pad to your old mattress can make it feel new again.


If you've made a large investment in a new mattress and want to properly protect it so it lasts a long time, a mattress pad might be a good option.


If you're having friends over, adding a mattress to a roll-out bed, inflatable mattress, or futon will help create a more comfortable nest for your guests. 
Moreover, mattress pads offer additional advantages when added to an innerspring mattress:
They can be easily removed and laundered.
They can help reduce unwanted noise on a mattress.
They are portable, making them easy to move and transport around the house.
They are generally inexpensive.
How To Choose the Right Mattress Pad
As there are several types of mattress pads on the market, choosing a quality mattress pad entails understanding the types of options available in terms of style, mattress size, and features.
Thread Count
Thread count refers to the number of threads per square inch of fabric. Similar to sheets and comforters, a higher thread count indicates better quality and durability of the mattress pad. It also indicates a tighter weave, which will preserve the fill and keep debris at bay. Thus, thread count is an important factor when looking at mattress pad options. 
Be wary of mattress pads that have a thread count that seems incredibly high. While a general rule of thumb is the higher the thread count, the higher the quality of the product, there is a limit on the quality increase. 
Products with a thread count higher than 1,000 may not be superior, as these products are often made in such a way the overall quality decreases while the number of threads goes up. This tactic serves to get customers to believe they are purchasing a better-quality product. 
Again, if it has a high thread count, you should be safe; just stay away from anything with numbers that seem too good to be true. 
Materials for Mattress Pads: FAQs and Buying Guide
Mattress pads come in different types of materials and thickness levels. The thickness of mattress pads can range anywhere from one-quarter of an inch to five inches. 
Some are quilted with heavy padding, while others are only a flat barrier between the fitted sheet and mattress. If you want a pad simply to protect your mattress from wear, then purchasing a thin pad is a smart choice. And if you are looking for both protection and comfort, then consider looking into pads on the thicker side. 
Cotton
Soft, machine-washable, and long-lasting cotton mattress pads are a convenient and durable material choice. They often come quilted and thin, providing the right protection for your mattress.
Cotton is also naturally cooling and is known for its breathability — it's often used to create cooling mattress toppers that boost airflow. If you are typically a warmer sleeper who throws the duvet off in the middle of the night, a cotton mattress pad is a reliable option to keep you cool at night. Moreover, they are generally the cheapest type of mattress pads, costing as little as $30.
Polyester
Sot mattress pads with polyester fiber clusters provide an excellent level of comfort and pressure relief. They feel like a featherbed with their plush softness. As a result, these are some of the best mattress toppers for those with back pain.
Depending on the way in which the polyester was made, it can even be stain-resistant or water-resistant due to the material's composition. If you have struggled with spills in the past, these are excellent for wicking off moisture. 
There are some with a polyester/cotton blend for optimal comfort. Naturally hypoallergenic, this is great for those who have allergies and want both protection and comfort. 
Natural Latex 
Natural latex pads are made from rubber sap that is whipped into foam. Not only are these naturally hypoallergenic, but they are less susceptible to mold and dust mites. As a result, 100% natural latex pads can last up to 20 years.
This undoubtedly is an excellent choice if you are not looking to drop big bucks on a brand-new mattress anytime soon; a latex mattress pad will ensure that you are provided with years of comfort before you even think about purchasing a new mattress. 
Latex mattress pads are thin and quilted and help keep your mattress clean. In addition, they are known to be very resilient and durable compared to other mattress pad materials. 
Memory Foam
Thick and lightweight, memory foam is an absorbent material made from viscoelastic polyurethane. Memory foam adjusts to the shape of your body to properly align your spine. 
Since memory foam conforms to the shape of your body, it's also a good option if you are experiencing any issues with joint pain and relieves pressure from certain areas of the body.
As memory foam has a tendency to retain heat, consider looking at memory foam mattress pads that carry a gel latex layer that allows your pad to breathe. 
Memory foam is an excellent option for those who suffer from back and muscle aches. And because of their thickness, they can actually be a convenient and long-term alternative to buying a new mattress if yours is starting to wear. 
Bamboo Blend Fabrics
Bamboo blend fabrics consist of rayon from bamboo. It's silky, incredibly soft, moisture-absorbent, quick-drying, and antibacterial. It's also insulating, so it will keep you cool during the summer and warm in the winter. 
Though they typically range on the pricier side, if you're looking for quality material that helps regulate body temperature, this is a great and viable option. 
Bamboo's plush feel makes it a fantastic option for those seeking both protection and comfort. 
Mattress Pad Fit Styles: What To Choose
Mattress pads typically come with two different attachment features. 
Skirt
Most mattress pads come in a skirt, or fitted sheet, a style that is attached to the periphery of the pad. This periphery is elastic, which helps you fit the pad snuggly on your mattress. Think of it like a bed sheet but with a soft pad attached to it. 
This is a solid option if you want something that will stay in place. Just make sure that the pad is the proper size for your mattress. If it's too large, it will likely slip off from time to time. 
However, if you choose the right option, it will make your life easier. Since the pad is formatted like a fitted sheet, the mattress pad will easily stay in place and won't slide off when you are trying to make the rest of your bed. 
Anchored Strap
This anchored strap is a quilted pad with elastic straps at each of the pad's four corners. These are generally cheaper and are a great option for thin mattresses.
Mattress Pad Depth: What To Choose
So you picked out the material and style — but does it fit your bed? A mattress pad is only good if it actually fits. Before purchasing a mattress pad, be sure to measure the depth of your mattress. 
Refer to the following guidelines to help make the optimal purchase when it comes to your bed. Mattress pads usually use terminology such as: 
Standard - If your mattress depth measures from five to 12 inches, look for a "standard" pad.
Deep - If your mattress ranges between 12 to 17 inches deep, look for a "deep" mattress pad.


Extra Deep - If your mattress measures 18 inches or above in depth, find mattress pads that come with "extra deep" pockets
You want to make sure that whatever pad you choose, the fit isn't too tight on your mattress. Not only will this make it difficult for you to put your pad on and off, but it will put stress on the seams — and that can cause damage. 
Mattress Pad vs. Mattress Topper: What's the Difference?
Many people use the terms mattress pads and mattress toppers interchangeably. It's important to note that they are not the same thing. They are constructed differently and serve different purposes. 
Though both are designed to make your bed more comfortable and protected, toppers are thicker than pads and are designed to change the way mattresses feel and how they support your back and neck. You can think of them as the older brother or sister of the pad. 
People who use both generally put the pad on top of the mattress topper for optimal support. Style-wise, toppers usually do not have the fitted sheet construction. 
The Bottom Line
If you are looking for a bedding product that is going to provide more support and relief for sore muscles, joints, and just an achy body, a mattress topper is the way to go. 
Mattress toppers tend to have a bit more of a complicated process when it comes to maintenance and keeping them clean, so keep this in mind when deciding between the two. 
Sources:
Sleep tips: 6 steps to better sleep | Mayo Clinic
How to Fix Sore Muscles: Quick Relief Tips | Everyday Health
9 Ways to Improve Posture and Alignment for Your Spine | VeryWellHealth