Best Valentine's Day Gift Ideas at eLuxury! | eLuxury Blog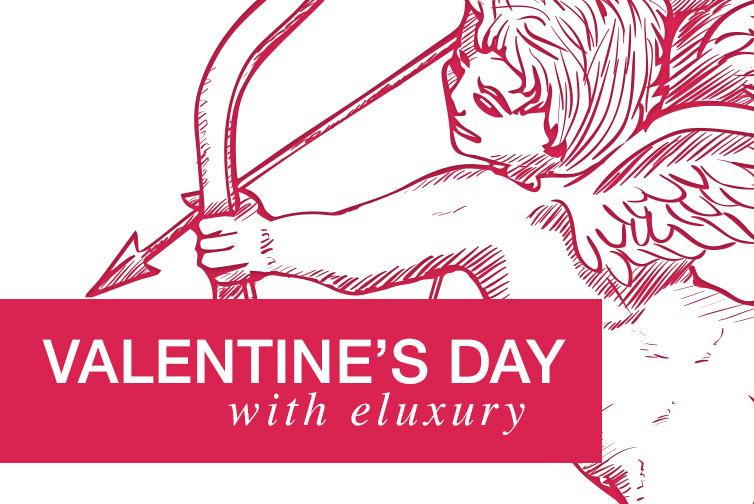 It's that time of the year again when women and men alike scramble to find a perfect and meaningful gift to dazzle their sweetie. If Cupid has you stumped, eLuxury can help. While a luxury robe or bamboo bed sheets are great gifts anytime of the year, it's a little more special on Valentine's Day. We have compiled a list of the best Valentine's day gift ideas at eLuxury that any love birds would be happy to receive. Take a look!
Monogrammed Egyptian Cotton Terry Cloth Robe
When looking for a Valentine's Day gift for him or a Valentine's Day gift for her, what says "I love you" more than something that's personalized just for your sweetheart? A personalized robe directly shows just how much you care about your special someone since you made sure it was one-of-a-kind. Not only will he or she feel extra special this Valentine's Day, you'll feel like a gift-giving-pro!
This pick gives a chance for the gifter to showcase their creative side by picking the colors and design of the monogram from our list of choices. These robes work amazing fresh out of the shower and are perfect for lounging around the house on a lazy Sunday or a Netflix binge-watching evening. Give your valentine something he or she can enjoy for years with one of our robes!
Down or Down Alternative Luxury Pillow
There's no better gift than the gift of a good night's rest. Sure, a 5 star hotel stay is a wonderful treat, but imagine bringing that level of comfort and luxury to your bedroom. Why spend the money on a hotel when you can bring the hotel experience home, not only for February 14 th, but all 365 days of the year!  eLuxury offers hotel style down and down alternative pillows varying in fill power and down to feather ratio so you can buy EXACTLY what your valentine is needing to improve their sleep. 
We can't think of a better gift idea for Valentine's Day than one that they can use every night of the year!  A new pillow is the ultimate choice for lasting relaxation and comfort.
Softer-than-silk Bamboo Sheets
If you are looking for Valentine's Day gift ideas for him or Valentine's Day gift ideas for her, have you considered some new sheets? Allow your valentine to trade in those old and faded sheets for our super durable and outstandingly soft bamboo sheets. One of our most popular items, these are a wonderful pick for the person who loves comfort but hates stuffy sheets.
Bamboo is unique in the way that it is breathable yet softer than cotton. The thread count on this perfect gift is a cool and soft 300 and the anti-static elements are great for skin allergies. Your valentine will thank you for such a practical and comfortable gift that they can appreciate every single night!
Egyptian Cotton Duvet Cover Set
Speaking of breathable comfort, our duvet covers literally get softer with every wash. A new duvet cover will completely revitalize not only the look of a bedroom set, but the comfort as well. This gift keeps on giving as the fabric becomes even smoother to the touch over time.  A Valentine's Day gift that is both thoughtful, practical, AND affordable is a tough one to find if you weren't shopping at eLuxury. Our covers are available in a wide variety of colors and thread counts, making it unique to your special someone's preferences. 
We do warn you:  Your valentine may have trouble getting out of bed in the morning because of the extreme comfort of our linens!
Reclaimed Barn Wood Platform Bed Combo
If you're looking to go all out when looking for Valentine's Day gift ideas, then a mattress and headboard combo is a DEFINITE step above flowers and chocolate. You can choose between our 2 amazing mattresses with our 10-inch gel memory foam or our 12-inch latex hybrid mattress.   Combining the rustic style and sturdy construction of our handmade platform bed and the cloud-like comfort of our mattresses will result in best Valentine's Day gift in history!
Combining the rustic style and sturdy construction of our handmade platform bed and the cloud-like comfort of our mattresses will result in the best Valentine's Day gift in history!
Instead of going the traditional route of candy, flowers and a card, why not choose to woo her or him with luxury bedding. We here at eLuxury hope that you make the right decision when choosing the perfect Valentine's Day gift and get something that your loved one will use for years to come. Our handpicked list of Valentine's Day Gifts Ideas was carefully selected by the eLuxury team to ensure you can dazzle your sweetie this Valentine's Day. We also offer easy monthly payments with our fast and simple online application. 
Do you have any ideas for Valentine's Day Gifts? Comment below!