Life Hacks for Kids to Get Organized!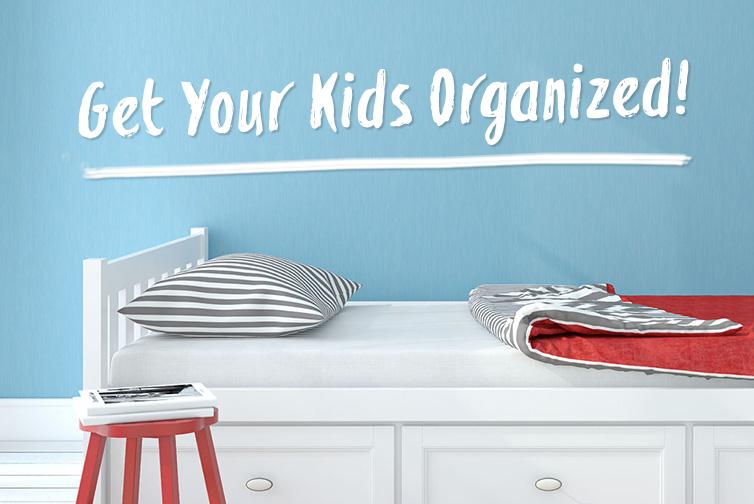 Do you ever walk into your kid's room and wonder how in the world they made such a mess in less than an hour? Toys, clothes, and that random toothbrush they took from the bathroom are just some of the items thrown about. You know they have a toy box somewhere in this colossal mess. Maybe it's time to work on getting those kiddos organized. We all love walking into a clean and organized room, where everything has a place! So why not give that option to your tiny human! Here is our list of some great life hacks for kids to get organized!
Books, books and more books!
Another way of helping your kids to get organized is getting a handle on their books! If your child is like every other child with a wild imagination, what better way to explore that than being nose deep in a book. It is fairly hard to keep books nice and neat looking while still allowing your child access to them. It's time for a little Life Hack magic. Have you ever heard of gutter book shelves? Gutters not only drain the water from your roof but they can be used to store books and get them off the bookshelf that is taking up so much room!
All you need to do is run down to your local hardware store and pick up some cheap gutters. Cut your shelves to the length you want them and if you're not using end caps, be sure to sand the ends down so they are not sharp. Paint your gutters in the colors you want to match your little one's bedroom. Install the gutters and those books. This is a cheap and effective way to store books and clean up that clutter in the gutter 
LEGOS®: Fun, but Painful Underfoot!
Legos ® : We all loved them when we were children and, in most cases, we still do! But, stepping on that little brick in the middle of the night is no fun at all. A simple way to get those feet destroyers stored is by color! All the red pieces with the red, blue with blue and so on. You can find little divided storage bins online for pennies on the dollar.  This will also keep the Legos from falling to the bottom of the toy box which causes your little one to rummage through all the toys looking for that missing piece. The best part of these divided storage trays is that they are flat! This means that they can be stacked or slid under the bed when not in use.
Stuffed animals on the loose!
When looking for life hacks for kids to get organized, doing something with those stuffed animals is usually a good place to start. There are only so many stuffed animals you can stack on a bed or that your child can sleep with. Have you considered a stuffed animal zoo? You can build one with wood and robe or you can get a net and some screw hooks and place them in there. Easy access for your little one to grab his or her favorite stuffy. This cheap and effective idea can take the clutter off of the bed and out of the toy box!
Matchbox® Car Traffic Jam!
Matchbox® Cars: They are so heavy and they sink to the bottom of the toy box. Have you ever walked into your child's room to see them face down in the toy box rummaging for that favorite car? Why not help your little guy or girl out with a simple and creative life hack by building them a parking garage! A toilet paper tube painted in their favorite color makes a great garage for a little car. If you take a wooden box (which you can find at a craft store for rather cheap) and glue a box size piece of cardboard to the back of the box, then take your painted toilet paper tubes and glue them to that. Decorate as your little one wishes. Now each car has its own garage to be tucked into at night.
Does your tiny human have so many dress-up clothes that you don't know what to do with everything? Halloween costumes and princess or superhero costumes? Get those dress up clothes out of the closet and on display! It's as easy as getting yourself a tension rod and two hooks. Drill the hooks into the wall and secure the rod on them, using shower curtain hooks to display all those cool costumes. It gives them the opportunity to show off all their awesome dress-up clothes and gives them the feeling of their own personal dressing room.
We all know that chest of dolls can become a bit much to deal with at times with legs and arms and masses of hair tangled together! An easy life hack for kids is to separate all those dolls with a simple shoe organizer. You can pick up one of these pretty cheap, the kind that hang on the back of the door. Each Barbie has their own place for their shoes and accessories as well as themselves. This gives your Barbie connoisseur easy access to all her favorite Barbies without the need to dump the whole tub all over the floor.
Organize Now for a bright future!
Why live in a world of clutter when a few life hacks for kids will make things so much easier? If you teach your little ones young, they will grow into more organized teenagers and adults. That's every parent's goal; To raise an independent, productive member of society. The more organized that you are, the less stress you will experience. Get out to those hardware stores and get in touch with your DIY side and declutter those rooms!  
Do you have any ideas for life hacks for kids to get organized? Comment below!