Tie the Room Together with the New Area Rugs at eLuxury!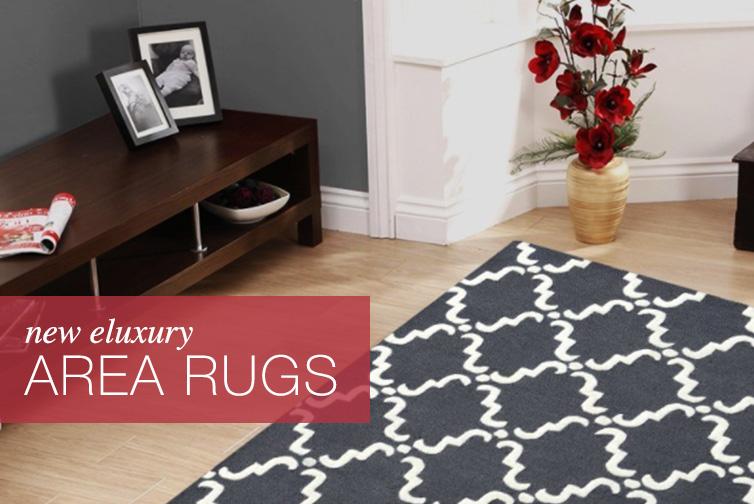 "This rug I had, it really tied the room together."  In 1998, these immortal words were uttered by fictional character Jeffrey "The Dude" Lebowski and the world of rugs has never been the same. Anyone who has been fortunate enough to possess such a rug that brought an entire room together knows how important the "right" rug is. At eLuxury.com, we have just launched an entire line of rugs that really tie the room together and we want to tell you a bit about them! Take a look below our our new eLuxury Area Rugs!
The Carelton Indoor Area Rug would be a beautiful addition to any bedroom. It has 2 color options; Black and white or write and grey. There are so many decorating schemes you could get away with given this product's sleek color pattern. This rug has a 10 mm pile just enough to sink your feet into. 
This gorgeous rug comes in two sizes, 4 x 6 and 5 x 8. It also has a jute backing and is anti-static, because there's nothing worse than constantly getting zapped by static electricity from your carpet.
Moroccan Lattice 5 x 8 Rug
Why not spice up your sitting room with our Moroccan Lattice Area Rug!  This design is subtle, yet spicy at the same time. It comes in a multitude of colors: grey and white, chocolate and ivory, navy blue and white, and sage and ivory. So many different choices! This lovely rug is 80% wool and 20% cotton. It has a very low pile height of 0.25" to 0.50". This rug is hand hooked and hand tuffed for the highest quality. 
This area rug has the power to pull any room together with sophisticated class. The beauty is that it's so versatile, it can be used in a bedroom, sitting room or even the play room. 
Trellis Shag Design Area Rug
Ahhh, the 70's: How we miss your shag carpeting! Remember how good your feet felt sliding through those shaggy fibers. Now you can relive your glory days or experience shag carpet for the first time with this beautiful Trellis Shag Design Rug. This beauty comes in four different color schemes: white and grey, navy blue and white, ivory and chocolate, and black and silver. 
With a pile height of 36mm of polyester fibers and a cotton cloth backing this rug, it is sure to put the groove back into your room. The sizes available for this rug are 4 x 6,  5 x 8 and 8 x 10, which allows for all kinds of room for activities! 
Diamond Hand Woven Jute Rug
Jute is an amazing fiber that has so many applications, but this happens to be our favorite application. This Diamond Hand Woven Jute Rug is simply gorgeous. Jute rugs are very low maintenance; You can run the vacuum across this rug with no problems. Our jute rug comes in five beautiful colors: blue, brown, grey, ivory and green.
This large area rug would be perfect in a screened-in patio or at your beach house in Florida. It can be tied into a beachy theme or even go along with rustic farmhouse décor. This rug would be an ideal fit for an outside sitting area by the pool where you can just relax after a long day. The dimensions available for this stunning rug are 5 x 8 and 8 x 10. Jute is a strong and durable material, so this rug is perfect for a high traffic area
Stella Geometric Pattern Rug
The Stella Geometric Pattern Rug is perfect for anyone who has a modern-themed home or area. When we envision this rug in your room, we see squared-off furniture under a black and glass dining room table. Very modern, very sleek. If you add this rug to your home, it's going to tie your rooms together and achieve the flow that everyone wants for their home. 
This amazing rug comes in three sizes; 4 x 6, 5 x 8, and 8 x 10. You also have your choice of black or cream. The pile height of this rug is 10 mm and it is made with 100% polypropylene fibers. It has a jute backing, which makes it a very strong and durable floor covering.
In addition to these patterned area rugs, we also carry our line of solid color rugs. The customer favorite as of late is the white area rug. We feel that this rug is simple, yet elegant. Our solid colored area rugs come in the most common area rug sizes 4 x 6, 5 x 8 and also 8 x 10. Other color options are beige, black, cocoa, grey, ivory and navy blue.
Here at eLuxury, we strive to bring you the most luxurious items for your home. Adding these rugs to your décor will make all your neighbors jealous and asking where you purchased that gorgeous rug. One of these gorgeous area rug sizes could be exactly what you're missing to tie that room together. With every area rug sale here at eLuxury, you are supporting a small veteran owned and operated business. So, if you're thinking about adding luxury to your home, we hope that you think eLuxury.