Best Ways to Develop a Bedtime Routine for Kids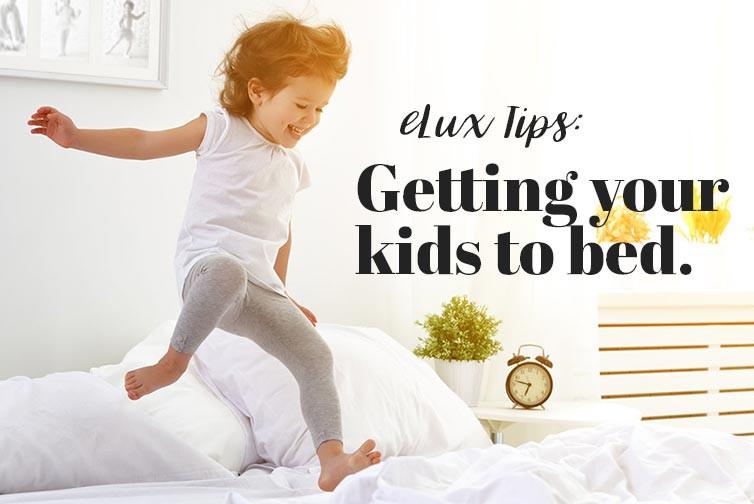 Here at eLuxury, we know that getting the kids to bed can be somewhat challenging at times. Two of our Customer Service Reps (Kristina and Eric) who are parents to small children put together some tricks and tips to make getting your kids to bed an easier process. Here are their best ways to develop a bedtime routine for kids! 
Routine, Routine, and more Routine! 
All parents have asked themselves many times: Why is bedtime so difficult? There are a few keys to putting together a bedtime routine for kids. A mindful bedtime routine will do wonders for your kids and for parents. 
Wear them out: A long day of play can tire any kid out. If it is a nice day outside, let the kids play to their heart's content (Of course until it is dinner time). 
Try to limit their time on electronic devices like tablets and phones: Though they can be great learning tools, many children only want to play on them. Come up with fun and creative activities that will stimulate the mind! 
Eat a good dinner: It's always harder to sleep on an empty stomach
Set a routine: This will get the kids into a habit of doing these things in a set order nightly. Once they get used to it, they will begin to learn what is expected of them after dinner time.
Do the "hard" things first: This can include getting their teeth brushed, homework done, bath time and pajamas on.Try to make these activities fun for them. Try playing a fun two minute song while they brush their teeth or maybe try some of the colorful mouthwash that shows plaque. In doing so, you can make a game out of it!
Give the kid choices when it comes to pajamas. Kids love being included in everything. Maybe try one of our  Kid's Robes to match Mommy's or Daddy's! If they feel like they get to control an aspect of bedtime, they will be more apt to go along with it. 
After your evening routine checklist is taken care of, giving them a little time to relax is vital. Even though they are ready for bed, this doesn't necessarily mean that they have to get in bed at that moment. Once they are "bed ready", enjoy some quiet time with them. This can be as simple as playing games or reading them stories. 
Avoiding the "I'm hungry" or "I'm thirsty" Scenario
When trying to create a sleep routine, the old "I'm hungry" and "I'm thirsty" comments can really mess things up! Many times this can be a ploy to try to stay up a little later. To avoid this, before bed time offer a glass of water or milk and a good non-sugar loaded snack (applesauce, banana bread, fruit and yogurt cups, or hummus w/ crackers or veggies). This can often take care of that issue before it starts! 
When the evening routine checklist is done: BEDTIME!
Now that we've had a good dinner, have been worn out from fun time, are cleaned up, and pajama'd up, it's nearly time for bed. The key to a solid bedtime routine for kids is being consistent. Clean up the little mess there may be from snack and quiet time, make a trip to the potty, and get them snuggled up in their covers. At this point, singing some lullabies can always help out, especially with younger children.

This isn't an exact science, and variation is always welcome. We hope these tips have helped out. From everyone here at eLuxury, keep fighting the good fight. We're here with you!
Do you have any tips for getting kids to bed using a bedtime routine? If so, let us know in the comment section below!