Bamboo Mattress Pad Review | eLuxury Customer Testimonial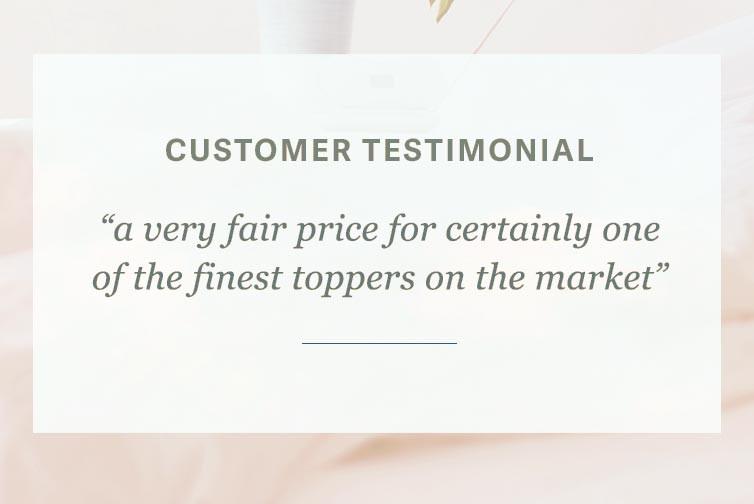 It's that time again that we bring you one of our favorite reviews that we have come across this week. Below is a review from a customer who purchased our Bamboo Removable Pillow Top Mattress Pad and loves it! She had a lot to say about the way in which eLuxury does business. Take a look at the eLuxury Bamboo Mattress Pad Review below! 
I'm just a firm believer in rewarding superior companies with true compliments. eLuxury, please keep up the great work! 
-L.S.
Mattress Topper Testimonial by L.S.
I wanted to take this opportunity to offer my most sincere thanks for your true excellence in absolutely every aspect of your business!
For the benefit of those who are considering buying a mattress topper, I will list the reasons why I believe that you, too, will be delighted with E-Luxury.
Corporate Motto & Attitude: As I happily discovered, this company is founded and run by folks who are determined to create the absolute highest quality product. The topper which I purchased and have used for a week now is a beautiful combination of softness and strong, durable construction. The result is what you are searching for - far less pressure on your body - resulting in a deep, restful sleep!
A very fair price for certainly one of the finest toppers on the market. Like many folks, I am working under a tight budget. Yes, you can pay less and you also pay more in your search for sleep comfort. But in my opinion, this topper hits the "sweet spot" of maximum quality for the price (plus, it's clearly designed to last for years - an investment, rather than just a purchase).
Shipment is quick (overnight), free and guaranteed. 
E-Luxury Supply stands behind its product 100 percent. The Customer Service Manager sends you a signed business card with your order, inviting you to call, E-mail, or Facebook with him. Maybe not a big deal to some people, but it means a lot to me. This says integrity and sincerity, personally & in business - in that order. 5. The topper is made of bamboo - an environmentally sustainable product. 6. Manufactured in the U.S.A. and Owned and operated by U.S. veterans!
These are my reasons for well-deserved praise of E-Luxury Supply & it's products. (I was not solicited or compensated in any way for my comments.) I'm just a firm believer in rewarding superior companies with true compliments. E-Luxury, please keep up the great work! 
And potential buyers, I'm trying to help you cut down on your product research. You'll be very happy with this topper. Five Stars Plus! 
Sincerely,
L. S. 
---
To see more of our Bamboo Mattress Pad Reviews, go directly to the website HERE. 
Thank you for the review, we truly appreciate it! If you have purchased from eLuxury and want to leave your feedback with us, please contact us at service@eluxurysupply.com or call us at 1-800-977-7433.