Comforter Sets for Your Holiday Gift List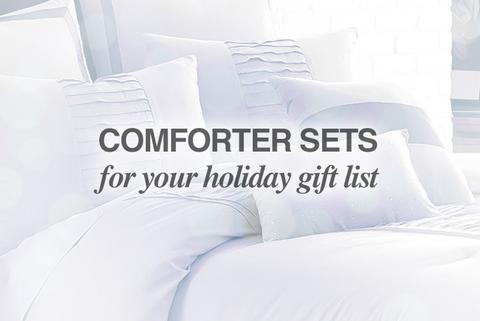 It is officially the holiday shopping season and at eLuxury, we have a number of new comforter sets for the holiday season that are some great Christmas gift ideas for friends and family. These new comforter sets are some of the most comfortable and luxurious that we have ever offered.
This new collection of bedding sets will not only brighten up a room, but it will also help bring it to life.  We have a variety of colors for any season!  From bright, vibrant colors for Spring and Summer to the more dulcet and warm tones of Fall and Winter, this selection of bedding is a great array of options for all year long. 
Our new bedding sets are bed in a bag products to make an easy solution for sprucing up your current bedroom this holiday season. We will be going over just a few sets that we offer, just to give you an example of what types of new bed sets that we have! Take a look below at our breakdown of some of the best of our new comforter sets for your holiday gift list!
This set includes: 1 Comforter, 2 Pillow Shams, 1 Bed Skirt, 2 Euro Shams, 1 Quilted Square Pillow, and 1 Boudoir Pillow.   With this set we offer two color choices.  A more neutral Grey and a light tan/off white color called Sand.
The comforter, pillow shams, and quilted pillow offer a pinch pleat design to add more style and help, not only, to draw attention, but to add a sense of elegance to your room.  To get a little more technical, the comforter dimensions will give it a slight overhang and over sized look. The comforter is also hypoallergenic so you can have a good night's sleep without worrying about your allergies keeping you awake. If you are purchasing for a wife or sister, this set is a great gift for her, to give her room that finishing touch she has been looking for!
Penny Lane Comforter Set
This set includes: 1 Comforter, 2 Pillow Shams, 1 Bed Skirt, 2 Euro Shams, 1 Quilted Square Pillow, and 1 Boudoir Pillow.  
This set is an elegant pleated Sand, Grey, and Blue color that will provide a great style to any bedroom!  This comforter is also reversible to a solid Grey color.
This bed set with its standard pleat design and the gradient color scheme will not only brighten any room but will be sure to turn heads! This comforter set will also sport the oversized look by having an overhang of 15". It will be sure to give your bedroom a royal look!
The comforter and shams are not only elegant looking, they also have practical use as well.  The are both hypoallergenic so you will not have to worry about suffering while you sleep or when you wake up.
This set includes: 1 Comforter, 2 Pillow Shams, 2 Euro Shams, 1 Bed Skirt, 1 Square Deco Pillow, and 1 Boudoir Pillow.
This comforter set is 2 tone Grey with a design pattern in the middle.  This set will provide a good modern touch to any bedroom or home and is a great gift idea for men!  You cannot go wrong with this set but if you want to mix it up it is reversible with solid white color.  
This set also has the 15" overhang to the comforter for the oversized look.  It has a microfiber casing with nice, fluffy polyester fill that will make even the toughest sleepers feel comfortable.  The set is also machine washable in case there are any issues, so you do not have to worry!
These three comforter sets are just a small offering of what we have. There are many more bed sets available that are great comforter sets for the holiday season.  Whatever you are looking for to brighten up your room we are bound to have.  As always be sure to let us know if you have any questions or comments!
Do you have any comforters that you have been looking at on our site that you think might be a good gift idea? Let us know in the comments below!