How Tall Should Your Nightstand Be?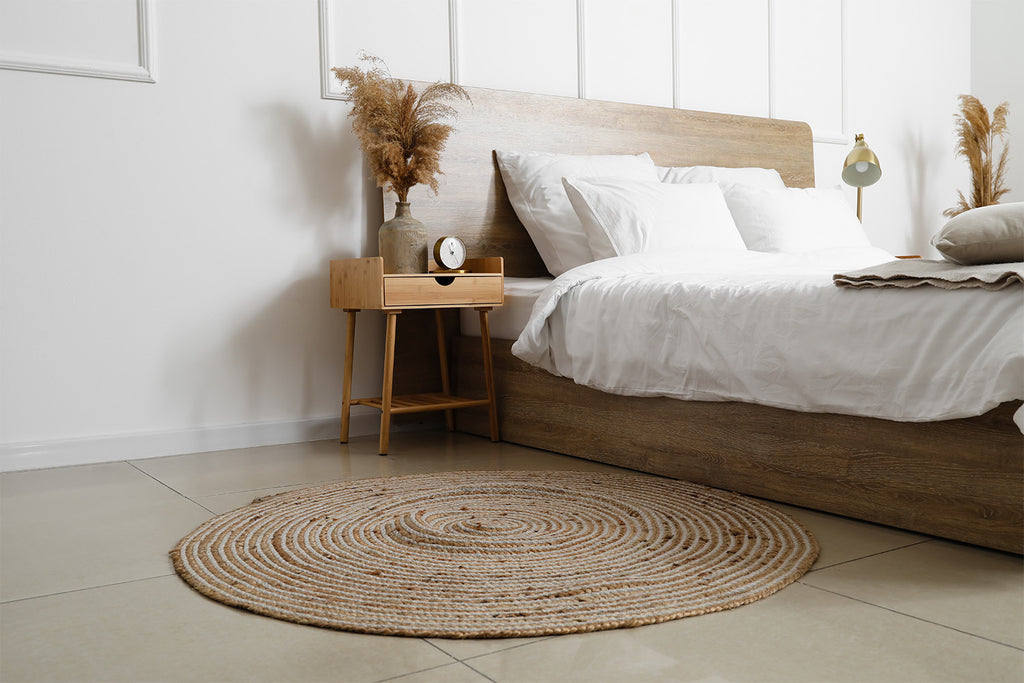 The nightstand is an incredibly important piece of furniture. Maybe your nightstand is just a random table you found somewhere once upon a time. Maybe you like to specifically curate yours to match your bed frame to make a complete aesthetic, or perhaps you're somewhere in between. 
If you're on the hunt for a new nightstand, odds are you're overwhelmed with a crazy amount of options. How do you decide which one is right for you? From style to size, there are so many things to consider. 
One of the most important factors of a nightstand is its height. Today we're going to discuss the question: how tall should your nightstand be? Soon you'll be ready to make the perfect nightstand choice for your bedside night after night.
What Is a Nightstand Used For?
Before we decide what dimensions our nightstands should be, we first need to establish the purpose of the nightstand and how we're going to use it. This will vary from person to person, but here are some potential ways that your nightstand could be used. 
Your Phone
This is probably the most universal modern function of a nightstand. It's the place where you place your phone at the end of the night to charge while you sleep. Because of this, you'll want to have your nightstand at a height that works for this. 
Ideally, you'll want your table to be at a height where you don't have to reach up to high or down too low to grab your phone off the nightstand. Convenience is key. 
A Reading Lamp
If you're a person who loves to read in bed, you might want to put a reading lamp on your nightstand to light your book. For this, you're going to want to consider how tall your lamp will be and then get a nightstand that places that lamp at a good height for reading.
For this, you'll also want to make sure that your nightstand has a nice place to put your book and that you can easily grab your book from the nightstand while in bed. Finding the balance between these two is easier said than done. 
Storage
The nightstand is often home to the various odds and ins of the bedroom. For many of us, we keep all sorts of things in our nightstand drawers. Chapstick, tissues, medicine, retainers, sleeping masks, and the like all find their way into the nightstand at some point or another, and for good reason. 
Your nightstand should be at a height that allows you to reach into the drawers with ease and grab the things you need out of them. 
Decor
Nightstands are also just a great piece of decor to complete the look of the room, add symmetry and balance, and give the room some extra dimensions and shapes. For this reason, you're going to want to choose a nightstand that has a height that doesn't look out of place or awkward. 
So How High Should Your Nightstand Be?
Now let's get into how to choose your nightstand based on height. This important factor shouldn't be overlooked when picking out a new nightstand. 
Consider the Purpose
As we discussed, you need to identify the primary functions your nightstand does for you. Once you do that, you can choose a nightstand that best fits your personal needs. Prioritize this so you can get great utility out of your nightstand every night. 
The Width of the Room
You're also going to want to consider the shape of the room and how your nightstands will look in it. If you have a fairly narrow room, tall nightstands could make the space look crowded and take away from the comfort of the room. In larger rooms, you can get away with a bit more height if you want to make a statement.
The comforting aesthetic of your bedroom is incredibly important, so it's key that you maintain that atmosphere with every detail, right down to the height of your nightstand.
The Height of Your Bed
The previous two points are incredibly important to consider, but no point is more significant when it comes to nightstand height than the height of your bed. Your nightstands simply must be proportional to your bed in both width and height. 
This is important for two reasons, the first of which is for looks. Nightstands that are too big or too short compared to the bed they're next to just look awkward. Your nightstands are part of the atmosphere of the room and need to complement it, not detract from it. 
The second reason is functionality. A nightstand that's too tall will make it hard to reach the things in or on your nightstand, the same goes for a nightstand that's too low. 
The ideal height for a nightstand is just about level with the top of your mattress. If you regularly reach into the drawers of your nightstand, you might want to get a nightstand that is an inch or two higher than the height of your mattress. Typically, you'll want your nightstand to be somewhere between 24 and 28 inches, but of course, there are exceptions.
If you never dig around in your drawers or your nightstand doesn't have any, level or even a few inches below the top of the mattress is a great option.
Other Factors To Consider for Your Nightstand
There are so many other things to think about when buying a new nightstand other than its height. Height is just one of the many important things to consider, so let's take a short look at some other things to think about. 
Width
In the same vein as height, it's important to consider the width of your nightstand as well. Does it have enough surface area to hold all the things you need it to hold? Is it too wide to fit between your bed and the wall? All of these are incredibly important questions that need to be answered. 
Style
You need a nightstand that is going to match the style of the rest of the room. If you have a Scandinavian room, you don't want to add a Bohemian-style nightstand, lest you throw off the immaculate vibes you've created in the room. 
Make sure that the nightstand you get is in line with whatever interior design style you want for your room. We can't stress this enough: the atmosphere of your bedroom is so important! It's where you rest and get your energy back from the day, so it needs to be a space that is cohesive, comfortable, and calming.
Feel free to get creative with your room. If you have a little extra space, you can choose an option with a bunch of storage to serve as a second dresser. You could even opt for a vanity or small desk if you have a smaller room and need a multifunctional piece. 
If you're looking for something really unique, mount some floating shelves next to the bed. This gives you a really special look while also giving you complete freedom to customize the height to whatever you want or need. 
Storage and Function
We've touched on this already, but the function of your nightstand is incredibly important to consider. If you need things stored in it, make sure to get one with drawers or shelves. If not, you could even go for a side table. 
Technology
There are plenty of nightstands out there that are up-to-date with modern technology. If you have a lot of devices that need charging every night, from phones to smartwatches to tablets, then you may want to get a nightstand that has a charging port or charging station built in. 
This allows you to conveniently charge all your devices, and it also makes it easy to take your chargers with you whenever you're on the go. No reaching deep behind the bed to try and unplug them. Just take them right out of your nightstand and go.
Before You Buy
Remember, height is incredibly important when selecting a nightstand. To know what height you need, make sure that you measure the distance between the top of your mattress and the floor before you buy. This will help you to make sure that you don't accidentally buy a piece that's the wrong size. While you're at it, measure the rest of the space you have to work with so you know what width and depth you're able to get in a nightstand as well. 
The Nightstand
Now you know everything you need to know about how to select the right height of nightstand for you and your unique needs. Don't ever worry about accidentally buying the wrong piece of furniture again! 
For more information on interior design and a great selection of nightstands and important things for the bedroom, check out eLuxury. 
Sources:
8 Interior Design Styles You Can Do to Refresh Your Home | Academy of Art University
Meaning, Principles & Elements of Interior Design | Indian Institute of Art and Design