The Ultimate Guide to an Effective Home Office Setup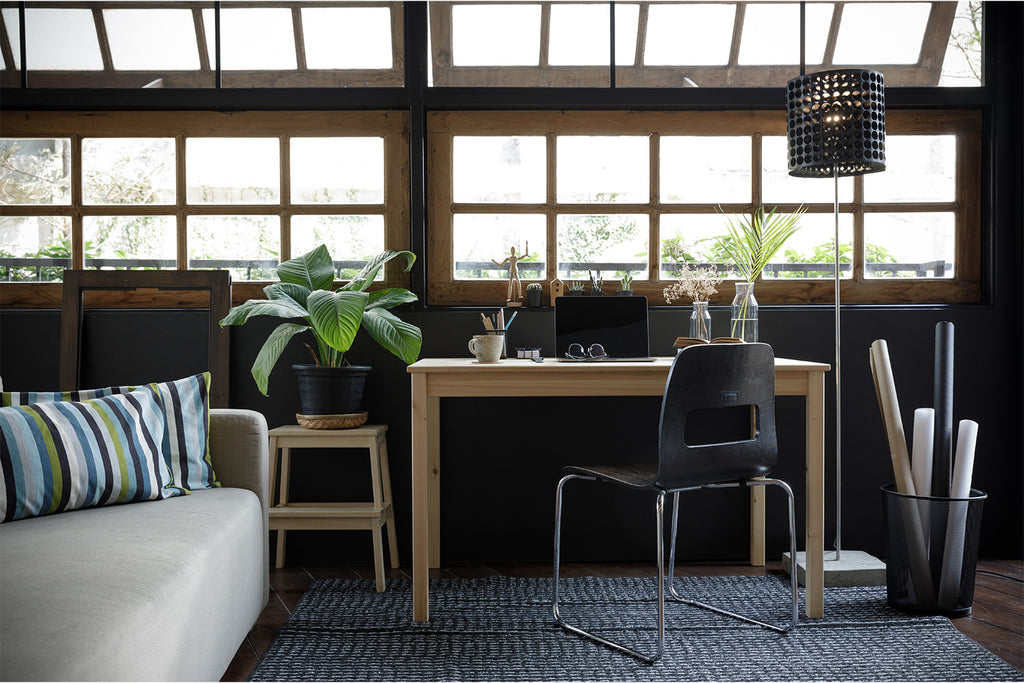 Ever since the pandemic, working from home has become more and more common. You may work in a hybrid environment now or even have a fully remote job instead of heading to the office. 
Taking your work environment into your home presents some new challenges but also some new opportunities. Unlike a corporate setup, remote work allows you to create the office of your dreams, from dual monitors to light sources. Most importantly, you can pick your own office furniture. 
If you're wondering, "Will my home office work in small spaces or in a shared area like the living room?" The answer is yes. With some careful interior design tricks, you can take your home office space to the next level. 
Follow this guide to the ultimate home office setup, and you should feel excited to work from home in no time. 
Home Office Ideas: What You'll Need 
Before going over how to set up your home office design in terms of where things should go, let's do a quick breakdown of the things you'll need in a home office.
 Desk 
When considering the types of desks you want for your home office, think about the space available. While working at the kitchen table might be handy now and then, designating a dedicated desk space will help keep the clutter out of your main living areas and keep you focused on the task at hand. 
Now's your chance to really take your desk setup into your own hands. For example, standing desks are more popular than ever. Standing (or sit-stand) home office desks help keep your laptop screen at eye level and keep your core engaged. These desks are linked to reduced fatigue, reduced back pain, and lower blood sugar levels. 
Ergonomic Office Chair 
Grab a chair that's comfortable in but not too comfortable — mid-day naps are tempting enough as it is. Consider what level of lumbar support you require. You might add a lower back support pillow or additional arm support rests. Whether it be a chair that swivels or one that reclines, make sure it is something that you'll be happy working in! 
While you might prefer an ergonomic chair, if you're taking in-person meetings in your WFH space, consider adding some luxury leather chairs for your clients to sit in. 
Lighting 
Lighting is a crucial and sometimes overlooked aspect of the home office setup. Again, keep in mind what type of room you'll be working in; does it have a lot of natural light? 
Perhaps you'll have multiple light fixtures to keep the room well-lit. A desk lamp might be your cup of tea if you do lots of hand-written work, like grading papers or sketching. A floor lamp helps provide soothing light if you prefer a more indirect light source. Consider what type of light bulb you prefer in your home setup — incandescent or LED. 
Computer Monitor 
A computer monitor would be good if you are looking to support your back and neck throughout the workday. Instead of being hobbled over your laptop 24/7, setting your screen at eye level will save you a lot of neck and back pain. 
You can always put your laptop on a laptop stand for a quick fix. Other ideas include ultrawide monitors. While these are generally used for computer gaming, some WFH employees might improve the 21:9 aspect ratio instead of the traditional 16.9. 
Those in the Apple ecosystem might prefer to sidecar their iPad or similar tablet to create a second monitor. To do this, Wi-Fi, Bluetooth, and Handoff will all need to be turned on. 
Video Camera 
In the new age of at-home-working, a video camera for your home office setup is essential. Prepare for those unexpected Zoom calls with your co-workers, especially if you will be fully remote.
Video calls don't necessarily require a separate webcam since most computers have that capability. However, such gadgets can help create a more professional-looking call. 
Office Supplies 
You no longer will have the luxury of tapping your co-worker next to you when you run out of staples or paper clips, so double-check that you have all of those supplies handy and at the ready.
Internet 
If you have always struggled with a stable internet connection from home, make sure this is squared away before beginning to work from home! Considering that a lot of communicating with employees is done over chat rooms and video conferencing, a stable internet connection is going to be essential. 
For one-on-one Zoom calls, internet speeds should be at least 600 kbps (up/down). Sitting closer to the Wi-Fi router may help improve the speed. 
Plenty of Storage Space 
To avoid any issues with storage, a simple filing cabinet should do the trick, or even a desk with plenty of drawers and storage cubbies could also work. You can rely on desk accessories like a desk shelf to keep things organized, or you might enjoy the aesthetics of mason jars holding your favorite pens. 
Different Types of Home Office Setups: What Works for You 
Now that you have a checklist down for everything that you will need for your home office, let's get into some ways you can decorate the space.
Here's how to get the most out of your home office:
Minimalist Setup 
Are you someone that finds it challenging to focus while at work? This can be especially hard when working from home. If you are prone to distractions and procrastination, a minimalist setup might work best for you.
Minimalist decor offers little room for distractions since it prioritizes needs over wants; you'll have less to look at to begin with! Keep it to the essentials, such as a chair, desk, or whatever else you may need. 
Working With a Partner? 
If you are living with a roommate, spouse, or shared living situation and you both have the same home office, this can cause some trouble for yourself and whoever you share the space with. 
To avoid any sort of conflict in your home office, ensure you both have separate workstations, each with your own items from the home office checklist up above. 
Schedule-Efficient Setup 
If you struggle with deadlines and sticking to a consistent schedule, try to utilize constant reminders. This way, whenever you step into your office, you'll be prompted to stay on track. 
You can do this in various ways: Always keep a calendar above your desk and mark each day with what needs to be completed. You could even write weekly or monthly goals on the calendar. 
Always have a clock or timer nearby to allow yourself to work on a specific task for a specified amount of time and track progress. Sticky notes on the side of a computer or on the sides of the desk help you stay on track. 
Calming Setup
The workday can get stressful, especially when you are confined to a smaller space in your home all day. To combat this, make your home office setup as calming as possible. 
A wonderful way to do this is to add some plants to your workspace. Your office doesn't have to become a jungle, but having some greenery around has been proven to improve mental health.
Or, put pictures up of loved ones, friends, and family so that you are reminded of them throughout your day at work from home. Perhaps a bookshelf with some of your favorite reads will be a welcome distraction! 
Think About Color 
Something else to consider if you can give your home office a complete makeover is the space's color.
If you want to repaint it, try green if you are looking for a calmer home office. Other colors have a number of benefits, too, with the color orange being said to improve moods, yellow improving concentration, and the list goes on.
You don't have to paint the walls yellow or orange to get these effects, though. You can implement these colors in a number of different ways in your home office, such as assigning colors to certain office items. 
Final Thoughts 
If you are going to work from home, you want to ensure that you are setting yourself up for the highest possible amount of productivity and success. To do so, check that you have everything you need in your home office, such as a desk chair and a stable internet connection. 
Consider what type of office setup is going to be best for your business, the type of field you are a part of, and just the overall energy you wish to embody at the beginning of your work day. Finally, don't hesitate to come back and look at the checklist and different types of setups if your home office ever needs a change! 
Sources:
17 Best Home Office Setup Ideas for 2022 (+ Productivity Hacks) | Fit Small Business 
What science tells us about the mood-boosting effects of indoor plants | The Washington Post
What is an Incandescent Light Bulb? | The Spruce
7 Benefits of a Standing Desk | Healthline
How to Use Your iPad as a Second Monitor on Any Computer | PCMag