How To Arrange Furniture in an Awkward Living Room Layout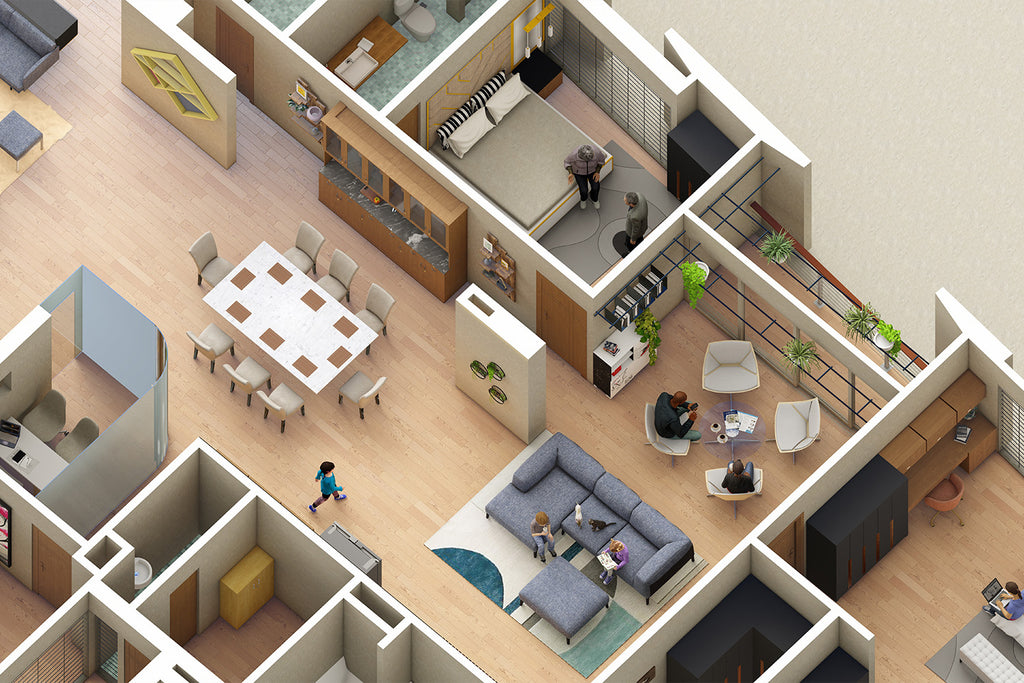 Furniture arranging can be a complex task, especially if your living room has an awkward, unintuitive layout. Maybe you have a unique historical home with strange angles and fixed wall elements, or maybe you live in a small New York apartment with limited space. 
We've all been there, but you don't have to lose hope. You can still find a way to get that amazing, comfortable, cozy living room that you want. It's just going to take a bit of spatial creativity. 
Today, we're going to walk through some steps you can take to arrange your furniture in an awkward living room layout. Kiss your frustrations goodbye. Let's get to that beautiful living room you deserve. 
What Does an Awkward Living Room Look Like?
There are so many ways a living room can have an awkward layout. And certain problems require specific solutions.
Here are some ways your living room might be a bit uncomfortable and difficult to arrange (but don't worry, there are solutions for all of them):
Too Narrow
If your living room is too narrow, you can feel boxed in and helpless when it comes to arranging furniture. It can feel like you have to divide your space in awkward ways and that you'll have to really work to fit everything in there. 
Transitional Space
Sometimes, the layout of the house makes the room a problem. If the living room also acts as a transitional space, it can be tough to lay it out properly. For example, if you have to walk through the living room to get from your kitchen to the bedroom or bathroom, decorating can prove to be a challenge.
Strangely Place Appliances or Windows
This is going to be more of a problem in historic houses. Many houses were built before TVs became commonplace in the home, so the living rooms simply aren't laid out with TVs in mind. You might find a fireplace or window right where you want the TV to go. 
The TV can be one of the more difficult things to place in a living room like this, but there are ways around it.
Awkward Angles, Corners, or Walls
Finally, sometimes there are just oddly shaped rooms. Maybe your room has a strange diagonal wall that cuts out some space. Perhaps there is an odd portion of the wall that juts out into the room at the wrong location. The shape of a room can sometimes limit what your options are in interior design.
Furniture Arrangement Ideas for Awkward Living Rooms
The good news is that there are solutions to all the problems mentioned above. Interior design is about balance and harmony, and if you're tactful and creative, you can find a layout that serves all of your needs and creates a comfortable living space that you'll enjoy day after day.
1. Measure Your Room
This is especially important if you're moving into a room for the first time. Measure each wall to find out how long they are. Find out how much square footage your living room has. Measure all of your furniture so that you know how big your items are. 
This allows you to make a plan. It helps draw out your living room and explore some potential layout options. Getting accurate measurements can help you to do that well and get your ideas straight before you go moving furniture around.
This will save you a lot of energy. Nobody wants to move their furniture around five or six times before they get it right. 
2. Function Over Form
Before you start placing furniture, decide what the function of this room is. What are your specific needs? What do you want to use this room for?
You need to have answers to these questions and keep them in mind when planning your layout. Going through this process can help you create a layout that best suits your unique needs and wants. 
3. Start With the Big Stuff
One of the most important rules of arranging furniture in an awkward space is that you need to 
place the big stuff first. Most of the time, this means you start with your couch or sectional.
It is much easier to build a room around big elements instead of placing the accent pieces first and trying to squeeze in the big elements through the maze you've just created. This also allows you to establish a focal point and start to visualize the flow of the room, where people will be walking, etc. 
4. Use Rugs
Rugs are powerful tools that serve a vital function. Not only are they stylish and add color, texture, and patterns to the room, but they provide a visual foundation from which the rest of the room can build. 
Rugs can establish the different sections of your living room. Have one rug for the sitting area of the room and another rug for the reading nook or play area. This helps to create a multifunctional space that is reinforced by visual cues. 
Placing rugs in this way can make a small space feel bigger by providing an intentional layout that utilizes the entire space in multiple ways. 
5. Make a Clear Pathway
Walkways are one of the toughest things to plan out about a living room, especially one with an awkward layout. You want to avoid having walkways cut through the center of the room. This disrupts the flow of the walkway and also interrupts the people who are spending time in the living room. 
Instead, you need to plan walkways that go through an area of the room that makes sense. Maybe your walkway goes around the edge of the room to not disrupt the space. Be intentional about where you plan your walkways. 
Do this even if you have to sacrifice some space. Having a smaller living area is much better than having the living room double as a hallway. 
6. Floating Furniture
One tip to help divide your space well, create plenty of room for unintrusive walkways, and to divide your space well if you want a multifunctional room is by floating your furniture. And no, this does not mean levitation. 
Floating your furniture simply means placing your furniture somewhere in the middle of the room instead of up against the wall. In many situations, the couch goes best against the largest wall in the room. In others, it's best to float the couch off of the wall. 
By doing this, you can establish a walkway behind the couch, create a sitting area in the middle of the room to leave room for other things on the sides, and so much more. It's not the solution to every awkward room, but it can often help. 
7. Multipurpose Furniture
Clutter is your enemy. It makes a space feel cramped and crowded. But you need places to store the things you use in your living room. One of the best solutions to this problem is multipurpose furniture. 
Get an ottoman that doubles as storage. Choose a couch whose cushions lift up to reveal a place to keep extra blankets and pillows. Doing this can save loads of space without sacrificing any style, so be on the hunt for multipurpose living room furniture.
8. Establish a Focal Point
Finally, one of the most important interior design steps you can take is to establish the focal point of your space and shape the rest of your room around it. The focal point is the center of all the attention in the room. 

In most living rooms, the TV is the focal point, but you might choose to have something else be the center of attention. Perhaps you want a gallery wall or art display to be the focal point or a large table full of all your beautiful houseplants. 
As a general rule, the focal point is opposite and diagonal to the entryway. This rule comes from the incredible design philosophy of feng shui. There are exceptions to this rule, but it holds true most of the time. 
Say Goodbye to Awkward Living Rooms
If you use these simple tips, you can turn an awkward space into one that gives you comfort, rest, and solace. Your living room is your safe place where you relax and spend time with the people you love, and with these tips, you can now make your living room a place that does all of those things. 
For more interior design help and a beautiful selection of high-quality furniture, check out eLuxury. 
Sources:
Meaning, Principles & Elements of Interior Design | Indian Institute of Art and Design
Reasons Interior Designers Should Use Feng Shui Principles | Society of British Interior Design