Six Family Room Decor Ideas To Elevate Your Space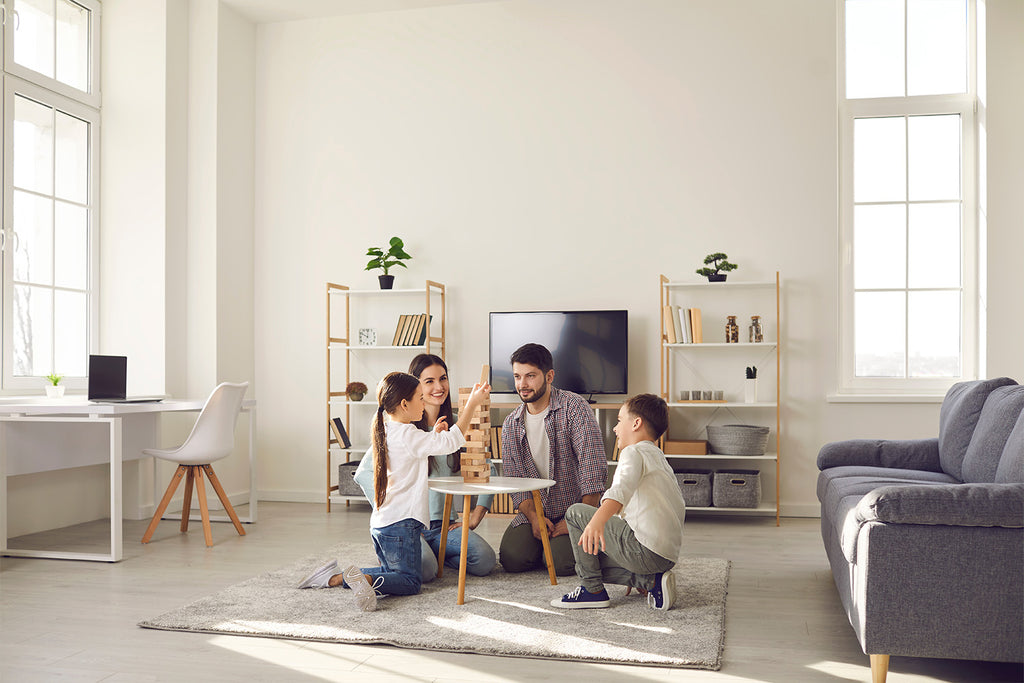 The family room is a beautiful place in the home, great for spending time with loved ones and guests, facilitating amazing conversation, helping you relax at the end of the day, and a whole host of other things. 
But because of the nature of the family room, it can be a little bit tough to decorate in a way that elevates the space while still keeping it comfortable and livable. 
So today, we're going to talk about family room decor and how you can achieve magazine-worthy results that will help you to feel more at home in your own space. Interior design is about you and your needs, so let's get started on making the family room you've always wanted. 
The Purpose of a Family Room
Before we talk about specific decor ideas, we need to define the purpose of the family room so we can have a clear vision of what our needs are before we go decorating. 
The family room is the day-to-day living space of your home. It's the inner sanctum of your family. It's a room where you relax, play games, watch TV, read a book, hang out as a family, etc. 
Because of that, this room needs to be family-friendly. If you have small kids, there might be a place to store toys, like the Sadie Storage Ottoman. You likely have a couch or sectional, a coffee table, and a TV stand or entertainment center. You may even have statement pieces like a modern bookshelf or even a piano. 
Family Rooms vs. Living Rooms
If you're like most people, you might not know all the differences between your family room and your living room. Many of us use these two terms almost interchangeably, but there are some differences between the two and the purposes they serve. 
The family room is for day-to-day living. It's a casual space that's not necessarily designed for hosting guests. The space feels comfortable, cozy, and welcoming. It's not overly formal or sophisticated. It's just the place where you and your family spend your days. 
The living room, on the other hand, is typically fairly different. It's usually a larger room that is meant for hosting gatherings and guests. While the living room furniture and interior decorating might be similar (couches, coffee tables, accent chairs, etc.), the function of this room is quite different.
Living room design is meant to impress and put your best foot forward. Family room design is meant to bring comfort and be a functional space that serves your daily needs. Both are important in the modern home, but they're very different.
This is not to be confused with the sitting room. The sitting room is like a small living room but a little less formal. It's still meant for hosting guests, but the small space is a little more casual and comfortable while still being more formal than the family room.
How To Decorate Your Family Room
Now that we know the purpose of the family room, we're ready to talk about more specific decor ideas that make the space look beautiful, more modern, and feel more comfortable. 
1. The Throws
Some thoughtful, small details that can really make or break your space are throw pillows and throw blankets. Throws are decorative accents that help to add visual depth and detail to your couches and sitting chairs while also providing added comfort. 
Your throws can add pops of color to the room while giving you a chance to add a unique pattern or design to the room. Unique textiles and upholstery on blankets can add a small visual element to make the room feel more complete and welcoming. 
When getting new throw pillows and blankets, ensure that you stay in line with the room's color scheme. Choose a color that accents the room well without drawing too much attention to itself. They should be a highlight, not an attention grabber. 
On top of that, they should be soft and comfortable. It's your family room, so you may use these pillows for an impromptu nap or support your legs or back while watching a movie. Family room pillows need to be decorative and livable, so make sure you enjoy them in both ways.
2. Gallery Wall
A gallery wall is a fantastic decor idea for dining rooms, home offices, and formal living rooms, but it can make a family room extra special.
Art and wall decor can infuse your personality into a space in a low-profile but beautiful way. A gallery wall is an arrangement of a collection of wall art or photos that create one art installment out of multiple smaller parts. 
You could have a gallery wall of meaningful family photos and events, one made of beautiful art pieces, or somewhere in between. Get creative with the color palette and styles. It's a great way to make your room look more intentional and add some creative energy to the space. 
3. Perfect the Lighting
Lighting is of paramount importance in interior design. That means both the light fixtures you have in the room and the windows that let in natural light. These tools help to direct attention and energy in a room, so it's crucial. 
Use a blend of natural light and electric light to fill the space with layers of light. Lighting should be used for a purpose. In general, you shouldn't try to light the space; you should try to light something. 
Light the reading nook in the corner, put light on your gallery wall, light the rug where the kids play with their toys, and light the side table next to the couch. All of these lights serve a purpose and direct the feel of the room. After those are all lit, work your way toward the middle of the room if more light is still needed.
You can do this by installing stylish light fixtures, built-in wall sconces, floor lamps, table lamps, etc. You can also do this by framing your windows well, allowing more natural light in, or by adding a window treatment to control the light. 
4. Utilize Neutral Colors
Neutral colors work incredibly well in home decor. In general, neutrals tend to reflect the energy of the colors around them. Color has a distinct effect on your emotion, and this can be used to create a very comfortable room. 
Brighter neutrals like beige, cream, white, and light grays help to make a space feel more open. White walls and the like reflect more light in the room, creating a larger, more comfy feel. On top of that, having a primarily neutral spread of color will help to emphasize any splashes of color you have in the room, making them more interesting and lively. 
So a simple DIY way to elevate your space is by adding a new coat of neutral-colored paint to the walls.
5. Rugs
Area rugs are an incredible tool in interior design and an amazing, functional family room idea. Rugs serve as a visual foundation for a space or area of the room. They can add a texture and outline from which the rest of the room can build off of. It ties the room together and makes it look more intentional and grounded. 
On top of that, rugs can provide a more cut-and-dry layout to the room. You could have one rug designated for the living area or TV-watching space, resting underneath the coffee table and couch, and another rug could be on the other side of the room to designate a space for the kids to play in. 
They're simple yet effective. There's a reason why this classic family room element has stayed popular for centuries. 
6. The Focal Point
Finally, elevate the space by upgrading your focal point. To determine what your focal point is, establish what the room is pointing to. It's not necessarily the center of the room, but rather where the entryways, windows, and furniture layout point to, drawing all the attention. 
For many family rooms, the coffee table is the focal point, serving as a nice, grounded centerpiece. For other rooms, the entertainment center could be the focal point. 
The fastest way to elevate a room is by elevating the focal point. So add a unique art fixture or table decor to your coffee table. Upgrade your entertainment center with a book display or some natural greenery. Replace tired decor with striking, modern furniture pieces. 
If you upgrade the focal point, the rest of the room can naturally fall into place around it. 
The Family Room
Whether you have a minimalist style, a modern farmhouse look, or a Scandinavian family room, there are always ways you can elevate your space to make it more comfortable and more reflective of you, your personality, and your needs. So take these decor ideas and make your space everything you want it to be. 
For more information on interior design and a selection of high-quality modern furniture, head to eLuxury.
Sources:
Exploring Colors Associated With Emotions | Art in Context
What's the Difference Between a Family Room and a Living Room? | Southern Living
How to Create a Gallery Wall in Eight Easy Steps | The Spruce
Color Psychology: Does It Affect How You Feel? | Verywell Mind