How To Choose a Coffee Table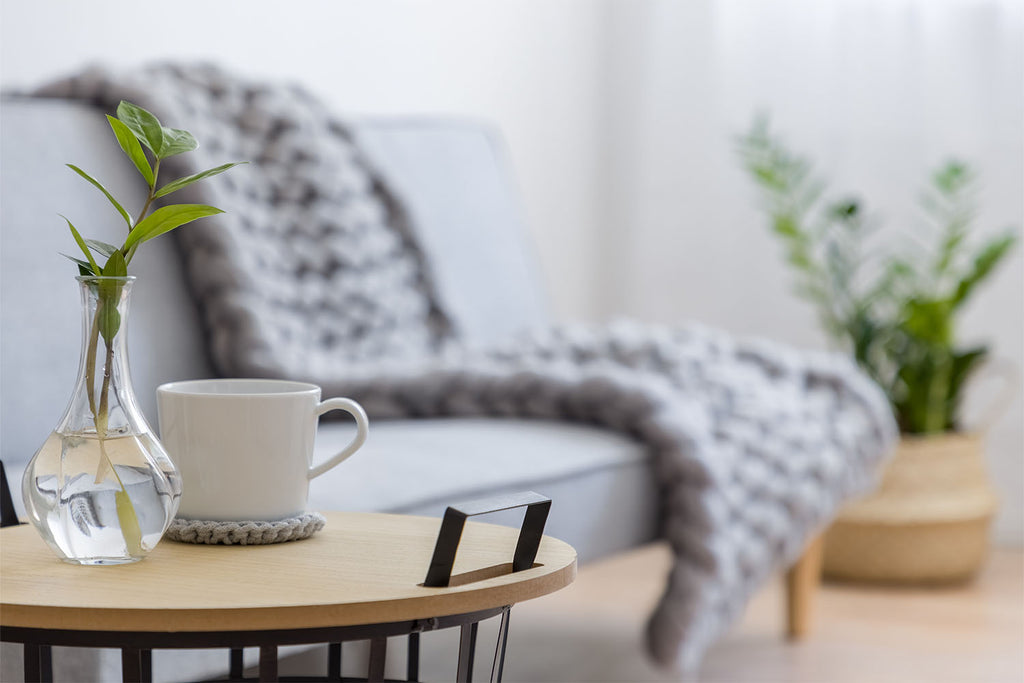 We all love a trusty coffee table. They tend to be the focal points of our living rooms and family rooms. They help us stay comfortable in our homes, no matter what we happen to use our living rooms for — cocktail parties, family game nights, homework rooms, or lounge areas.
Because of all this, we need to ensure our coffee tables are up to snuff in style and quality. As with anything these days, there are a million different options out there, so many that it's difficult to choose. 
We're here to help guide you through the muck and help you discover what you're looking for in a coffee table. You should get one that meets your own unique needs, whether you have a bunch of crazy kiddos running around or your life is a little more calm.
Keep reading to get the know-how on how to pick your coffee table.
What Is Your Coffee Table For, Anyway?
First things first, we need to establish what you use your coffee table for. You may be tempted to think, "It's just a table, right? Any old coffee table will do." The fact is that certain coffee table setups are better for certain functions than others.
Here are some things you might use your coffee table for. 
Lounging and Leisure 
The living room is… well… where you do your living. There are some exceptions, but, for the most part, people use their living rooms as the catch-all room where they spend most of their time. 
The living room is where the family TV is, where you sit on the couch to read a favorite book, have family meetings, and host friendly conversation over a glass of wine or two. It's the living space that hosts the life in your home. 
More often than not, you're going to be using your living room for chilling out. You'll want to kick your feet up on the coffee table and take a load off after a long day of work. 
Your coffee table should be well-equipped to handle that. It needs to be the right height and shape so that multiple pairs of feet can get up there. It should have enough surface area on it to hold other things as well, like remote controls and decor.
A Centerpiece for Decor
The coffee table or similar accent furniture can often be used as the focal point of the room, especially if the room doesn't have a TV. They can be a display area for beautiful houseplants or bouquets, decorative vases and sculptures, and even a small collection of beautiful books. 
It's a place where you can display your personality. Interior design and home decor are expressions of yourself, ways to communicate with your guests, and the coffee table is a host for that communication. 
The coffee table itself needs to look sleek and stylish if you really want to impress. If you want a top-notch centerpiece, pick a coffee table that matches the style and theme of the room as a whole. (We'll talk more about styles later.)
A Spot for Family Game Night
Many families love to use the coffee table as a place to play games and bond with each other. Is there anything better than everyone sitting around a game on the sectional, screaming their heads off at each other in competitive delight? Well, probably, but it's still pretty fun. 
If you're a family of gamers, you need to find the right coffee table that can host your competitive spirits. The ideal coffee table for gamers is probably pretty large. Having one that is the length of your sofa gives more people a chance to sit on the couch while you play. It might be rectangular or a round coffee table, depending on the shape of your sofa and room. 
You might also want to think about other elements of the room surrounding the table. Game night probably includes a couple of people sitting on the floor, so you might want to have a nice, soft area rug underneath the table or have a bunch of sofa cushions on standby for people to sit on. 
Serving Station for Snacks
Whether it's watching Sunday football, movie night, or just a friendly social gathering filled with a bunch of snacks and goodies, a coffee table must be capable of holding a small spread of food. 
This means that you and your guests won't have to get up and leave the fun when they're feeling a bit peckish. It's convenient for everybody, and it can help make your get-togethers feel fun, intimate, and delicious.
Establish Your Style 
Now that you know what you will use your coffee table for, it's time to think about how you want it to look. There are so many things to think about here, from color to shape to depth to height. Ultimately, perhaps the most important aspect is what style you want to create in the room. 
Here are a few different contemporary interior design styles that are out there. If you've already got an established style, make sure your new coffee table lines up with that. But if you don't have a style picked out, check out the ones listed below, pick one, and run with it.
Scandinavian 
This is one of the most popular interior design styles at the moment. The Scandinavian style puts a heavy emphasis on elegant comfort and coziness. You'll see tons of natural light, warm neutrals, earthy tones, and a relatively low-key non-flashy vibe. 
Furniture tends to be low to the ground, and that goes for coffee table height too. You might see a light wood coffee table or even a glass-top one that doesn't draw a lot of visual interest. 

It's cozy but also warm and happy in a sleek, modern way. Perfect for a small living room that inspires us to sip tea while looking at the snowfall. 
Modern Farmhouse
We all love the modern farmhouse feel. Shiplap and old-timey kitchen gadgets. Sliding barn doors and plaid upholstery. The living room furniture tends to be very comfortable, and you'll likely find some lovely vintage pieces that stand the test of time. 
This style excels in creating a cozy atmosphere chock full of nostalgia. It's the "grandma's cookies" of interior design, and we mean that in the best way possible. 
Minimalism
Minimalism is all about function and form. If it doesn't serve a practical purpose, it doesn't belong in a minimalistic room. And the things that you do find in these rooms are multifunctional and stunningly beautiful. 
Minimalism is bold and stately. Every piece of furniture has a striking geometric shape, and you'll see a lot of black-and-white contrast. A square coffee table with bold features belongs in this room, or even a long, imposing oval coffee table. 
Industrial
The style of the city. We're talking high ceilings, and a love for concrete, exposed brick, and metal. You'll find a lot of darker neutrals: blacks, deep browns, and grays. But it's elegant and classy all the same. 
Metal tables make the perfect coffee table for industrial rooms. But you might also find bold wood pieces with black metal accents. It's a very manly style that screams "epic, classy bachelor pad."
Mid-Century Modern
One of the most classic and popular design styles is mid-century modern. There's a reason that this style is still around after so many decades: it's just that awesome. The decor idea that defines mid-century modern is class and functionality. 
It focuses on shape and forms over ornamentation. It's a step away from minimalism and toward something a bit more practical, comfortable, and relatable but still stylish. 
Furniture from this style features a lot of contrast in shapes. Some pieces have long, beautiful curves, and others have stark lines, angles, and sharp corners. You'll see lots of natural wood with a beautiful finish and plenty of gorgeous leather. It works in small spaces and large spaces alike.
For coffee tables, you might see nice, minimalistic, elegant round tables. But you could also see rectangular coffee tables with sharp edges. Regardless, they'll be classy, warm, and subtle.
Size and Shape
Now that we've got a style in mind, we need to look at what size and shape we want to have. This might not seem like a big consideration, but if you have a smaller space, then you know this is an incredibly important thing to think about.
What Is Your Couch Like?
Your coffee table and your couch are the two most important pieces of furniture in the living room. They need to be like ketchup and mustard or peanut butter and jelly. They've got to have synergy. 
So if you have a giant L-shaped sectional that seats ten people, you probably wouldn't want a tiny, round coffee table. It would look strange and out of place. 
Likewise, if you've only got a small couch in your living room, it wouldn't make a lot of sense to have a big eight-foot table that's longer than the length of your couch. There's no way you'd need all that space; it might even get in the way of walking areas. 
A reliable rule of thumb for coffee table size is that it should be at least half the length of your couch but not longer than the whole couch. Shoot for around two-thirds the length of your couch. That will help you get good use out of your seating area while enabling your sitters to enjoy the coffee table to the fullest extent. 
The Height
Lots of coffee table buyers forget to think about the height of their coffee table and come home with their new purchase only to find that it's much too small or much too tall. 
As a general rule, your coffee table should be about the same height as the sofa seat, but you can have a few inches of wiggle room with that measurement. Just make sure you know how tall your sofa seat is. 
Round Coffee Tables
Round coffee tables are fantastic in just about any living room you can think of. They're sort of the go-to coffee table for most of us. Whether you've got a sectional or an array of unique chairs, a round table is inviting, it gives ample walking space, and it can suit all your needs. 
Not to mention, because it's round, you don't have to worry about any sharp corners, making it perfect for people with small children. 
Oval Coffee Tables
Oval tables are a bit different. They're stately and classy. They give you lots of walking space but also a lot of tabletop surface area. They're a smart move if you're looking to create a functional, elevated space.
Rectangle Coffee Tables
These are probably the most modern of the bunch, fitting in with several contemporary styles. Rectangle coffee tables give you the most surface area, so they're great for gaming families and people who love to snack while they hang on the couch.
Square Coffee Tables
If you love symmetry, square coffee tables are for you. They're practical and functional, but they're also versatile. 
Some smaller square tables make a space feel light and airy, leaving space in the room for small ottomans or poufs to put your feet up. Other large ones make a room feel grounded and firm. Lots of these options also have storage, which is a big plus. 
Take Your Space to the Next Level
To recap, in order to find the right coffee table, you've got to establish your needs and functions, find your style, and pick a shape that fits your room. With those simple steps, you'll be well on your way to picking the perfect coffee table for your space.
For more information about interior design and a selection of amazing furniture, check out eLuxury. 
Sources
5 Interior Design Styles that You Can Incorporate Into Your Home | The Art Institutes
Everything You Need to Know About Scandinavian Design | House Beautiful