How to Give the Gift of Better Sleep this Holiday Season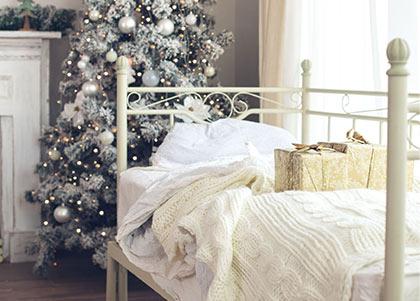 This post is a guest post by our friends at Mattress Advisor.
We all know the stress and panic that comes along during the holiday season when you have to find the perfect gift for every person on your list.  This becomes even more stressful when the person on your list already has everything they could want or need.
Your search for the perfect present may feel hopeless, but stress no longer. There's one thing everyone could use a little more of: sleep!
Lucky for you, there are plenty of ways you can gift better sleep to everyone on your list this holiday season.  Don't know where to start? Don't worry, we'll help you decide exactly how to package the gift of better sleep.
Wind down routine essentials
If you don't have a wind down routine in place yet, you're missing out. In the near hours before bedtime, it's important to have a routine set up to help you relax and prepare for good rest.
To help the person on your list be one step closer to a better night's sleep, gift some wind down routine essentials like bath bombs, candles, aroma diffusers and essential oils. Scents like lavender and chamomile are great for promoting calmness and relaxation. Lavender and chamomile are also effective in teas, another great gifting option!
Another important part of a wind down routine is turning off your technologies as the blue light emitted by devices stimulates our brains and has an adverse effect when we want better sleep. Give the person on your list a fun and calming alternative to technology for the evening like books, puzzles, or coloring books. This will help give them an activity to look forward to, making it easier to resist technologies.
Getting cozy  
A big factor affecting our sleep is our comfort. Gift someone more comfort items and in turn you make it a little easier for them to catch their ZZZ's.  Besides, no one will ever turn down a great blanket.  If you know someone well enough, you can even gift them an updated bed set with new pillows and sheets. Everyone will appreciate having their bed decked out with high-quality bedding.
If you want to go another route for comfort, look for a nice robe for relaxing during the evenings or cozy pajamas for nighttime snuggling.  The great thing about pajamas is your ability to customize the gift in a fun way. There are pajamas for people with all sorts of interests that help add a personal touch to the gift.
Pro tip: When shopping for pajamas, sheets, and other sleep fabrics you may want to look for more lightweight airy products to ensure breathability and optimal sleep comfort.
Tackling the underlying issue
Our bedrooms should be our havens for sleep, but some people's bedrooms admittedly need a little work to provide a more conducive environment for sleeping.
If you really want to give the gift of better sleep, you can tackle the root of many people's sleeping issues and gift a new mattress this holiday season.  Many people don't realize the importance of upgrading their mattress every seven to nine years in order to get their best night's sleep, so why not do them a favor and gift it to them?
If you don't know where to start, try taking Mattress Advisor's mattress finder quiz to lead you to the best mattress for whoever you have in mind.  If you still aren't really sure what you're looking for but want to find a quality mattress suited for any type of sleeper, the eLuxury 10" Gel Memory Foam Mattress is a great way to go. This mattress is built for both comfort and support. The top layer of high-density gel memory foam comfortably adjusts to any sleeper's body with ensuring breathability and air flow during the night to keep you cool in your sleep.
The best part? It's super affordable! In fact, Mattress Advisor awarded the eLuxury mattress with the award for the best mattress under $1,000. If you want to learn even more about this bed, you can check out their review.
Hopefully, this guide has helped you learn how to give the gift of better sleep to your loved ones  for the holidays so they can rest peacefully all year long.