How to do a Bedroom Makeover on a Budget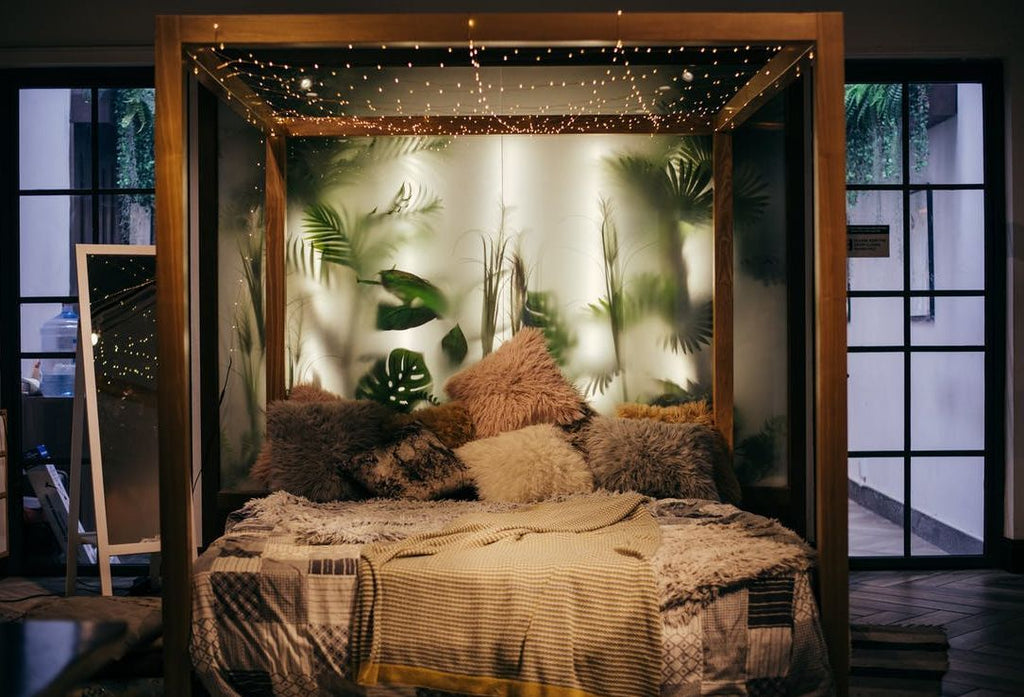 Jane Kitson
Guest Blogger
Have you been telling yourself, "I am desperate for a bedroom makeover?" This is normal — after all, a little change is a good thing. An easy makeover can revitalize your bedroom and give it a whole new personality, helping you start a new chapter in your life or simply giving you the motivation to stay on track. 
A comfortable and calm bedroom is key to getting a good night's sleep, and doing your bedroom makeover on a budget is also very important! Just making your bed each day increases the chance of restful sleep by 19%, according to the National Sleep Foundation. Introducing a touch of luxury to your bedroom can make it that much more of a special sanctuary where you can unwind after a long day. 
If you think your limited budget is a barrier to achieving your ideal level of luxury, think again. By focusing on the small details, it's possible to create a luxurious space that doesn't break the bank. 
While we'd all like to redecorate our bedrooms every time we get the urge, there's no doubt that the process could become costly. Keep reading to find out how you can give your bedroom a DIY makeover on a budget. 
Decide What's In and What's Out 
Before you even think about buying new items (no matter how budget-friendly they are), you should plan what items from your current bedroom setup that you'd like to keep. 
This can be a huge money saver; you don't want to throw things out that you still like just for the sake of a makeover. Plus, some items can fit into several different aesthetics with a little upcycling.
When going through this process, keep in mind what type of new look you are trying to achieve with your master bedroom makeover. For example, if you want your room to be a place of total rest and relaxation, consider removing the work desk you have sitting in the corner. 
Is your comforter or duvet cover no longer matching your favorite color scheme? Maybe you have outgrown it completely. If that's the case, toss it! eLuxury has plenty of comforters to choose from for your room makeover, and a focal point item like that has to be perfect to tie the room together.
At the end of the day, make sure you're keeping items that you can still envision in your new bedroom. If you already have a large mirror or headboard that you like, there's no need to break the bank on a brand new one just because you are looking for new bedroom decorating ideas.
Sell Your Old Home Decor To Declutter
Sometimes money can be an issue from the beginning of your DIY project. After deciding what you are no longer keeping from your room, think twice before just throwing it in the trash. That mirror you're getting rid of could become someone's new favorite piece!
You can sell old pieces of bedroom decor and furniture online, at flea markets, or at consignment furniture stores. Get creative with it; your future self will thank you when you have some extra cash to spend on new items. 
If you don't choose to sell, donating your pieces to Goodwill or other secondhand stores is a sustainable way to give your old favorite items a loving new home.
A messy, cluttered bedroom is never luxurious. The best bedroom makeover tip on a budget is to simply tidy up your space and eliminate clutter. Stylish storage boxes can hide ugly or utilitarian items. With these simple and relatively inexpensive design tips, you can create a beautiful bedroom for less.
The Walls in Your Bedroom Makeover on a Budget Project
The easiest way to do a bedroom makeover on a budget is to invest in new paint or wallpaper to give your bedroom a warmer and more luxurious feel. Bare white walls can often feel cold and stark instead of inviting and luxurious. On the other hand, warm grays and blues look cozy and restful (without being dull or boring), while other tones can make a space feel clean and bright. 
You can also create a stylish air with crown moldings. You can buy self-adhesive moldings from any home improvement store; They cost less but look just as impressive as real ones. Thrifty tricks can help you to live in luxury while leaving you able to keep your finances in shape.
The Bed In Your Bedroom Makeover Project
Investing in high-quality bedding can upgrade your bed to new heights of luxury. Look for linens andsheets that are ultra-soft, breathable, and drape elegantly. But don't stop with sheets: A matching bamboo duvet cover can create the cooling and comfortable sanctuary you crave. 
A thick blanket made from velour, silk, velvet, or faux fur can add texture and luxury to your bed without being too expensive. 
Alternatively, the Zaria three-piece quilt set from eLuxury is warm, soft, and elegant, and opting for the monthly payment plan can help spread the cost.
Chic Lighting for Your Bedroom Makeover
Replacing plain or cheap lighting fixtures will amp up the luxe factor in your bedroom. Gold, crystal, or glass lamps or fixtures are always beautiful while striking or unusual shapes can also look luxurious. 
Be sure to layer the lighting in your bedroom to create a warm, balanced atmosphere. This simply means using multiple light sources — a ceiling fixture, bedside lamps, wall sconces, or a floor lamp — to create the right ambiance. While you may need to spend up to $100 on a nice fixture, it's an investment that creates a soothing, relaxing space.
Minimalist vs. Maximalist Bedroom Design: Which One Is Right for Your Bedroom?
When giving your bedroom a budget-friendly makeover, keep in mind what type of style you want for this new look. If you want your bedroom to look sleek and modern, a minimalist look might be best, and it could naturally save you some money while making a big impact on your space.
Suppose you want more wall and floor space to be covered, and you're envisioning lots of pops of color and extra decor. In that case, maximalism might be your best route, using a combination of new and thrifted items to stay within your budget. 
Let's break down the principles of these two, so you can decide what is best for the type of bedroom you're designing.
Minimalist Bedroom Transformation
Minimalist decor is all about prioritizing and narrowing down your bedroom decor to only things that are essential to your everyday life. This hack will save you money if you're on a budget, as you're naturally narrowing down the number of objects you have to purchase. 
This means that the only basics you need are a bed, a nightstand, and maybe a small table or desk. You also don't have to go fully minimalist when decorating your room, but going in with a minimalist mindset will definitely save you some cash. 
In our opinion, taking a minimalist approach to a bedroom remodel is especially ideal if you're working with a small bedroom, such as a guest bedroom.
Maximalist Bedroom Makeover Ideas
Maximalism is the inverse of minimalist bedroom decor. With maximalist decorating ideas, you'll leave your bedroom with very little empty space, instead covering all open areas with items you love. 
A maximalist living room, dining room, or bedroom tends to have a ton of color and might combine several different styles to achieve your desired look. Maximalism is often associated with the boho style of decor.
You may wonder how this aesthetic can be accessible to people who are redesigning their bedrooms on a budget. Thankfully, this should be no problem at all if you thrift for new-to-you items over a longer period of time. A little advance planning never hurts!
For instance, you could thrift a bed frame, build a DIY headboard from scrap wood, and then maybe grab some of our throw pillows for some additional color. 
In addition, you could select a more vibrant paint color and paint an accent wall to make your room feel more colorful. Likewise, an area rug with a colorful pattern is easy to find on a budget and can really transform your space.
Choosing What Pieces You Should Switch Out for Something New 
If you've had the same accent chair in your room for years and it's getting a little old, maybe it's time to switch it out for a new focal point. Maybe you have pillows that you're a little bored of, and it's time to swap them out. 
Whatever it may be, a great way to save money is to narrow down what wall art, decor, and furniture you'll soon no longer be getting any use out of. 
For example, if you need a new chair in your room, we have great options here at eLuxury. Swap out those flattened pillows for something with a little more life. 
Just get rid of any items that you think are too old or outdated or are collecting dust to make room for all of your new favorites.
Final Remarks 
When giving your bedroom a makeover on a budget, one of the most important things you can remember to do is decide what exactly you'll be keeping and what you'll be throwing away. 
After that, decide what type of style you want, whether that be minimalist or maximalist. If you follow these tips and tricks, you should have your dream bedroom in no time! 
Sources:
How To Sell Furniture Online (2022 Guide) | Forbes
What Does It Mean to Be Maximalist? Interior Designers Explain | Vogue
Bedroom Environment: What Elements Are Important? | Sleep Foundation
75 Bedroom Ideas That Are the Very Definition of Beauty Sleep | Elle Decor
80 Personal Finance Tips That Help Build Wealth | Credit Marvel