How to Prepare for Hosting During the Holidays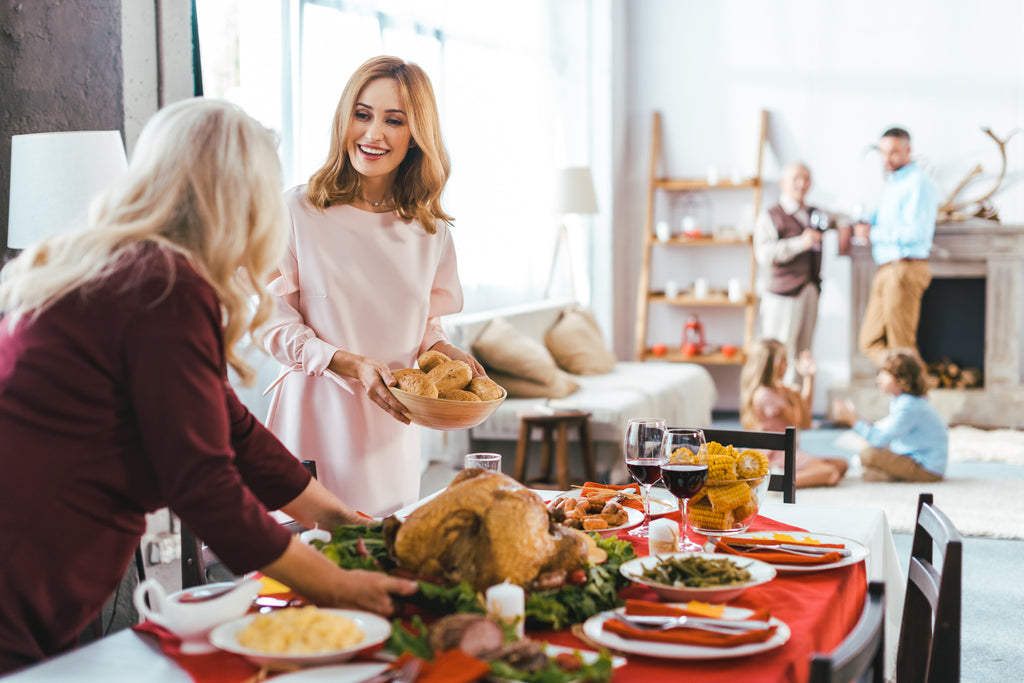 Hosting Thanksgiving is a huge undertaking. You're responsible for feeding and entertaining your guests, so it's easy to get caught up in the frenzy of preparing the feast.
But it's also your job to make sure everyone feels welcome and comfortable in your home, meaning that there are some less obvious details you don't want to overlook. Read on for our advice for setting yourself (and your space) up for a successful holiday season.
Plan Your Seat
ing A

rrangement

Make sure you have enough seating for everyone who will be joining you for your feast, including kids, spouses, and potential last-minute guests. This doesn't mean that you need to run out and buy 10 extra dining chairs; just make sure there's sufficient seating so that everyone can sit down comfortably (without having to squeeze in next to each other) at the same time and enjoy your Thanksgiving meal together.
Remember: you don't have to seat everyone around the same table! If your dining room won't accommodate all of your guests, adding a few extra stools around an island or breakfast bar is a quick and easy way to create more dining space. Plus, breaking up your seating allows guests to mingle in smaller mixed groups throughout the day or between courses.
Our Counter Height Swivel Dining Chairs have a low-profile design and swivel a full 360 degrees, so no one feels left out of conversation! These modern barrel chairs come in three classic upholstery options: Cream Faux Leather, Black Faux Leather, and Charcoal fabric.
Clear Out & Optimize Your Space
Ahead of the holiday, do a walkthrough of the rooms in which your guests will gather and remove any nonessential furniture and any items that clutter walkways. It's best to move these items to a closet or bedroom where they'll be out of the way the night before Thanksgiving. Use this time to tuck away sentimental or fragile items, too, so that nothing gets broken by a rowdy nephew or an errant elbow during cocktail hour.
Don't have enough closet space for all of your throw pillows? Or have lots of coffee table books cluttering up valuable table space in the living room? 
Our Sadie Storage Ottoman not only provides chic stealth storage, but can also act as flexible seating in a pinch. This sturdy, comfortable ottoman can be used in the dining room during mealtime, then easily pulled up to the coffee table for board games afterward! It comes in three unique styles: Brown Faux Leather with Black Metal Legs, Cream Bouclé with Gold Metal Legs, and Rust Velvet with Gold Metal legs.                            
Prepare for Overnight Guests
If you'll be accommodating family or friends overnight, it's important to make sure your guests have everything they need for a cozy stay. Especially around the holidays when weather is unpredictable and many people are catching up over cocktails, it's a good idea to have a plan in place for unexpected overnight guests.
Our advice? Write down your WiFi password, place night lights along corridors, and make sure each guest's room has fresh linens and towels. (It's a good idea to let your guests know where they can find extra linens and towels as well, in case of emergency.) And don't forget: stock your guest bathrooms with toilet paper and extra hand towels before your guests arrive!
Pulling out a sofa bed for your in-laws? Invest in a luxury mattress pad or foam topper so you can rest assured that everyone wakes up on Black Friday refreshed and ready to hit the sales!
And Finally...Have Fun!
No matter how much planning you put into your event, something will always pop up last-minute or refuse to go according to plan. Thanksgiving is all about being grateful for what you have—even if the stuffing is burnt and your decorations didn't get finished. Enjoy the time you have with loved ones, and take note of funny stories to share (or plan to avoid) at next year's dinner.