Mattress for Stomach Sleepers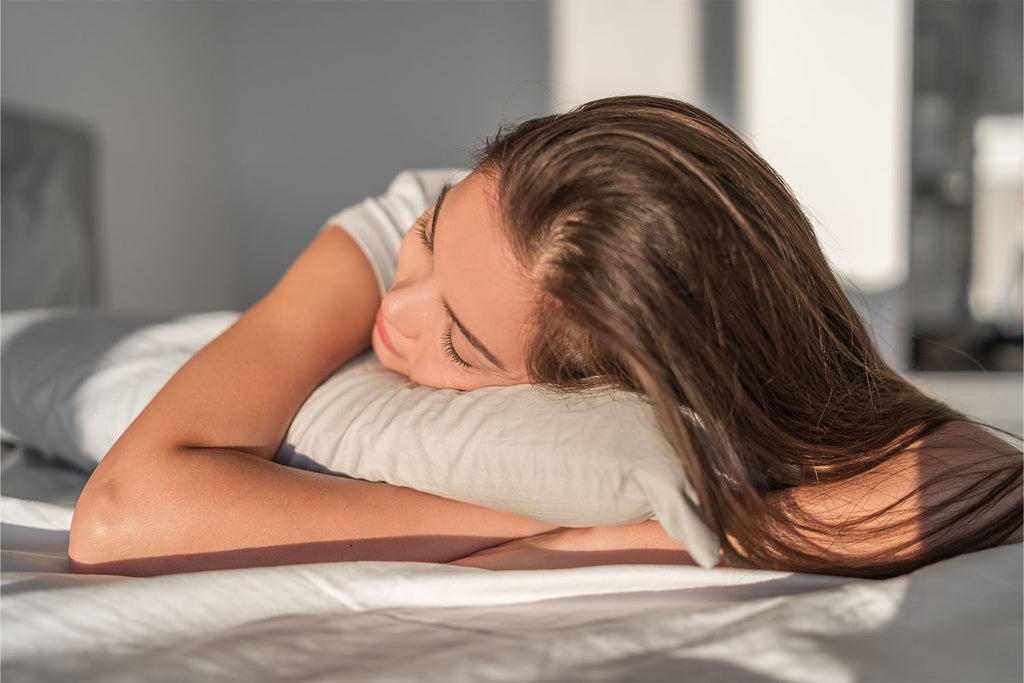 It can sometimes feel like your mattress is working against you if you wake up feeling tired and achy, with no hint of rest and rejuvenation to be seen. 
You've got the best pillows, the organic cotton sheets, and yet a good night's sleep eludes you. Why could that be? 
It might be your sleeping position. The type of mattress you have should support your sleeping style. 
We all have a preferred side or position that we like to sleep in. For some, sleeping on their side is what sends them into a deep slumber most easily. For others, sleeping on their stomach is what may feel most comfy when headed to bed. 
If you are a stomach sleeper, we'll break down exactly what new mattress (and maybe a mattress topper or pad) could be the secret to sweet dreams. We'll give you some important info too. 
Sleeping on Your Stomach: The Good and the Bad
Getting to sleep is something that should be as easy, right? You want to make sure that you are getting enough sleep — seven to nine hours a night is recommended. A stress-free day starts with the right mattress. This is true for back sleepers and side sleepers as well!
If sleeping on your stomach is what helps you plank at the gym and nail that sales pitch, then you should stick with that position. Read on to learn more about some of the potential issues that you could run into when sleeping on your stomach. 
Pain in the Back & Neck 
Unfortunately, stomach sleepers might experience some discomfort, including lower back pain and neck soreness. In this case, neck and back pain could result from spine pressure. This pressure can affect the proper alignment of the spine. Plus, sleepers in this position turn their necks on their pillows; they tend to wake up to an uncomfy day ahead of them. 
Perhaps getting to sleep on your stomach is easiest for you, but if you find that the quality of sleep that you are getting is diminishing, maybe try switching to side sleeping or sleeping on your back. You could always try snoozing like combination sleepers — who switch between sleeping on the side and stomach.
Positives of Sleeping on Your Stomach 
It may seem like we've been focusing on the negatives, but sleeping on your stomach can actually have some benefits.
Sleeping on your stomach can help decrease the amount that you snore throughout the night. This is especially helpful if you share a bed with a partner or pet and want to make sure they aren't interrupted by your snoring. 
Those who experience sleep apnea can also benefit from sleeping on the stomach; doing so may reduce some of the symptoms of this condition. When making any choices about this condition, first seek the advice of your doctor or healthcare practitioner. 
How To Help Soothe Neck Pain for Stomach Sleepers
Neck Pain: Summary
When sleeping on your stomach, chances are that you are going to have to tilt your head to your left or right (unless you want your face pushed into your pillow all night long). 
Having your neck twisted in a position like this can cause your spine to be even more unaligned. 
Pillows To Support Stomach Sleepers
Before we get into supportive mattresses, let's talk about what you rest your head on. First, we should say that the firmness level is very subjective. General recommendations are just that — general. If you love an extra firm pillow, go for it! If you delight in a super-soft support layer, you do you!
However, when it comes to your pillows, it's better to have one that isn't too thick. A thicker pillow is only going to make the twisting motion in your neck will only put more pressure on your spine. 
The closer your head is to the mattress, the easier it will be for your neck to remain in alignment with your back.
Many stomach sleepers find that medium-firm pillows cushion them best. Soft pillows are typically made from down alternative, molded foam, shredded foam, or shredded latex. When we go up on the firmness scale, look for pillows made from memory foam or latex. 
You might love the Martha Stewart® Natural Essence Memory Foam Pillows. The TENCEL Lyocell fibers in the top layer are eco-friendly and temperature-regulating. These high-quality pillows conform to your head while offering the support you need. For those who are on the hunt for unparalleled pressure relief or for breathable airflow, this is perhaps your best bet. 
Need medium firm support? Try the Beautyrest® Copper Lux™ Memory Foam Pillows. The layers of foam are infused with copper that cradles hot sleepers who can now rest easy, thanks to the antimicrobial powers that fight odor and sweat. 
Lumbar Support With Pillows
A soft mattress might not offer the lumbar support you need. There are some other ways to ensure you are getting the best sleep possible as you sleep on your stomach. 
Besides the pillow under your head, try placing a pressure-relieving pillow or rolled towel under your pelvis and lower stomach. Doing so can help to take some pressure off of your spine. 
What Mattress Is Best for Stomach Sleepers? 
There are certain kinds of mattresses that can help stomach sleepers get the best rest possible.
The best kind of mattress that you can have if you are a stomach sleeper is a luxury firm mattress. A firm mattress will provide relief for pressure points throughout the body as opposed to a softer mattress. A firm memory foam mattress is the top of the line.
The ELUX Signature Hybrid Mattress takes the all-foam option up a notch. The top comfort layer is soft, but the whole of the bed is sturdy enough to prevent sinkage. 
With this medium-firm mattress, the base layer is the foam, and the top layer is the gel. All the contouring with none of the cloud-like sinking. Try it for a 30-day trial period. 
Firmness Options
Look for mattresses with a medium rating in terms of firmness (along with positive mattress reviews). Of course, this all depends upon your body type and preferences, but the firmer your mattress, the more comfortable you should be sleeping on your stomach. 
If you need to hold onto your original mattress for the time being, mattress pads can help provide the support you desire. The Double Thick 2-Piece Bamboo Mattress Pad & Comfort Topper can make your too-soft bed feel as supportive as a strong hug. 
Or, for something flippable that gives off the feeling of the firmest foam beds, try the Memory Foam Mattress Topper. Choose from one to three inches in thickness for dreams as sweet as nectar and honey. 
Choose a Cooling Mattress 
A cooling mattress would be particularly useful for anyone who sleeps on their stomach because stomach sleepers can get hot throughout the night more easily than those of you who sleep on your side or back. 
You want to get the best rest possible, so ensure that you'll be staying cool all night long with a mattress that has cooling capabilities. Many mattresses have cooling foam and gels that will do the trick. Even something as seemingly simple as the Aere Crystal Cooling Mattress Protector can offer a cool surface while protecting your mattress. 
Other Tips for Stomach Sleepers
Keep Legs Straight When Sleeping 
If you are sleeping on your stomach, chances are that you have your knees bent in toward your body too. Keeping your legs stretched out straight can help to prevent any back pain that you may experience from having your back twisted all night long. 
Stretch in the Morning 
Since your spine may be in a not-so-optimal position throughout the night, one of the best things you can do to realign your spine is to go through some morning stretches to help lengthen your back. 
Doing so may relieve tension and help to energize and prepare you for the day ahead. 
Speak to a Doctor if the Pain Persists 
There are plenty of things you can do to make sure sleeping on your stomach remains an optimal sleeping position for you. 
If all of these tips don't seem to work for you, such as adding an extra pillow beneath your waist or using a firmer mattress with more back support, consider speaking to your doctor about some extra tips on how to make sleeping on your stomach more comfortable. 
Your doctor may recommend some choices for you to test out that we haven't covered, so utilize them for some extra help if things are not working out with these options we have covered. 
What To Remember 
We all have a preferred sleeping position that makes us most comfortable at night. Even though sleeping on your stomach could cause some discomfort in certain circumstances, there are plenty of things you can do to avoid those. 
Some of our top tips to make sleeping on your stomach as comfortable as possible are sleeping with your legs stretched out, using a firm mattress, or using a mattress with cooling gel or some other type of cooling element. 
Sources: 
Essential Tips for Stomach Sleepers | The Health Science Journal
Is It Bad to Sleep on Your Stomach? | Healthline
Sleeping On Your Stomach – Is it Bad for You? | Sleep Foundation
Slide show: Sleeping positions that reduce back pain | Mayo Clinic
Best Sleeping Positions to Improve Sleep Apnea | U.S. News
The Best — and Worst — Sleep Positions for Back Pain | Keck Medicine of USC