Mattress Topper for Side Sleepers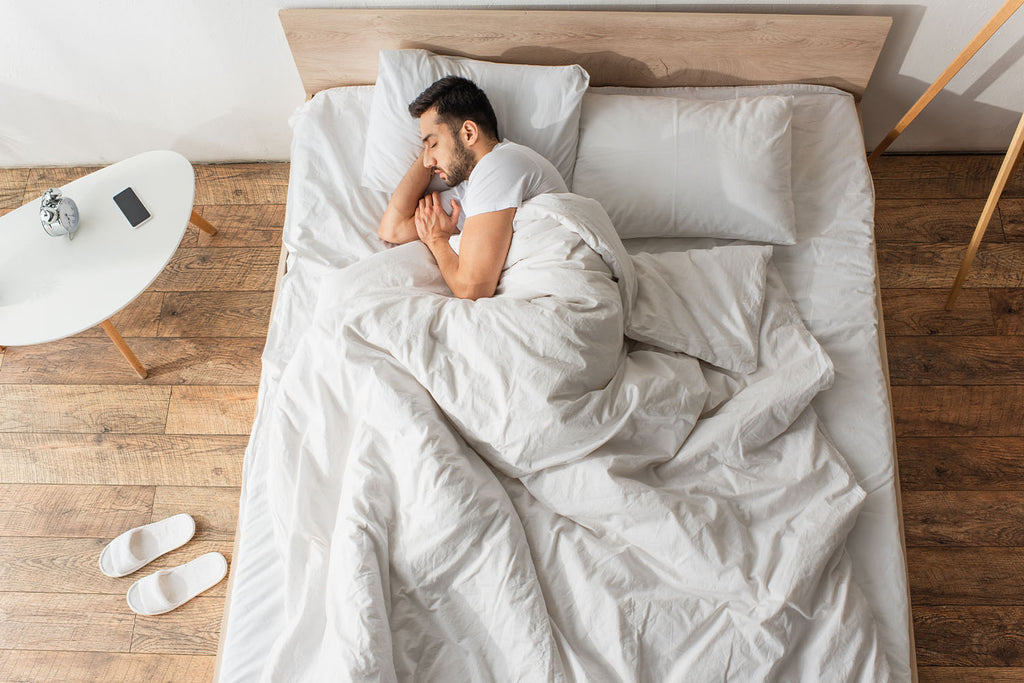 Everyone has a sleeping position that works best for them when headed to bed, whether it be on their back, stomach, or side. If you are a side sleeper, you have come to the right place! 
Luckily, sleeping on your side is one of the healthiest sleeping positions, but that doesn't mean that there aren't ways to make your sleep even better, depending on your bedding. 
We'll break down all the benefits of side sleeping, and what types of bedding materials are best for your desired sleeping position. 
What Is a Mattress Topper?
Before we get into all things side sleeping, let's make sure you are aware of what a mattress topper is. A mattress topper is a thin layer that can be made from a number of different materials. 
Usually, mattress toppers are made out of foam and don't exceed a couple of inches. They are meant to sit on top of the mattress that you already have and provide some extra support, padding, and comfort. 
In simpler terms, you can think of a mattress topper as a very thin kind of mattress. They are great for adding some extra life and plushness to the mattress you already have. 
Side Sleepers: The Benefits 
There are plenty of great pluses to sleeping on your side. That being said, before we get into what kinds of mattress toppers can elevate your experience even more, we'll review the positive qualities that come from this sleeping position. 
Prevents and Eases Back Pain 
If you're struggling with some back pain, sleeping on your side may help ease some of that discomfort.
Sleeping on your side helps keep your spine aligned with the rest of your body. Back sleepers might be all too familiar with this. Sometimes, back sleepers who switch it up and move to sleep on their side find that this new position leaves them feeling extra refreshed in the AM.
Otherwise, back sleepers can find relief from placing a pillow behind the knees or perhaps a small, rolled towel under the lower back. These seemingly minor adjustments may have a big impact on sleep quality. 
Helps To Reduce Snoring and Sleep Apnea 
If you sleep on your back, it's more likely that you will begin to snore due to your body's positioning. When on your back, your tongue can easily fall in the back of your throat; this obstruction is one factor that can contribute to snoring. 
Sleeping on your side helps bypass this problem, allowing for little to no obstruction in your airways. Since side sleeping leaves your airway free of obstruction, you'll be able to breathe much easier.
If you have sleep apnea, sleeping on your side could possibly help reduce some of the symptoms of this disorder, but it's important to speak to your healthcare provider for more information. 
Helps with Gut Health 
Whatever position your body is in, especially during sleep, your digestive system will react accordingly.
If you struggle with issues like bloating, constipation, heartburn, and other problems that affect the gut, you may be able to feel some relief from choosing to sleep on your side. Your digestive system might just have an easier time doing its job. In fact, early studies suggest that sleeping on the left side is even better than on the right side, but more research is needed to prove anything 100 percent 
Helps Improves Brain Functioning 
At night, especially while sleeping, the brain works to get rid of "waste." Research has shown that certain sleeping positions help the brain dispose of waste more effectively. 
Scientists are tentatively reporting that sleeping on your side is the best position for your brain to remove waste effectively. 
Helps Soothe Pregnant Women 
If you are pregnant, sleeping on your side could be your new favorite. Experts recommend pregnant women start side sleeping from 28 weeks to the end of their pregnancy. 
When on your side, your heart has an easier time pumping blood throughout the body. Side sleeping can help keep baby and mom-to-be healthy and happy. Pregnancy pillows are a common balm for sleepless nights, but sometimes even a traditional pillow nestled between the knees helps boost the comfort factor. 
The Main Downside to Side Sleeping: The Shoulders
 One thing to remember about sleeping on your side is that it could cause uncomfortable strain on your shoulders. Depending on which side you're resting on, the shoulder in contact with the bed could dig too far into the mattress. This could cause some pain in the shoulders. 
This could be avoided with certain kinds of pillows or mattresses and switching from side to side.
Mattress Toppers & Other Bedding for Side Sleepers 
Everyone has a different kind of mattress that they prefer, whether it be a soft and plush mattress or one that is a bit more firm. 
While you should always go with the one that you feel best suits you and your needs, certain kinds of mattresses fit side sleepers the best. A mattress with medium firmness may help reduce pain for people who prefer to sleep on their sides. 
Side sleepers might find soft mattresses uncomfortable since their hips or shoulders tend to sink into the bed, resulting in aches and pains in the AM. On the flip side, an excessively firm bed might not provide the right degree of support on pressure points in your body, resulting in strains.
While replacing the whole mattress might be a better solution, high-quality mattress toppers can help soothe your way to better dreams. 
When looking for a mattress topper for your bed, seek out one that is somewhat firm, like the options below.
The Best Mattress Toppers for Side Sleepers
The Memory Foam Mattress Topper
Our first recommendation is the Memory Foam Mattress Topper. Memory Foam is one of the best materials for side sleepers since it provides incredible pressure relief for joints and helps soothe back pain. Spring mattresses might not adjust to spinal alignment quite as well as memory foam is able to.
Choose the Memory Foam Mattress Topper in either 1.5 or three inches. From Twin to Twin XL to California King, this hypoallergenic foam topper is free of heavy metals and dangerous chemicals. It's as soft as a cloud and gentle as a sea breeze. 
Double Thick 2-Piece Bamboo Mattress Pad & Comfort Topper
Next up we have the amazing Double Thick 2-Piece Bamboo Mattress Pad & Comfort Topper. It's made of a bamboo mattress pad and a memory foam mattress topper. 
The Double Thick 2-Piece Bamboo Mattress Pad & Comfort Topper comes in the same bed sizes as the Memory Foam Mattress Topper while offering side sleepers the best of both worlds — bamboo and memory foam. Bamboo is naturally moisture-wicking, which helps keep hot sleepers feeling fresh and cool. The 1.5-inch Memory Foam Topper makes the combo thicker and more accommodating to sleepers of all sorts. 
Pillows for Side Sleepers 
Your pillows could make a difference in the quality of sleep that you are getting when on your side. Purchase a pillow with the optimal amount of support so that your neck is (hopefully) free of pain throughout the night and into the morning. 
Gauge whether or not your pillow is working for you by checking to see if your neck aligns with your upper back when you fully recline. If it's aligned properly, you should be able to avoid any neck pain once you're up in the morning. 
In terms of the pillows you should be looking for, it's best to avoid pillows made with feathers since they don't offer much support (and are a common allergy). 
Hypoallergenic pillows made from 100% natural latex, like the Latex Foam Pillows, last longer and are more gentle than harsher, chemical versions. These pillows help reduce the presence of odors, pathogens, and pain — perfect for back and side sleepers. 
Side Sleeper: The Best Mattress Topper for You & What Else to Remember
Out of all the sleeping positions, sleeping on your side is one of the more favorable ones. It has a long list of benefits, such as its ability to help regulate stomach issues, reduce snoring, and much more. 
When looking for the best mattress toppers for side sleepers, search for something with medium firmness. Another tip is to have a supportive pillow so that your neck and shoulders are on a stable surface. With these tips, you should hopefully be able to get to sleep on your side, in no time! 
Sources:
Mattress Pad vs. Mattress Topper: What Are They, and What's the Difference? | Sleep Foundation
Side Sleeping: Which Side Is Best and How To Do It | Sleep Foundation
Tips to reduce sleep-related back pain | NewYork-Presbyterian
Sleep during pregnancy | Pregnancy, Birth and Baby
How Sleep Position Might Impact Your Snoring | Healthline
Why Your Gut Wants You to Sleep on Your Left Side Every Night | Healthline