Mattress Pad vs. Mattress Protector: What's the Difference?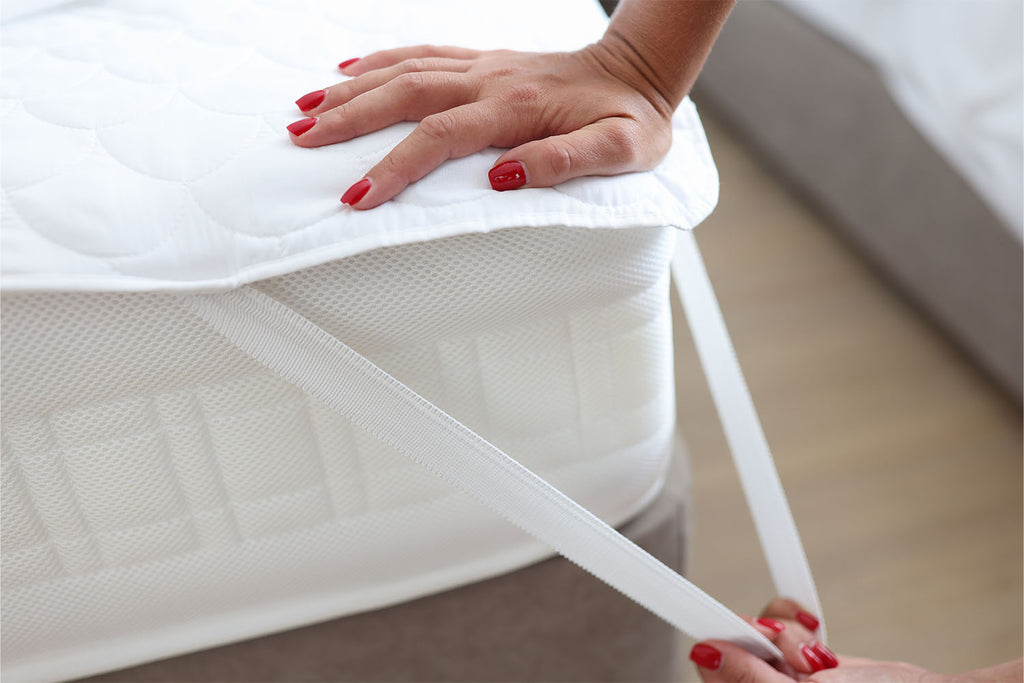 Whether you're actively searching or passively dreaming about it, we all want to have a more comfortable bed. Long days at work seem to melt away when you plop down into an ultra-comfy mattress that you can call your own. There's nothing like it. 
If you want to make your bed comfortable quickly, consider looking into some mattress pads. But what's a mattress pad exactly, and how does it differ from a mattress protector?
Today, we're here to clear the air and talk about these fantastic tools and how they can elevate your sleeping experience. Keep reading and take a step closer to beautiful sleep, night after night. 
What Are Mattress Pads?
First, let's talk about mattress pads. These beauties are one of the best investments you can make when it comes to your nightly slumber (besides a world-class gel mattress, naturally). 
A mattress pad goes on top of your mattress and underneath your fitted sheet. The point is to provide extra comfort when you sleep. The extra cushioning can make your sleeping surface more comfortable in whatever way suits your needs and desires best. 
People use mattress pads in all sorts of situations, including the following. 
College Dorms
Mattress pads are immensely popular for college dorm rooms. The mattresses provided by the university are typically not very comfortable, often made of blue plastic that is somehow both thin but very loud, crinkling with every movement. 
Mattress pads are a nice, affordable way to customize your sleeping setup in what is typically a one-size-fits-all situation. Since most dorm beds are in Twin XL, you'll need a mattress pad that comes in this specific size. 
Guest Beds
You might also use a mattress pad for a guest sleeping situation.
Let's say you have a pull-out couch or a futon for your friends or family to sleep on when they come through town. A mattress pad is a clever way to make your guests' sleeping setup a bit more comfortable than normal. 
Simply keep the mattress pad in a closet close by and break it out whenever you need to. This is great for smaller apartments and homes that need to get multiple functions out of one room or one piece of furniture. 
Your Own Bed
And, of course, loads of people use mattress pads for their own beds. Sometimes, after a couple of years, you want to change how your mattress feels but aren't ready to buy a new mattress. 
Mattress pads offer a convenient, more affordable way to make that mattress feel like new again. Plus, they'll help to extend the life of your mattress as well. 
The Wonderful World of Mattress Pads
Believe it or not, there are so many types of mattresses to choose from. Each one of them is better suited for certain sleeping positions. However you sleep, there's a mattress pad that can make your rest, well, more restful. 
Back Sleepers
If you find yourself waking up on your back every morning, congratulations, you're a back sleeper. For you to get the best night of sleep, the average back sleeper is probably going to want a medium to medium firm bed. 
This gives enough softness for your body to sink into so the mattress can cradle your neck and lower back but enough firmness to give you a sturdy surface that can help keep your back straight and aligned. 
For this, you might want to look at memory foam mattress pads like our Memory Foam Mattress Topper. It can help to make your bed a little more firm while still giving you the comfort and contour your body needs.
Side Sleepers
Next up, we have side sleepers, the most common of the group. Side sleepers have different needs than back sleepers. Because the side of your body is filled with so many curves, especially around your neck and shoulders, you'll want a medium soft/firm to soft bed. 
This allows the mattress to contour to every part of your body, especially your head. We've all woken up after a bad night of sleep with a crick in our neck. Soft mattress pads can help to alleviate that for side sleepers. 
Side sleepers could opt for a softer mattress topper like our Pillowtop Mattress Pad. This amazing down alternative pad is hypoallergenic and as soft as you can imagine.
Stomach Sleepers
Now for the outliers of the group: stomach sleepers. Stomach sleepers have some unique needs that would make side sleepers shudder. The best beds for them tend to be firm beds. 
Soft beds allow too much give, which could put a strain on stomach sleepers' backs and necks. They need a sturdy setup to support their whole body, keeping it level to avoid cricks and pains.
Stomach sleepers might want to try our Copper Infused Mattress Pad. It provides a firmer option that will give you the support you need. If you struggle with neck pain as a stomach sleeper, you might want to get a thinner pillow or stop using pillows altogether. 
Hot Sleepers
There's nothing worse than waking up in the middle of the night drenched in sweat. And for many of us, that problem happens all the time. But getting the right mattress pad can help to cool down your sleeping setup and help you get through the night by staying dry. 
Some memory foam options tend to trap heat, so stay away from those and instead go for naturally cooling materials like bamboo rayon or mattress pads infused with copper.
Cold Sleepers
If you're on the other end of the spectrum, maybe you want to go with a memory foam mattress pad (along with memory foam pillows). Your blankets keep you warm on the top, and your memory foam pad keeps you cold on the bottom for the coziest night of sleep you've ever had.
What Are Mattress Protectors?
Now, let's move on to mattress protectors. While they're in the same ballpark as mattress pads, the two serve distinct functions. While mattress pads aim to make your bed more comfortable, mattress protectors, as the name implies, are specifically designed to protect your mattress. 
Mattress pads can somewhat help to protect your mattress, as they are also a barrier between you and your mattress. But mattress protectors are specifically designed for this purpose, so they'll keep your mattress extra safe.
Makes Cleaning a Breeze
Experts recommend that you clean your mattress once every six months. Unfortunately, cleaning your mattress is a time-consuming task that many of us just can't get around to as often as we should. 
But if you place a mattress protector around your mattress, it acts as another barrier between your mattress and the dirt, skin, hair, oils, drinks, and other things that could potentially dirty your mattress. Simply take off the protector, give it a wash, and you're good to go. 
You should still be cleaning your mattress at least once a year, but this will hopefully save you some time and energy.
Get the Most Out of Your Mattress
On top of that, keeping your mattress clean and protected with a mattress protector will extend the life of your mattress. Mattresses are a big expense that is often unexpected, so we want to make sure that we get everything we can out of our mattresses. 
Mattress protectors can give you a few extra years to save up for your next mattress. It's definitely worth the investment. 
What Are the Different Types of Mattress Protectors?
Many people think of mattress protectors and get an image of those plasticky covers your mom used to put on the bed when you were potty training. Luckily, technology has come a long way since then.
There are several types of protectors out there that can meet your various needs:
Cloth Top
These protectors are the most low-key of the bunch. They are simply another layer of protection between you and the mattress. Our Premium Dimpled Mattress Protector, for example, is a fantastic, comfortable cloth protector. Even better — it just so happens to be breathable and waterproof too.
Cooling 
There are also mattress protectors that are designed to keep your mattress clean while at the same time keeping you cool. The Aere Cooling Mattress Protector has crystal gel fibers that draw heat away from the body, and it helps moisture to evaporate quickly. 
Waterproof
Finally, there are waterproof mattress protectors. This goes without saying, but they completely protect your mattress from spills and even things like incontinence. This goes a long way toward keeping your mattress as clean as can be.
Check out top-notch waterproof options like the Premium Terry Cloth Top Mattress Protector. It's 100% waterproof, machine washable, and fits mattresses up to 18 inches deep. Made from a carefully-formulated combination of Terry knit and polyester, this mattress protector is as soft as it is durable. 
The Right Mattress Enhancer For You
Whether you decide to go with a mattress pad, a mattress topper, or both, you're making a move that will help you have a better night of sleep. So take all this new info and go with the topper that meets your unique needs. 
For more info about all things bedding, head to eLuxury and check out all of our amazing products.
Sources:
Choosing a Mattress | Military Wellness
Side Sleeper: Best Positions, Benefits vs. Risks, Tips | Verywell Health.