Counter Height vs. Bar Stool - Which Should You Choose?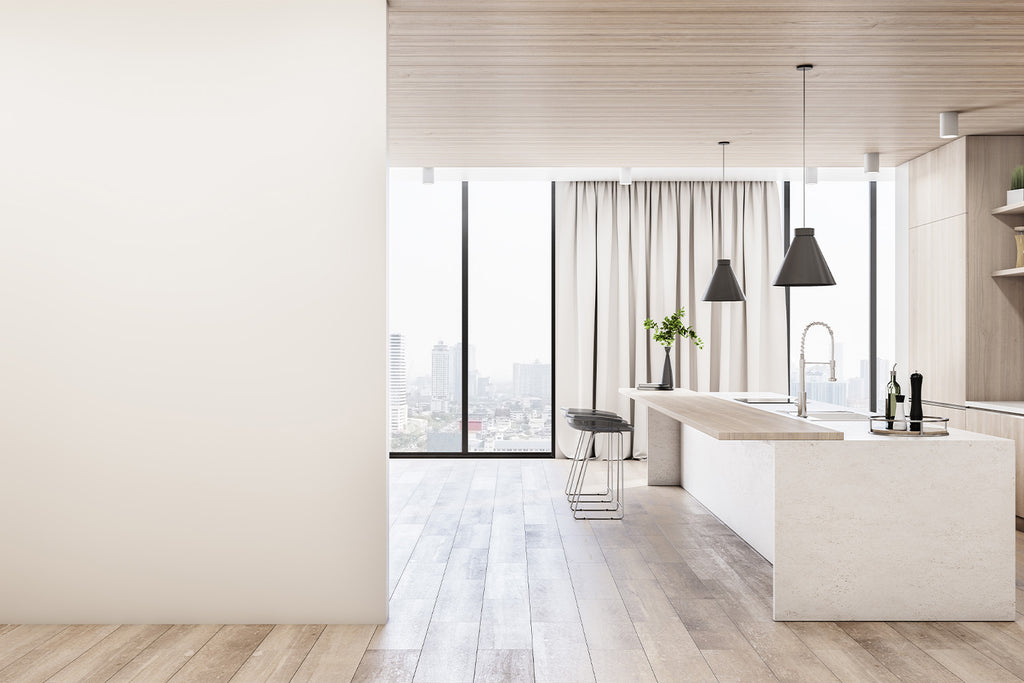 Counter or bar chairs are a fantastic addition to any home, dining room, or kitchen. Not only does it add cool visual layers and depth to the room, but it also adds additional seating in a unique and fun way.
But when you're selecting your high seating for your kitchen island, counter, or dining table, it's important that you know about the differences between counter height and bar height stools. 
If you don't get the right one, you could be in a serious pickle when you try to put them to use, so today, we're going to talk about the counter height vs. bar height so you can decide which choice you need to go with. 
Where To Put Stools in Your Home
Let's start by talking about the purposes that stools serve in the home. There are a lot of different functions that you could use your stools for, and you should select your stool's height based on what you're going to use it for.
Kitchen Island
The kitchen island is one of the most coveted kitchen elements out there. We're all dying to have one. And a smart way to get the absolute most out of your kitchen island is to use it as a sort of table to sit at. 
This can have so many practical applications. You can serve your guests directly from the kitchen to their seats. You can use the stools for sitting down while you prepare meals. You can use it to lounge around and have a few drinks. You can even use it for games if you want. 
Kitchen Peninsula
The next best thing behind a kitchen island is a kitchen peninsula. This is an extended piece of countertop that juts into the center of the room, leaving space for stools to add extra seating and divide up the room a little bit more. 
Peninsulas make for fantastic serving tables if you're hosting a buffet-style meal. They're also well-suited for eating and conversation, just like islands. They don't have quite as much space, but they're still totally memorable statement-makers. 
Home Bar
Not many people are lucky enough to have their own bar at home, but if you do, it wouldn't be complete without some stylish stools. It's perfect for hosting parties and giving your guests a place to sit down and relax while they have a drink. 
Home bars can act as extra seating for a large meal in a pinch, and you could even use it as a smaller kitchenette to prep food if the need arises. 
High Dining Table/Pub Table
Why have a normal, low-to-the-ground dining table when you can have a nice, high one? Lots of people are making the switch to taller tables in a breakfast nook or even as their primary dining table. 
"Pub tables" can be dining tables, but they also have a ton of other applications. They make for workspaces if you work from home, allowing you to have a standing desk right at home and allowing you to sit on a stool while you work. 
Laptop Bar
As more and more people are working from home, smaller workspaces are becoming more and more commonplace around the house. One common option for this is a laptop bar. It's a shallow, tall table that often stands against the wall. Sit at the table on a stool and face the wall while working on your laptop. 
This is a clever desk alternative that doesn't have to take up a bunch of space if you don't want it to. Keep in mind that the stool is everything in having a comfortable, functional laptop bar — you want to stay safe and secure, particularly backless chairs. 
What's the Difference Between Counter and Bar Stools?
The difference between counter and bar stools centers around height and style. The disparities are actually pretty significant; find out how to perfect your interior design below. 
Height
The big difference between these two stools is the height. Let's start with counter-height stools. Counter stools are the shorter of the bunch. They measure between 24 and 27 inches tall. They're perfectly designed to fit under standard counters and high tables that are about 36 inches high. 
Bar stools, on the other hand, are a good bit taller. They're designed to fit under a tall bar and give the sitter a comfortable experience while at the bar, so bar height stools are typically between 28 and 32 inches tall and are great for table tops and counters that are between 40 and 42 inches high. 
It is absolutely vital that you choose the correct stool height for your new setup. If you pick ones that are too tall, you could suffer from bruised knees and egos every time you try and take a seat. If you pick one that's too small, you might just feel like a little kid whenever you go to use them. 
Style
Height is the primary differentiator between these two, but another difference is the style. Generally speaking, barstool designs tend to be a bit more involved, usually utilizing a backrest and even armrests. But counter stools are commonly backless, trying to take up as little space as possible so they can fit neatly under the counter. 
This is not a hard and fast rule. Of course, you'll find backless barstools and counter stools with backs. But, in general, counter stools are more low-profile, while barstools tend to be more high-profile. 
How To Choose Your Stool
Now, let's get into the practical reason why you clicked on this article. You want to decide which stool to select. Here are some of the things you need to think through to make your decision. 
The Purpose
First and foremost, you need to identify the primary purpose for which you'll be using your stools. You want the design of the stool to complement what you want to do with the stool. 
So if you want to have your stools tucked neatly under your counter to keep the walkway clear most of the time, you might want to opt for a more low-profile counter-height stool. But if you decide that you value comfort the most, get a nice comfortable stool with upholstery and a backrest. 
If you plan to move your stools around a lot to act as extra seating in other rooms, make sure you select a wieldy stool that is light and can be moved easily. 
Just think about yourself and your specific needs. The stool is a tool that is meant to enhance your kitchen experience, so pick the one that can do the best for you. 
The Height
The biggest factor you need to consider when selecting a stool is the height of your counter. As we said before, if the stool is too large, you'll bang your knees on the countertop left and right, and if it's too short, you might not have a comfortable experience when you're sitting at the neatly-designed counter. 
Don't guess or eyeball it: Break out that tape measure and measure the distance between the floor and the underside of the countertop. That way, you can know for sure what size you want to get. 
Again, if your counter is about 36 inches off the ground, you'll want a counter-height stool that's about 24 or 27 inches tall. And if your counter is closer to 40 or 42 inches off the ground, you'll want a bar stool that's about 28 or 32 inches tall. 
As a general rule, there should be about 10 inches of space between the top of the chair and the bottom of the counter. Remember, bar stools are tall, and counter stools are short.
The Style
Of course, it's important that your bar stool fits your unique style and the atmosphere that you're trying to create in your kitchen. You may have heard the expression, "Function over form," but we say that both are important!
So if you have a mid-century modern dining space and you want some stools to enhance it, try these Swivel Dining Chairs for your bar. Their elegant dark wood, the dark fabric upholstery, and the low-profile backrest will definitely fit the vibe you're going for. 
Or if you're going for a farmhouse chic-style kitchen, get some stools with some brighter neutral colors, fabric upholstery, and warm-toned woods. 
Whatever your style may be, all of your furniture should make you happy and comfortable in your own space. That's what's most important, so make sure you pick a piece that you love. 
Counter vs. Bar
At the end of the day, there's no better option when it comes to the counter stool vs barstool debate. The best option is the one that works best for you. With whichever you pick, take this new knowledge and choose the best new addition to your kitchen space. 
To learn more about kitchen furniture, bedding, and more, head to eLuxury.
Sources:
Kitchen peninsula vs island – which to go for, according to kitchen designers | Real Homes
The 2023 Kitchen Design Trends We're Eyeing Right Now | The Spruce