2 Tips To Find a Coffee Table for Your Sectional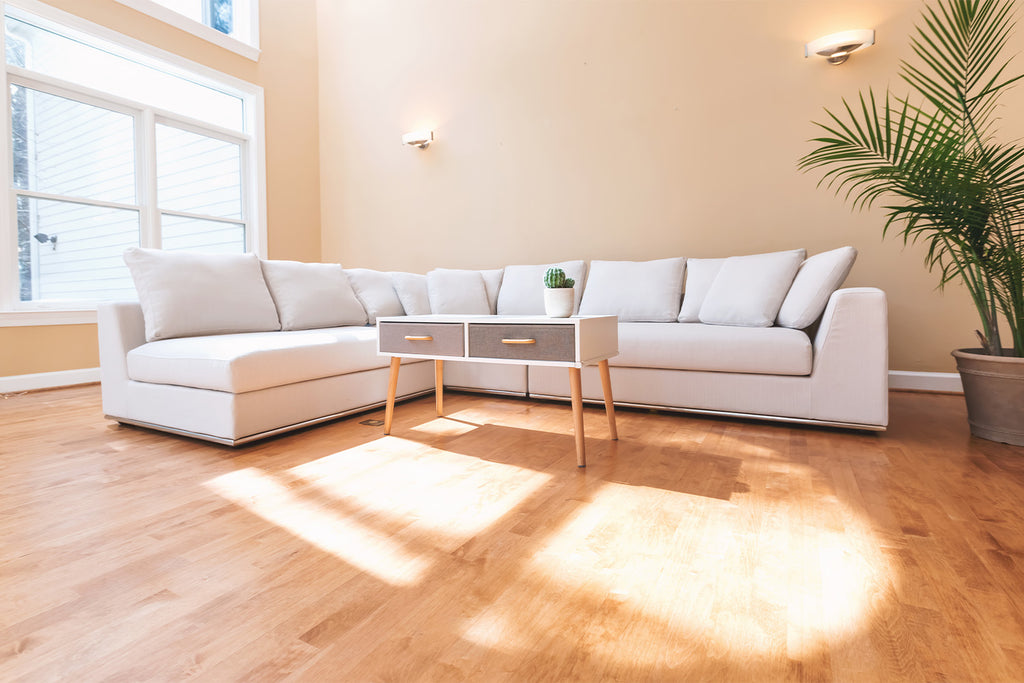 Your living room is a place where you should feel most comfortable in your home. It is the spot in your house where everyone can gather to chat, watch a movie, relax, and so much more. With this being said, you may want everything in your living room to feel perfect, down to the smallest details. 
One of the elements that can really bring a living room together is your sofa and the type of coffee table that sits in front of it. These pieces of furniture can sometimes be the biggest and most prominent pieces in the room, so you want to ensure that they not only fit the overall atmosphere of your space but that they also work practically. If you have a sectional, picking the right coffee table is essential.
We're making it easy for all of you out there. Keep reading to learn about which coffee tables go best with which sectionals:
Tip 1: Get To Know All the Different Types of Coffee Tables
Coffee tables come in all kinds of shapes and sizes, which is convenient if you are a sectional owner. Coffee tables are often the centerpiece of the living room, so don't hesitate to choose one for your living room.
Let's go into some of the different types of coffee tables so you know which ones will match your sectional setup and overall living room atmosphere. 
Storage Coffee Tables
Storage coffee tables tend to be a little smaller in their overall size but make up for it with the compartments that they offer.
For instance, a storage coffee table may only come in a smaller rectangular shape but will have drawers and open sleeves in the middle. These open storage spaces offer some versatility in decor; you can place some of your favorite books in there for a pop of color. 
Marble Coffee Table
These coffee tables could add a touch of elegance to your living room if that is what you are looking for. They come in a variety of different sizes, so finding one to fit within the open space in front of your sectional shouldn't be difficult. While they can be on the pricier side, the air of luxury that they add to the room is well worth it. Keep in mind that marble is porous — so watch out with drinks like grape juice or red wine. 
Mid-Century Coffee Tables
These coffee tables tend to be smaller, so if you are looking for wide open space around your sectional, they will be a perfect fit. Mid-century modern coffee tables have an atmosphere of nostalgia with their construction pattern, often made with shorter legs but with sleek edges to create the perfect balance of the old and the modern. 
Square Coffee Tables
Square coffee tables come in multiple types of styles, and everything you need to know about this type of coffee table lies in the name. They actually could fit particularly well in settings that have a sectional.
Square tables match the sometimes partial square shapes that those kinds of sofas create. If you are keen on symmetry in your living room, these types of coffee tables are great for pairing with sectionals. 
Round Coffee Tables
If you are looking to break up some of the edges that you have presented already from your sectional, then a round coffee table will work in your living room. Pieces like the Modern Round Ottoman will center the attention wherever you place this unique piece of furniture. 
Oval Coffee Tables
Oval coffee tables often evoke a 1960s feel, especially when they're in woodgrains or nostalgic bright colors.
Generally, oval coffee tables are fairly small. You could, of course, find a larger oval coffee table to take up more space, but if you want to preserve the open room that you have in front of your sectional, then this one might be ideal for you. 
Metal Coffee Tables
These go with a specific kind of decor style. For instance, if your sectional has a more neutral color and you wish to maintain these color pallets within your living room, a metal coffee table should do the trick. It also can't hurt that you will have a very durable and modern-looking addition to your living room. 
Glass Coffee Tables
Glass coffee tables are an easy way to maintain the illusion of space while still taking up some room in front of your sectional. Since they are clear, it feels like there is still plenty of open room in the space since nothing is being visually taken away. If you want to keep your living room looking spacious but need a coffee table present, glass ones are a smart selection. 
Wrapping It Up
Of course, there are many more types of coffee tables out there, but these are merely a few of the choices. Now let's get into which of these may work for the type of sectional that you have.
Tip 2: Sectional Setups: Which Tables To Pair With Each Setup 
Like coffee tables, sectionals come in all types of shapes and sizes, so different sectionals will require different kinds of coffee tables. We'll break down the sectional setups that most people can have and which tables will look perfect in those spaces! 
Chaise Sectional
These are some of the most popular types of sectionals out there simply because they do well in both smaller and larger living rooms. They typically seat up to five people and have one slightly elongated side.
For these types of sectionals, a rectangular coffee table, maybe closer to the edge of the sofa that sticks out, would look great here and offer some symmetry. 
L-Shaped Sectional
L-shaped sectionals are very similar to a chaise sectional; instead, they have a longer edge that juts out, which is what creates the iconic L shape of the sofa.
A storage coffee table may look particularly good in front of a sectional like this since it can minimize clutter as you stow away odds and ends. Again, just because it is a storage coffee table doesn't mean you can't make what you are storing look aesthetically pleasing to your living room's overall vibe. 
U-Shaped Sectional
These sectionals form the shape of a U with equally long sides to them. The space in the middle of these sectionals is quite limited, so a smaller coffee table would be best for this type of sofa.
We recommend that you put an oval or circular coffee table in the middle of the open space of the U. You could also get a square or rectangular coffee table, maybe one that is mid-century modern, for this space. Before clicking add to cart, check that it's small enough to ensure ample walking space around the inside of the sofa. 
L-Shaped Sectional + Chaise
This is a combination of the first two options mentioned above: the portion that makes an L in the sectional has a chaise on the end of it, allowing it to form almost a partial U.
This sectional offers the most versatility possible when it comes to what coffee table you wish to use for your space. It's already a little unsymmetrical, so a circular coffee table would go great here. Want a square coffee table? This still has just enough space for that too! 
Reclining Sectional
Reclining sectionals come in various sizes and shapes, and their main differentiating component is the fact that they can recline certain portions of the couch.
These are great for those of you that are looking for the maximum amount of comfort, and you should get a coffee table to match that energy. A round or glass coffee table could look awesome with this type of sectional.
Want a reclining piece but don't have room for a sectional? Try a futon-style couch!
Modular Sectional
Another option that gives you plenty of versatility, these sectionals come in multiple pieces, so if you ever need to switch up the layout in your living room or just need a change of scenery, these sectionals are perfect for that.
This means that you can pretty much use any sort of coffee table for this kind of sectional. If the table doesn't fit with how your sofa is currently set up, you can simply move some pieces around. 
Coffee Tables & Sectionals: Size Matters 
The biggest takeaway here is to know what kind of sectional you have and all the types of coffee tables that are out there so you can make the best choice possible for your living room.
Keep in mind that you'll want ample space between the sectional and the coffee table — the type of sectional you have dictates that space. You can really make most coffee tables work in any sort of space that you have: Get creative with your living room and sectionals! 
Sources: 
How to Decorate a Living Room in 7 Steps | The Spruce
The Effortless Way to Style a Coffee Table | The New York Times
What Is Midcentury Modern Style? Here's What You Should Know | The Spruce