Mattress Topper Buying Guide Part 2!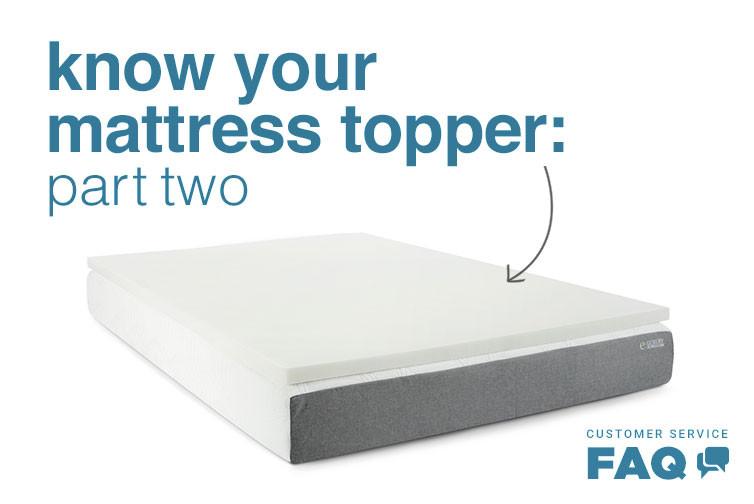 This week for our Customer Service FAQ blog, we want to continue on with our discussion of our wide variety of Mattress Pads and Mattress Toppers.  
We offer many different mattress toppers and mattress pads here at eLuxury, so we wanted to offer a Mattress Topper Buying Guide to help you along. Take it away, Customer Service!   If you missed it, be sure to check out Part 1 here !
First Up: Visco Memory Foam Mattress Topper
The  Ultra Soft 2-Inch Visco Elastic Foam Topper  is approximately 2 inches thick and will absolutely soften up a firm mattress. This is not the product for you if you are looking for support though; It is more for adding comfort and softness to your bed. 
This topper works best for side sleepers that feel their mattress offers great support already.
Gel Memory Foam Mattress Topper
While in the context of memory foam toppers, we also offer the  Gel Memory Foam Topper  that is approximately 2.5 inches thick.  Much like the Visco topper, this one will soften up a mattress without affecting the support of the mattress. 
However, it consists of cooling gel which will help make it sleep cooler for people who tend to get hot while sleeping.  This topper is also great for side sleepers. 
Cooling Mattress Pads and Waterproof Mattress Pads
For people who do sleep very hot while sleeping but would like more support, we offer the Cooling Mattress topper.  This topper is filled with polyester cluster fiber, and it is about 1.5 inches thick.  While this may seem very similar to our bamboo topper, it has a different fabric that make it sleep even cooler than the bamboo topper.  It is 63% polyester, 21% Cooler, 14% viscose, and 2% Lycra.  This topper will add support, add softness, and sleep very cool.  It is perfect for back and stomach sleepers who tend to get overheated in their sleep.
For anyone with young children, you know that having waterproof bedding determines the difference between hours of cleaning a mattress or simply throwing an item in the washer. For this reason, we offer the Waterproof Extra Plush Mattress Topper.  Much like our Marriott topper, this one has a polyester top, and it is about 1.5 inches thick.  However, it has a polyurethane backing that does not allow water to go through.  You might need to wash the topper, but at least you wouldn't have to spot clean the mattress. 
Now you can see, with all of the choices for mattress toppers and mattress pads why we decided to create the Mattress Topper Buying Guide! 
There are many different toppers to choose from to help give the the best night's sleep you could ask for.  If you have any questions at all, please feel free to give us a call at 1-800-977-7433 or email us at service@eluxurysupply.com
Do you use a mattress topper or a mattress pad? Let us know in the comment section below!