Men's Bedroom Decor Ideas for Stylish Sleep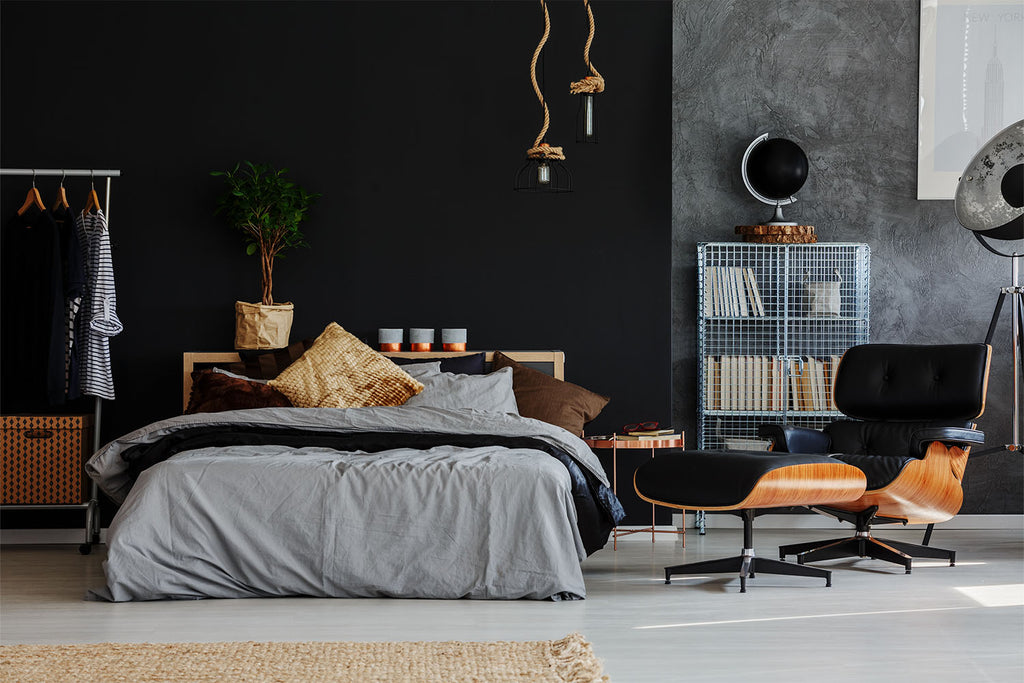 Your bedroom isn't the host of your parties, game nights, or family get-togethers. It might not even be the place where you spend most of your time.
It's the place where you rest and relax, where you decompress after a long day and get your energy back. It's the place where you might have a special guest every now and then. 
Because of this, it's important that your bedroom doesn't look like a dorm room. You want your bedroom to be inspiring and stylish, a place that you can feel comfortable and confident in. The decor has a lot to do with that. 
To help you along in your interior design journey, we've come up with a few tips to get your bedroom looking like a bona fide bachelor pad in no time flat. Keep reading to make the upgrade. 
First, Pick a Style
Before you go crazy picking out every cool piece of furniture you see, you need to do a little planning first. You need to establish what style you're going for in order to create a uniform, cohesive room that you can truly feel proud of.
Here are a couple of modern styles you need to know about:
Mid-Century Modern
Mid-century modern is one of the quintessential interior design styles, making for an amazing inner sanctum. If you're going for an intellectual, classy vibe, this is the perfect choice for you. 
This style is inspired a lot by minimalism. Furniture in this style often serves multiple functions. 
These pieces aren't overly ornamental or flashy. Their form, figure, and geometry are stately and elegant. If you have a book collection and want to show it off, this style begs you to have a small library space or bookshelf on display.
What makes this perfect for men is the materials used. You'll find a lot of natural-looking, polished wood furniture and wood paneling, the occasional stone and metal, a good amount of leather, and tasteful colors in accent furniture pieces. This will have your bedroom feeling inspiring, motivating, and high-class.
Industrial
The industrial style has quite a different feel. It's full of darker neutral colors: blacks, grays, browns, and even deep blues. You'll find a lot of rugged materials that are formed in a stylish way. Concrete floors or accent walls, high ceilings with exposed ducts and pipes, furniture with metal frames, and classy wood pieces. 
This style works for men because it's on the darker side. It's a bit mysterious, yet with a strong, sturdy, masculine feel. For a bedroom, it will make for a space that's functional and practical while also having a consistent, classy feel.
Scandinavian 
Scandinavian is on the other end of the spectrum. Like the previous two styles, it is still very much inspired by minimalism.
Scandinavian is a lot brighter than mid-century modern or industrial. It's full of warm neutrals like whites, soft grays, and lighter wood colors, and it puts natural light everywhere.
If you want a brighter room that can keep you light-hearted, happy, and comfortable, this is the style for you. This style works with the deep greens of house plants, and if you have any art you'd like to display, Scandinavian is a top-notch style to help draw focus to it. It's a style that screams "modern Europe," so if that's you, then go for it.
Bedroom Decor Ideas
Now that you've picked the style you want, it's time to select some pieces and get designing. Here are some men's bedroom ideas to remember as you shop around and start placing furniture.
1. Be Intentional With Your Colors
Modern men have nearly limitless options when it comes to selecting the right color palette for their bedrooms.
When it comes to bachelor pads, the classic go-to seems to be dark, brooding colors — navy, browns, and dark grays. On the other hand, bright whites might feel a tad too cold and impersonal. 
Try landing somewhere in the middle. Warm neutral tones like gray are fantastic, but too many can give off a cold atmosphere. Offset your bedroom color with some intentional accent pieces to warm the place up a bit. A piece of art, a book collection, a classy sculpture, or a cool vase will bring color to your space while not overwhelming it.
2. A Leather Chair
No matter what style you're going for, a leather chair can always find a home in a man's bedroom. It's best to have a bit of extra seating for lounging, reading, or whatever else you get up to in your room. 
This leather accent chair is comfortable and great for reading, and it has strong, clean lines that would work wonderfully in a masculine space. It's an excellent option for any masculine bedroom.
3. A Minimalist Nightstand
One of the most neglected pieces of furniture in a young bachelor's bedroom is the nightstand or bedside table. Many of us don't even have them in our rooms. While it may seem a bit unnecessary to have one, it really helps to balance out a room, create intentional space, and have a bit of extra storage. They're worth it, even if you have a small bedroom.
Your nightstand is a great place to charge your phone at night, sure. But its real purpose in bedroom design is to bring balance and tact to the sleeping space. You don't want it to seem like you just threw your bed against a wall and called it good when you set up your bedroom. Nightstands help to frame your bed and create a meaningful sleeping space. 
For example, the Chevron Nightstand isn't flashy or bulky. It's a sturdy, small piece that's made of one single material. It's got a drawer and an open shelf, ideal for displaying any books or knick-knacks you might want to show off. One or two of these would be a fantastic addition to your room. 
4. Platform Bed Frame
If your mattress is sitting directly on the floor, it's time to make an upgrade. Your bed is the focal point of the bedroom, after all. Something as simple as a bed frame can take your bedroom up so many points on the classy scale. When choosing a bed frame, make sure you pick something stately but not over the top — it needs to be as high-quality as your mattress. 
Our wooden platform bed frame is an excellent choice for those of you trying to stay more on the minimalist side of things. It has no headboard, so it's nice and subtle, and because it's a platform bed, you don't have to mess around with box springs. 
It's made of beautiful dark wood, but it comes in a variety of colors, and it's relatively low to the ground, which is a classy, modern bedroom move. 
5. A Headboard
If you already have a bed frame, but you'd like a bit more visual interest in your room, a simple headboard makes your master bedroom more stylish without buying a whole new frame altogether. 
This Baldwin Headboard is a fantastic home decor option, especially for industrial-style rooms. It comes in black metal, and it's relatively simplistic, perfect for a man's bedroom.
6. Wall Decor
Next up, it's always smart to populate your bedroom walls with a little somethin' somethin'. Bare walls can make a room feel empty and hollow, like it doesn't have any personality in it. Wall decor, and interior decor in general, is a way to communicate things about yourself. It's an expression of your passions and your taste, so it's a very important design idea. 
You want your bedroom to feel like you, and that's where wall decor comes in. If you like to give your rooms some life with some houseplants. Install some floating shelves and have a wall devoted to your little green friends. 
Or, if you're a photographer, hang up a gallery wall of some of your favorite shots that you've taken. And, of course, there's nothing wrong with some wall art, some posters from your favorite movies (it looks better if you frame them), or even just an accent wall of color like forest green. Just make sure it generally fits in with the color scheme of your room. 
7. A Futon
A futon is a top-notch option to add some seats that can serve other functions if needed. 
Our Faux Shearling Futon comes in cream or gray, and it's minimalistic and classy, not like the futons you find in college dorms. It's comfortable to sit in, nice to look at, and makes a pretty comfortable bed if you ever need to host an extra sleeper.
Your Bedroom, Your Style
Your bedroom is your space, your sanctum, your man cave. It's important that you feel proud of how it looks and comfortable living in it. Now you've got a few ideas on how to make your bedroom your own with a put-together, masculine style. If you follow these tips and you love them, let us know about it in the comments below! 
For more info about bedroom furniture and a great selection, check out eLuxury.
Sources:
5 Interior Design Styles that You Can Incorporate Into Your Home | The Art Institutes
Platform Bed Ideas | Sleep Foundation
10 Most Popular Interior Design Styles to Know Now | Architectural Digest