Our Guide to Choosing Counter Stools for Your Kitchen Island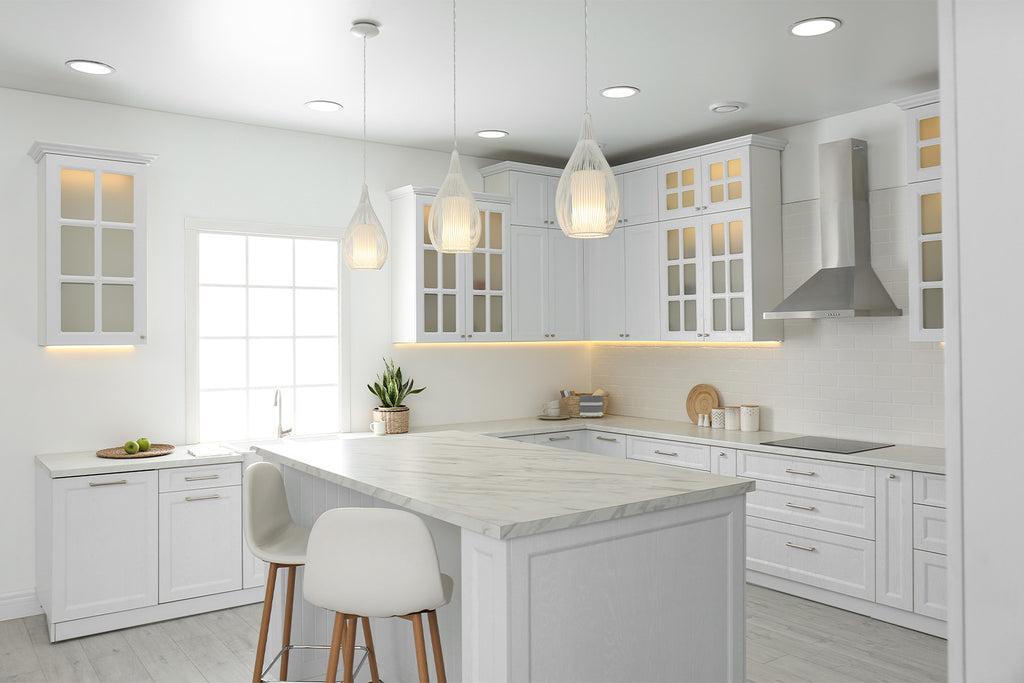 Buying furniture for your kitchen or dining room could be equally exciting and difficult. The furniture in this space has the ability to be unique and add some needed personality into an area that may need a little pop of personality. 
While looking at the aesthetics of certain pieces is fun, when looking at something like counter stools for a table or island, we want to keep some other specifics in mind. We wouldn't want to purchase a piece that doesn't fit the overall home atmosphere or doesn't work with the kitchen layout. 
Read on to learn more about how exactly to pick the right counter stools for your kitchen island, no matter your style:
Everything To Consider When Outfitting the Kitchen
When purchasing counter stools, there are various factors that will influence the final design result:
Size of the Stool 
As obvious as it may seem, the actual size of the stool is of great importance when thinking about the open space you already have in your kitchen and how much space you are willing to give up.
If you have a smaller kitchen, bulky and large counter stools might not be the best choice since they could potentially limit walking space. Not only will you want ample room in your kitchen for ease when it comes to cooking, but you also don't want any guest's path blocked by overly large stools in an already small kitchen. 
This is especially important if you live in an apartment where the dining area and kitchen are merged or any sort of living space where extra room isn't present in your kitchen. 
Counter Height & Bar Stool Height 
This is also a matter of personal preference, but forgetting to look at the height of both the countertop and stools can prevent us from enjoying the comfortable seating we yearn for. Make sure your kitchen island chairs and stools are the right height to keep yourself and any houseguests comfortable.
A good rule of thumb when looking at the height of your stools is to have the upper half of the backrest of the stool/chair peeking just a few inches high above the countertop. This seat height will leave you and your guests sitting in a comfortable position, elbows being able to rest easily on the counter without feeling like you are towering over anything. (How many inches? Keep reading!)
Before you look for suitable counter height bar stools, first determine the height of the counter itself. You can do this easily with a tape measure or other measuring tool. Be careful, but it's not quite like a "measure twice, cut once" situation. The word of the day here is "estimation." 
Get a solid estimate of how tall your counter is, and keep that number in mind once you begin to look at stools that match your home decor and the overall vibe of your bar area. In fact, writing it down in a notebook or your phone can prevent re-measuring over and over. 
After determining the height of your counter, check that the backs of the stools are at least six inches above the counter. If the stools you chose do not have backs, math is still your friend here. In that case, the seat itself is comfortable at six to eight inches below the countertop. 
Adjustable Chairs
In addition, selecting chairs with adjustable height — some metal bar stools, for example — can help you optimize the comfort and functionality of your home bar. (While you can find some wooden seats with adjustable heights, it's more common to find metal frame stools that can adjust.)
Back or Backless Bar Stools 
Deciding whether or not you want your stools to have a back to them could either be a stylistic choice or just one that is more personal, depending on who you are and who you have over on a frequent basis. 
For example, if you have your grandparents over every Sunday for dinner and the only sitting space you have is around your countertop, maybe consider grabbing stools with a low back to them, along with some comfy upholstery. High-back bar stools also are well-suited for those who are looking for posture support. Placing these at a breakfast bar provides back support and will save you from slouched shoulders and unwanted back pain. 
To that same point, sometimes stools without a back or upholstered seat cushion on them are not only more cost-effective but also could fit the overall style of your kitchen more and look a bit more sleek and elegant. Upholstered chairs in any room add a touch of upscale glamor and a pop of color. 
Padded or Unpadded Stools
There are a wide variety of stool types, some of which range from bistro stools with button tufting and padding while others are stools that just have minimalist wooden bottoms and backs. Some stools are made from materials like aluminum or stainless steel, which can fit a more industrial interior design style. 
The "best" stool seats for your island depend on the degree of comfort you are looking for out of your stools. If you have a table in your living room or somewhere separate from your countertop where you typically eat, maybe spend more of the design budget stools there. 
If you're mostly eating at your countertop, maybe spend the extra money on padded stools with extra-comfy upholstery. Leather bar stools or anything that's easily cleaned are classics. 
When deciding between padded stools and un-padded stools, think about the house-wide aesthetic you are trying to maintain. Is your kitchen a bit industrial with metals and bricks in the area? Maybe opt for paddle stools to fit the vibe better. Industrial style is an evergreen trend; with leather and metal pairing stunningly (like in this Industrial Metal Horizontal Accent Chair), you can pair comfort and quality. 
Generally, padded stools will probably go better in areas with a more cozy and comfortable atmosphere. 
Choose a High-Quality Material 
You want your stools to last you as long as possible, so pick a high-quality material. 
Here is a short list of some of the materials that may work for you and your kitchen:
Solid wood: Wood bar stools are timeless and versatile in terms of what styles they can fit and how they look in each kitchen. A good wood stool made from thick wood will also last you quite a long time. 
Meta bar stools: metal is a good material if you have any rambunctious kids that may knock stools over or if your kitchen is smaller and is prone to mishaps and falling items. Metal adjustable bar stools are incredibly durable. Options like stainless steel tend to resist damage like rust. 
Wicker: while they usually fit a specific theme within a kitchen, these dining chairs are made with some intricate workmanship and are very lightweight. This makes them easy to move around, but the delicate construction can make wicker tricky to repair. 
While there are other materials, these are some of the most common ones that will provide a high-quality stool with a long life span. 
Make Sure the Stool Matches Your Style 
While kitchen island stools made of different materials take on a whole atmosphere of their own, even technically matching metals can give off entirely opposite vibes. The key here is to ask if the kitchen additions work within that room and if they gel with the rest of the home. 
For instance, if you have a mid-century modern kitchen with earth tones and gentle, dim lighting, maybe stools with curved edges and soft faux leather cushions will fit your space more easily. On the other hand, if you have a kitchen that is more contemporary and sleek, a set of modern bar stools with sharp edges and harsh lines would be more fitting. 
The stools are some of the pieces of decor in a kitchen that can breathe some extra life into the room, so the thought that goes into purchasing them should be long and precise. 
Island Bar Stools: A Necessary Luxury
Purchasing stools for your kitchen countertop is something that is equally simple and nuanced, so remember to always keep in mind things like your counter height and how tall you want your chairs to come up above the counter. Think about if you want them to match the dining room chairs or be something separate entirely.
Stools should be made from high-quality materials to last you as long as possible. Whether it be wicker, metal, or wood, material matters. Lastly, decide whether or not you want your stools to have things like backs, a cushion, or any padding, and maybe most importantly, have them match the atmosphere of your kitchen!
Picking the right bar stool set for you should be some of the most fun you have when decorating your kitchen, and it's easy to get started on a whole new feel with eLuxury. 
Sources:
5 Basic Kitchen Design Layouts | The Spruce
15 Kitchen Color Schemes That Complement Stainless Steel Appliances | Forbes
The Stainless Steel Kitchen Is Having a Moment | Architectural Digest
Breakfast bar ideas – 11 stylish ways to create space in your kitchen for snacking | Homes and Gardens