Top 5 Reasons to Buy the 10 Inch Gel Memory Foam Mattress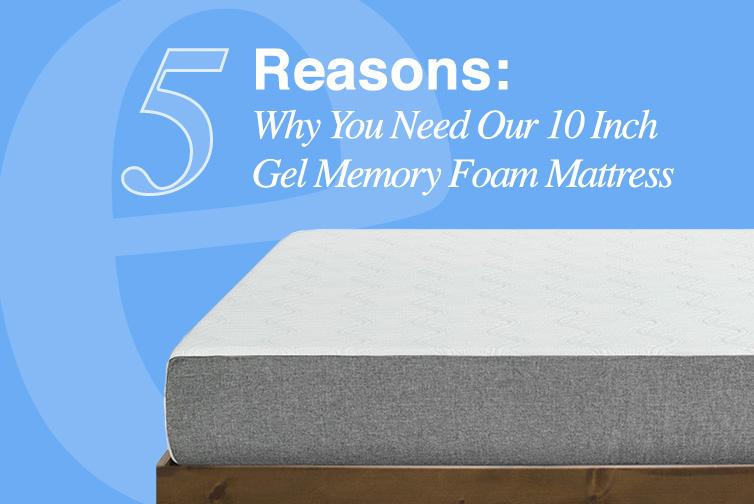 There are a multitude of reasons why you should consider one of our 10 inch Gel Memory Foam Mattresses. In Customer Service, customers are always asking us for the best reasons to go with eLuxury over the competitors and the mattress warehouses out there. We decided to put together a Top 5 Reasons to Buy the 10 Inch Gel Memory Foam Mattress from eLuxury list. Take a look below!
1. Most Well-Made Memory Foam Mattress on the Market
We here at eLuxury know that one of the most important factors in choosing your new mattress is comfort! We have designed our 10'' Gel Memory Foam mattress with this in mind. The bottom 7'' of 1.8lb density memory foam creates a base to help support and strengthen the mattress, while the top 3'' of 3lb density gel memory foam creates a soft layer to cushion your body as you ease in to sleep.
The gel beads in the top layer of our mattress help to disperse your body heat and ensure a cool night's sleep. Start believing in a great night of sleep, and try yours today!
2. USA-Made Memory Foam Mattress
As a Veteran-owned business, we know how important it is to our customers to own a US-made product. Our 10'' Gel Memory Foam Mattress is manufactured in Mississippi with the American quality that you know you can trust. We are proud to employ more than 100 hard working Americans in all aspects of our business and guarantee each of our mattresses are crafted with the highest quality and our customer's comfort in mind.
3. Best Mattress Return Policy Online...or Anywhere!
It can be difficult to find the best mattress to meet your needs, but we at eLuxury want to make sure our customers buy with confidence. We offer a 120 day return policy on our 10'' Gel Memory Foam Mattress so that our customers are able to try the mattress and determine if our product is exactly what they need!
A 10-year warranty is also provided on all of our mattresses to protect this investment in your comfort for years to come. We are confident that you will be satisfied with your new 10'' Gel Memory Foam Mattress, but if you do have any issues, we want to ensure you are taken care of!
4. Buy your Mattress Online, Ship it Right to Your Door!
In the winter season, it can be a nightmare to venture out into the holiday traffic and icy roads. We are here to provide an easy and hassle-free solution! When purchasing our 10'' Gel Memory Foam Mattress, we provide fast and free shipping for the entire contiguous United States. Instead of having to deal with hauling your new mattress home, we ship it directly to your front door!  Choose convenience this winter by choosing eLuxury.
5. Any Returned Mattress Is Donated, not Trashed!
Here at eLuxury, we offer a 120 day return policy, but one of the major concerns our customers have is how they actually set up the return. As a company, we decided right away that instead having returns disposed of, we would donate our mattresses to people and organizations around the country that need them. If a customer decides that the mattress is not going to work out for them, we locate an organization in the customer's community and donate the mattress to help those in need. We arrange for the charity to pick up the mattress to eliminate any inconvenience.  Once this is done, we provide a full refund to the customer.
If you want even more reasons other than these top 5 reasons to buy the 10 inch gel memory foam mattress, call us at 1-800-977-7433 or contact us by email at
service@eluxury.com
!