What's My Bed Size?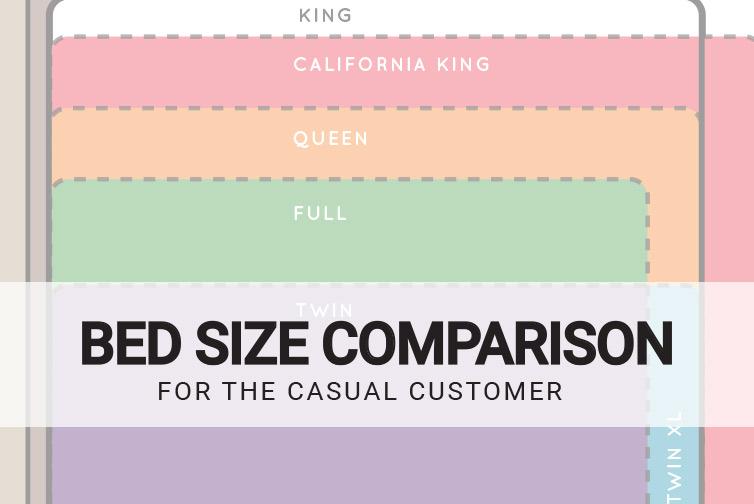 There is one thing that we are often asked in our Customer Service Department that may seem surprising. Customers often ask, "What IS my bed size?". We are all familiar with the King, Queen, and Twin bed sizes, but there are a surprisingly large number of bed sizes available on the market today and our experts on the Customer Service Team here at eLuxury.com want to explain the difference. Take a look below if you are asking, "What is my bed size?". 
The most popular bed sizes in the United States are the King, Queen, and Twin sizes, but nearly all mattress and bedding manufacturers offer products in Full size, Cal-King size, and Twin XL as well. Let's break them down, shall we? 
Full Size Mattress (Double)
A Full (also known as a "double") size bed is just a size below a Queen and isn't quite as wide or as long. This is often the first "big kid" mattress for many of us after we grew out of our Twin size mattresses and graduate to a bigger size. That said, we have noticed that many parents, after their children are ready to leave the converted crib, just skip the Twin size mattress and go straight to the Full size. It's a way to save money down the road when your little one grows up too fast (As they all do!) and needs a bigger bed. 
California King mattress (Cal-King)
The California King (or Cal-King) mattress is often mistaken for having the largest dimensions of any mattress (We assume due to the name), but in reality, it is actually just a different size than the King size. A standard King-size mattress is 76" by 80", while a Cal-King mattress is 72" by 84". It is indeed 4 inches longer than a King mattress, but it is actually 4 inches less wide than a King. 
Twin-Xl Mattress (Extra-long Twin)
The Twin XL mattress (Twin Extra Long) is very similar to the Twin size mattress, but is just 5 inches longer, making it 80 inches, the same length as a King size bed. At eLuxury, we have a large number of orders every year for sheets, comforters, and mattress pads for Twin XL products as young people begin the Fall college semester. Most college dorm rooms offer Twin XL beds, which can accommodate taller people while still allowing 2 or more beds to fit into a smaller space. 
Here is a fun fact that anyone who has ever purchased a "King" box spring would know.  Two Twin XL mattresses equal out to a King size mattress, so when buying a box spring for a King bed, you actually just purchase two Twin XL-size box springs. 
A "Split-King" mattress is when two Twin XLs are put together to form a King size. This can come in handy when you have two Twin XL mattresses and are having guests over and need one big bed or if two people are sharing the same bed and they have different requirements for comfort. If one person prefers a softer bed while the other person prefers a firm bed, you can purchase a mattress pad for one and only put it on one side. Split-King mattress set ups have settled many bedding disagreements over the years!   
The Low Down on Bed Sizes
To get a bird's-eye view of all of the mattress sizes, take a look below at this handy infographic that will answer any questions for someone asking, "What is my bed size?".