What's the Difference? Mattress Pad vs. Mattress Topper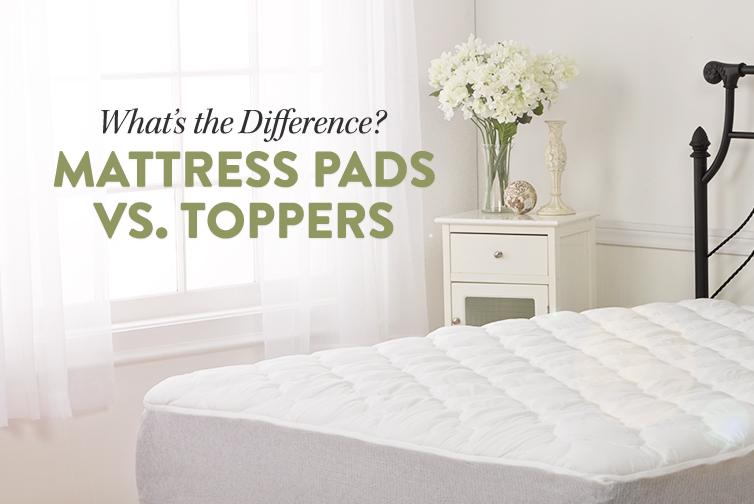 One of the most frequently asked questions our customer service representatives get is, "What is the difference between a mattress pad and a mattress topper?" At eLuxury, we use both words interchangeably. With many of our products on our website, we will use "pad" and "topper" to describe them. 
Whether you're needing a mattress pad or topper for college or need one on your bed at home, we have multiple products that can help you get the most comfortable bed possible! Take a look below to learn more about each. 
What's a Mattress pad? What's a Mattress Topper?
eLuxury mattress pads are constructed by laying out the down alternative cluster fiberfill on the bottom cover. The cotton-top cover is then laid over the fill. The loft is the measurement from the bottom cover to the top cover before the mattress pad is sewn together. This is important to know because it shows measures the effectiveness of the fill based on the ratio of fill weight and the loft. 
Click below to get the best prices on Mattress Pads!
| | | | | | |
| --- | --- | --- | --- | --- | --- |
| Fill Weight | 17oz per sqr. Ft. | 25oz per sqr. Ft. | 25oz per sqr. Ft. | 25oz per sqr. Ft. | 33oz per sqr. Ft. |
| Loft | 2 Inches | 3 Inches | 3 Inches | 3 Inches | 4 Inches |
| Estimated Thickness | ~ 1 Inch | ~ 1.5 Inches | ~ 1.5 Inches | ~ 1.5 Inches | ~ 2.5 Inches |
 
eLuxury Bamboo Mattress Pad
eLuxury's mattress pads can be enough padding for your sleep needs all on its own. Our Bamboo Top Mattress Pad receives high praise from 5-star resorts and spas all over the world. The bamboo blend fabric is silky to the touch and reduces hotspots. The top quilting is an extra-plush for a more comfortable night of sleep. This mattress pad is perfect for a mattress that runs hot such as Tempur Pedic. Our bamboo mattress pad uses a bamboo fabric specifically known for its breathability. The mattress pad top is 70% polyester and 30% rayon. 
The polyester supports mattress pads stretchiness and durability. The bamboo mattress topper is filled with plush, supportive synthetic cluster fiber. Cluster fiber is a highly innovative polyester material that goes through an extra engineering process to create a network of fiber that "trap" air to allow the pad to keep its shape longer and allow more airflow than any other mattress pads on the market. The backing is 50% cotton/50% polyester. The extra plush bamboo top mattress pad is the highest-rated mattress pad on the market.
Foam Mattress Toppers, Latex Mattress toppers
In case you're asking, "What's the difference: Mattress topper vs memory foam?", the next bit might help! Our mattress toppers are all constructed a bit different than a mattress pad.  A mattress topper is a thick layer of cushion that covers your mattress (and mattress pad) to give you even more comfort and support. The toppers can be made of foam, latex, feather, and many other materials.
The key characteristic of a mattress topper is that they simply provide extra plushness for sleeping and personal preference. For instance, our Gel Memory Foam Mattress Topper provides great back and body support along with a great plush feeling for maximum comfort.
Click below to get the best prices on Mattress Toppers!
Do you use a mattress pad, a mattress topper, or both? Let us know in the comments below with your thoughts on either!