What's the Difference Between a King & California King?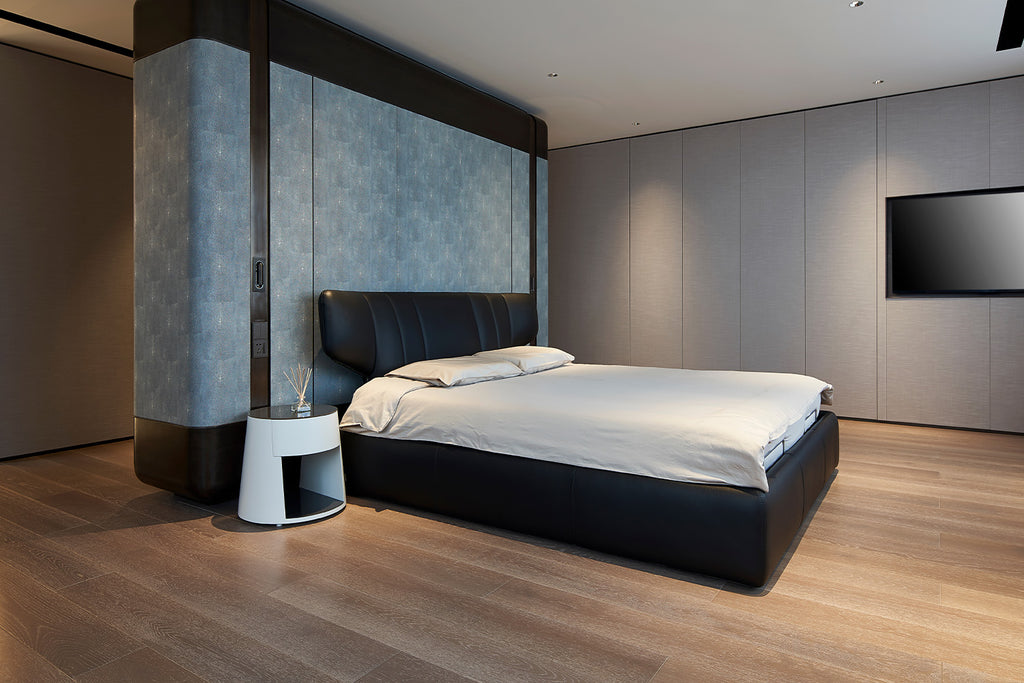 Shopping for mattresses is one of those things that just sneaks up on you. You lie on your bed every day without thinking much about the mattress that you're lying on. But one day, for some reason or another, a light bulb goes on in your head, and you realize that it's time to buy a new one. 
So you look online, you browse mattress stores, and you realize that there are dozens of different shapes, sizes, and features to choose from. One such distinction is the King-sized bed vs. the California King. 
Today, we're going to talk about the differences between these two types. They have a lot of similarities, but which one is right for you and your unique needs? Keep reading to find out. 
The King-Sized Bed
For many people, the king bed is a symbol of luxury and status. They're some of the largest beds out there. They provide ample sleeping room for individuals and couples alike, and they stand prominently in the bedroom to create a beautiful atmosphere. 
The king category of mattresses has several different varieties, including the Texas king, the Wyoming King, and the Alaskan King. But two of the most popular are the regular king and the California king. 
What Is a Regular King-Sized Bed?
The classic king-sized bed is fairly straightforward and incredibly functional. The standard king mattress size, also called the Eastern king, measures 80 inches tall and 76 inches wide, making it almost a perfect square with about 6,080 square inches.
This can make putting on the fitted sheet a little tricky since it's tough to tell what the right direction is, but the extra space is worth it. 
What Are the Benefits?
There are a lot of benefits to the king bed. The signature king-size mattress has plenty of room for two sleepers. Each person in the bed has lots of room to sprawl out in any sleeping position without bothering their sleeping partner. This makes for a comfortable night of sleep without the risk of waking up your significant other. 
But kings are so big that they even allow for a third sleeper if need be. Because of the whopping 76-inch width, people with pets or small children can have a third person join the bed and still have a decent amount of sleeping space for each person to work with. If you're upgrading from a queen-size mattress to a king, you'll definitely feel this difference.
A California king is usually best for stomach or back sleepers. (Side sleepers who like to curl up or sleepers who like spread out starfish-style might do better with the regular king mattress size.)
When compared to a California king bed, the regular king also has some advantages. For starters, the California king is less common than the regular king, so finding bed frames, box springs, bed sheets, etc., can be a bit of a challenge. Not every store is going to carry all of the California king needs, but you can find regular king accessories just about anywhere. 
In addition, the regular king is wider than the California king-size mattress. In a California, it's much tougher to get a third sleeper in the mix if you need it. 
What Is a California King?
The California king, also called the western king, is the perfect bed for many people's master bedrooms. Although the regular king has some advantages over the California, the California has other strengths that the regular king can't compete with. 
The Cal king is the same as a king mattress but with slightly different dimensions. It's only 72 inches wide but is 84 inches tall. It has a slightly smaller surface area of about 6048 square inches. The California king may lack in width, but it makes up for it with extra length. 
What Are the Benefits?
The most significant benefit of the California king is obviously that it's a good deal taller than the regular king. This is great news for tall people whose toes have dangled off the bed their whole lives. With a Cal king mattress, taller people can have a bed that fits their body and their needs. 
On top of being the best mattress for tall people, the California king might fit better in your bedroom than a standard king size. If you have a narrower room, it might not be accommodating to the extra width of a king bed, but the California king might still work. 
Some Downsides
Unfortunately, Cal king beds need different bedding than a standard king. Many people mistakenly think that standard sheets fit on a California, but that simply isn't the case. 
You'll need to buy separate California king sheets, bedding, and a bed frame if you're making the switch to a California. 
Another downside of the California is that it tends to be a bit more expensive than the regular king since they're not as popular. And on top of that, if you want a split king mattress with an adjustable base on each side, you're much more likely to find that in a standard king mattress on an adjustable bed than a California. 
Other Types of Beds to Consider
If none of these two options suit your fancy, lucky for you, there are plenty of other options out there. Here's a quick look at some of the other mattress shapes to consider. 
The twin mattress is the smallest, clocking in at 75 inches long and 38 inches wide. It's great for a single person or a child but doesn't allow much room for sprawling out. 
A twin XL is a slightly longer twin. It is still 38 inches wide, but it's 80 inches long. This makes it an excellent option for solo sleepers who are on the taller side and need a bit more legroom. 

Next, we have the full mattress. It's 54 inches wide and 75 inches long, which is a big width upgrade from the twin. This allows a solo sleeper some more total surface area for sprawling, but it still doesn't have quite enough space for a couple. 
The queen-size bed mattress dimensions are 60 inches wide and 80 inches long. It's the smallest bed that's still big enough for a couple to sleep in. 
If a standard king-size bed or California king isn't enough for you to have some personal space, you may want to try an even bigger option. The Wyoming king gives you even more width and height, making a perfect square that's 84 inches on each side. Then, if you really want a bunch of space and have the room size for it, the largest mattress, the Alaskan king, is a whopping 108 inches on each side and is big enough for four people. 
How Often To Change Your Mattress
While on the subject of mattresses and new ones, it's important to know how often you should get a new one. Many people don't know that a mattress loses its structure and support capabilities over time and needs to be replaced. 
On average, you should replace your mattress every seven to ten years. By this point, the mattress is no longer supporting your body properly, and it could lead to stiffness and pain after you sleep. 
If your mattress is no longer the supportive friend you need, a mattress pad is a clever short-term solution for comfortable sleep until you purchase a new mattress. 
Mattress Care
But there are other things you need to do to take proper care of your mattress, whether it's a twin or a California king. 
For starters, you ought to rotate your mattress from head to foot every six to 12 months. This makes sure that the mattress wears evenly so that it doesn't get a big indentation where your body usually lies. Check your mattress manufacturer's instructions for rotating or flipping your mattress. 
You also need to clean your bedding. Wash your sheets once a week and your other bedding once every two to three months to keep dirt out of your mattress. 
You may also want to use a mattress protector to keep your mattress from wearing fast due to dirt, spills, and the like. 
It's also important to ensure your mattress is properly supported. Uneven weight distribution on your mattress can lead to a damaged mattress, uncomfortable sleep, and even pain. So make sure you have a box spring, solid foundation, or high-quality platform bed frame. 
Finally, it's a good idea to clean your mattress every six months or so. Simply remove all the bedding and use the upholstery attachment on your vacuum to clean off excess dirt and grime. Use a gentle cleanser for any stains, but make sure you don't get the mattress too wet. 
The King vs. California Mattress Guide
Now, you not only know all the differences between a standard king and a California king, but you also know a lot about the different types of beds out there and how to care for them. 
You've got all the tools necessary to go and pick the right mattress for your needs. So get the right one and look forward to amazing sleep every night. 
Sources:
Full vs. Queen Mattress Comparison 2022 | Sleep Foundation
How to Take Care of Your Mattress | Sleep Foundation
An Easy Tip For Putting Sheets On Your Bed Without Losing Your Cool | Southern Living