How To Paint a Wood Bed Frame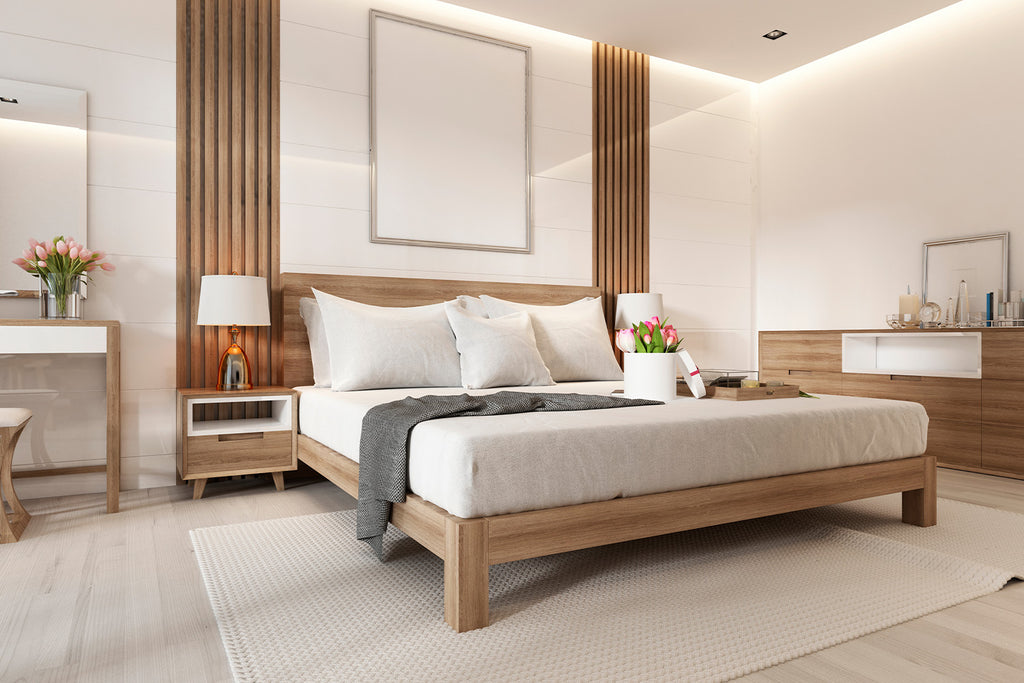 Are you looking to elevate the look of your bed frame? You may have had it for quite some time now and want to give it some more personality. Or, maybe you're looking for something fresh to look at when you enter your room. 
Well, look no further! Today, we will break down the steps you will need to follow to paint a wooden bed frame. 
While the process itself is fairly simple, there are a couple of things to keep in mind when beginning this project. After all, you don't want to ruin your lovely bed frame while trying to heighten its look and appeal.
Keep reading to learn how to get that bed frame looking brand new.
What Are the Best Paints for Wood?
Wood could be tricky to paint if this is your first time doing it. You'll end up in trouble if you accidentally choose the wrong kind of paint. Before we get into the steps of painting a wooden bed frame, let's look at some of the best paint options available for wood. 
Chalk Paint 
This paint is water-based and has a matte finish, making it ideal for painting wooden surfaces. This paint also does not require any intense sanding process before applying, so this is an excellent option if you want to paint your bed frame quickly and skip some steps.
Spray Paint
Spray paint is versatile and can be used on several different surfaces. 
It's cost-effective, and you don't have to worry about uneven brush strokes when using it. As a result, spray paint is perfect if you're feeling intimidated by this project.
Latex Furniture Paint
This paint also works on a variety of surfaces and is more durable compared to other paints, like spray and chalk. 
Latex is also more commonly used on furniture pieces. However, it's also the only paint that requires sanding and priming first. While more work is needed with this option, it will be well worth the time, and you'll have a piece of furniture that looks like it is of the best quality. 
Which Paint Is Best?
At the end of the day, the paint you use depends on the look you desire and the amount of work you wish to put into this project. Following the steps below will guarantee that you have the best-looking bed frame you can get, so make sure to follow each step carefully. 
Step 1: Get the Bed Frame Out in the Open 
You'll need a lot of space to get started on this project, so start by getting some help and removing the mattress from the bed frame. Once you're done, choose a place where you can comfortably begin the process of painting and sanding the bed frame. 
A popular place to do this is in the garage, where the floors are often unfinished, and space can easily be made for something as large as a bed frame. However, finding the space for this project can seem a bit stressful if you live in an apartment or somewhere else that does not have access to a garage. 
The garage is really only recommended because you don't want paint getting on the floors or walls of your house. Likewise, there is more room for unexpected spills in the garage.
Nevertheless, if you don't have a garage, you can easily set down some large tarps and rags in a wider area of your house. Place the bed frame on that surface, and you should be safe from any unexpected spillage of paint! 
Step 2: Get To Sanding 
If you want your paint job on your bed frame to look as professional as it can, sanding is a must. 
While the amount of sanding you need to do really depends on the condition of your bed frame, you should be sanding the majority of the frame no matter what. This step is essential because it makes that paint look as smooth as possible. 
If you are in a time crunch and don't have the bandwidth to sand the whole bed frame, sanding the parts with the most wear and tear will do just fine. If you are unsure what to use when sanding the wood, 80-grit sandpaper will do the trick perfectly. 
Here's a tip: spend no more than five minutes sanding specific areas of the wood. Stop sanding in one spot after five minutes to avoid creating excess friction. 
Once finished, sanding makes the paint look much smoother and sleeker. While it takes extra effort, don't miss this step! 
There is going to be a lot of leftover dust on the floor and the frame after sanding. Once you're finished, take a wet cloth and soak up any dust on the frame to make priming and painting as easy as possible.
Step 3: Apply Two Coats of Paint Primer 
Before you apply that lovely color you have chosen for your bed, you need to put on a couple of coats of primer. 
Primer seals the surface of the wood and prevents any peeling of paint. Peeling is something you definitely don't want to see on your bed frame, so this step is one you shouldn't skip. If you live in humid conditions, priming the wood is even more important since the humidity could easily cause peeling.
You can use a number of different applicators when working with primer. Most people opt for a simple paintbrush, but you can also use a smaller roller or even a paint sprayer. Your tool of choice depends on the space you're in and what will cause the least mess, so keep those factors in mind when it's time to prime.
After you apply the first coat of primer, let the frame sit for at least an hour before going in and applying the second coat. Putting on the second coat too early could pull up parts of the first coat, which in turn, could cause the paint to peel once it dries. 
Step 4: Paint the Frame
After you have allowed the primer to dry, it's time to paint the bed frame itself.
Depending on the color you picked, how much you sanded, and the type of wood you are painting on, you may need a couple of coats of paint. 
Primer is far less messy and easier to remove than paint. With paint, the risk of a hefty mess is much greater. So, if you are in a larger room inside your house, make sure you have plenty of coverings beneath the frame to avoid any paint getting on carpeted or wooden surfaces — or on your skin.
It's best if you use a paintbrush for this part of the process. Using a more precise tool will lower the risk of drippage and globs of paint falling on the floor. 
After you apply the first coat of paint to the bed frame, wait at least an hour before applying the second coat. Waiting too little in between painting coats could lead to awkward-looking streak marks and other aesthetic issues. 
Additionally, make sure your strokes follow an even, uniform line and pattern while painting. Failing to do so could result in mismatched streaks of paint. 
Step 5: Reassemble the Bed Frame
Once you've finished letting the bed frame dry, it's time to assemble any components you took apart and put the frame back in the bedroom. Just make sure the paint is dry; once the drying process is complete, you're free to enjoy your newly painted bed frame. 
If you have disassembled the bed frame, consider placing your bed in a different part of your room. You have already made a change to the look of your bedroom by doing a paint job on the wooden frame — why stop there? 
Takeaways
When looking for paint for your wooden bed frame, some of the best options are chalk paint, spray paint, and latex furniture paint. Each of these paints has its own unique benefits and drawbacks, so take a look at their descriptions and see what works best for you.
In addition, when you begin painting a new piece of furniture, make sure to do the job somewhere that you don't mind getting a little dirty, like a garage. Alternatively, set down some tarps if a garage isn't available to you. 
Finally, always remember to sand the wood on your bed frame before applying a primer. Follow the primer up with two coats of paint. If you follow those steps, you're good to go!
Sources:
Storage ideas for when you don't have a garage to organize your tools and gear | The Washington Post
How Long Does It Take For Paint To Dry Between Coats? | Forbes