7 Ideas on How To Decorate a Dining Room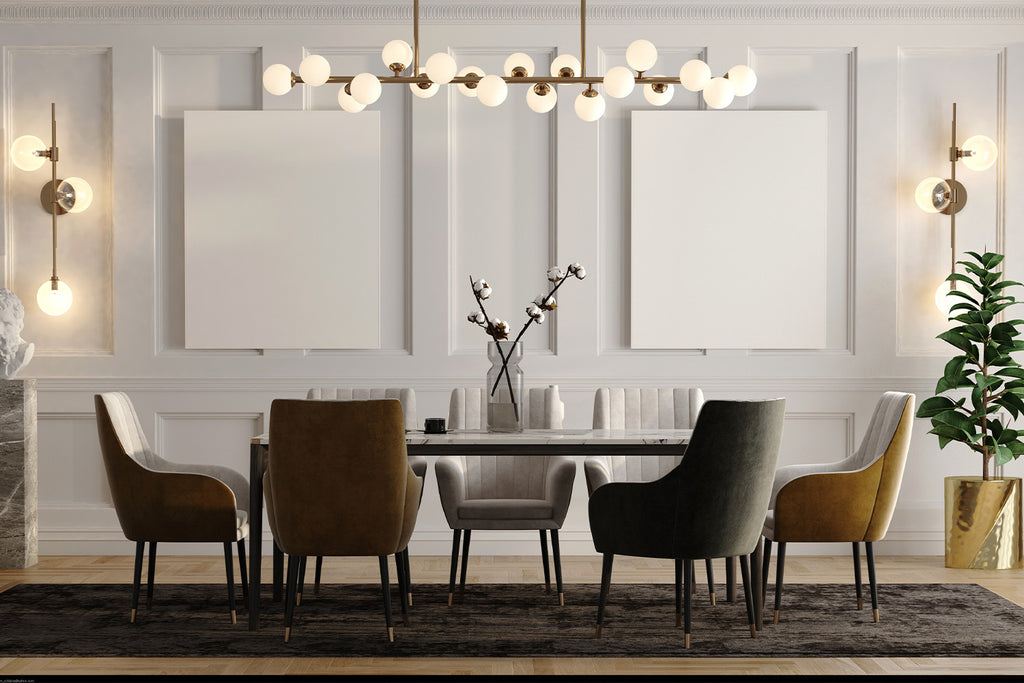 We all love a good dining room. It's the place where your meals take place, where your family gathers for those scrumptious home-cooked recipes, and even where you have drinks, play games, and engage in meaningful conversation with friends and loved ones. 
Obviously, this room is a pretty important one, so the atmosphere in it must be one that is welcoming, comfortable, and, of course, stylish. But on top of all that, it needs to be functional, which can be a tough thing to balance. 
But believe it or not, style and functionality can coexist without much compromise. So here are some top ideas on how you can decorate your dining room for enjoyment, connection, and good taste. 
The Purpose of the Dining Room
In order to truly understand how to best decorate your dining room, we're first going to unpack just what a dining room is and what it's used for. Now, everybody's home is unique. Many people use their dining rooms for different purposes, but in general, here's what the dining room is for. 
Obviously… Dining! 
The main function of the dining room is right there in the name. Your dining room is a place where meals happen, where you enjoy that delicious food you work so hard to make. 
That means a lot when it comes to decor. The decor isn't only about looking aesthetically pleasing, but it's also about making the room work as it's meant to. So your dining room decor needs to include things like a table, comfy dining chairs, and even storage for plates, glasses, or china. 
Hosting and Events
Some homes are large enough to have one small dining room (sometimes an offshoot or separate part of the kitchen) and one larger dining room. In these homes, the larger dining rooms are typically used for grander events you host. 
Family reunions, holidays, birthdays, dinner parties, and even casual get-togethers can all be held in the dining room. Your small dining room is for day-to-day eating, and your big one is for those special occasions. 
This means that your dining room needs to have beautiful decor. If it's for those more upscale events, it needs to look the part, so the decor is everything in the dining room. It needs to feel a step above the rest of the house. 
On top of that, your dining room needs to be comfortable for these occasions. Often, these events go on for hours, and you and your loved ones sit at the same table late into the night, eating and drinking. 
To that end, your room needs to be pleasant to be in and physically comfortable. Comfortable chairs, plenty of space, and natural light are all very important. 
Ideas on How To Make Your Dining Room Special
Interior design doesn't have to be complicated or inaccessible. Here are some decorating ideas that are perfect for any dining area or dining space. 
1. Chandeliers, Sconces, and Lighting
Every room, from the living room to the bedroom, needs light to be effective. So why not make the sources of your light something to marvel at in the dining room? A thoughtfully-chosen light fixture can tie the room together and solidify its style and atmosphere. 
If you're going for an elevated, exquisite look, you may want to install a beautiful chandelier as the room's centerpiece. But if you want a more semi-formal room, a pendant light above the dining table can make a modern dining room. 
Sconces on your dining room wall can make the space well-lit while adding a bit of presence on the border of the room. Even a stylish floor lamp can complete the atmosphere of the room!
2. Display Case 
Many of us were blessed with family heirlooms such as serving trays, bowls, and delicate china. These beautiful dishes are pieces of art, and they can contribute to the feel of the room. 
A display case for your valuable dining glassware, silverware, or dining sets can be a beautiful installment for your dining room. This can be something as simple as a small hutch or pine bookshelf or as lavish as a china cabinet.
Not only does this help make your space more of a formal dining room fit for a banquette, but it gives you a convenient place to store your china for when you need it instead of hiding it away in the attic or basement. 
3. Sideboard or Console Table
Another design idea for a dining room is a sideboard or a console table. If your dining room is big enough, adding a small, narrow table along the wall can be the perfect complement to your dining room table. 
A piece like this adds to the atmosphere of the room but is incredibly functional as well. A sideboard can be used as a buffet table for serving large amounts of people, it can be the gift table at a birthday party, or it can house various pieces of decor to enhance the room. 
There's a lot of flexibility when selecting a piece like this. If you're looking for a low-profile option that's not going to draw a lot of attention, you can opt for one with open shelving underneath or no shelving at all. 
However, if you're looking for functionality or you want a piece to draw attention to the wall, a bigger console table with shelving and doors could be the move. 
On the other hand, if you have a small space, this option might not work for you. Extra furniture could make the room feel cluttered or cramped, so evaluate your space before you choose an option like this. 
4. Area Rug
Rugs are a critical part of all aspects of interior design, and dining room design is no exception. While hanging art and sculptures add visual interest and take up space, rugs help to create visual pathways, connect spaces, and reinforce your design. 
Rugs give a solid foundation for the room. They can also add a pop of color if you want. A dynamic rug solidifies the room and lifts up the more eye-catching points of interest. It's a sort of glue that increases the cohesion in a room and makes the dining room feel grounded. 
5. Upgrade Your Furniture
Another decor tip that may seem obvious is to upgrade your furniture. Your dining chairs, round table, and other elements could be old, worn, or outdated. Sometimes all your room needs is a bit of life breathed into it in the form of new furniture. 
In particular, dining room chairs get a lot of use. Even chairs with cushioning can lose their comfort quickly if they're low quality or not taken care of. Opting for modern, new dining chairs can help your room feel more elegant and comfortable with one simple change. 
6. Gallery Wall
A dining room decorating idea that can be used in any room is a gallery wall of your favorite wall art or family photos. This is one of the best and most fun ways to personalize your space and make it feel like home. 
Plain white walls can be brought to life with wall decor. It's best if you can stick to a color scheme that works well with the rest of the room, but at the end of the day, add art or photos that make you happy.
To make your gallery truly stand out and draw attention, painting the wall behind it to make a subtle accent wall can accentuate your gallery in just the right way. 
7. Table Decor
The dining table is the focal point of any dining room, so one of the best ways to decorate your dining room is with fantastic, beautiful table decor. There are limitless possibilities when it comes to what you can add to your table. 
For a simple element that adds color and functionality, add a table runner. If you're craving a bit more visual interest, opt for a decorative vase with some greenery or flowers. If you like modern home decor, a small geometric sculpture could complete the aesthetic. 
At the end of the day, there are thousands of table decor options to choose from. Just find the one that fits in with the style of the rest of the room, and you're good to go. 
Dining Room Decor
Now you have some ideas to go and give your dining room a makeover. With all of these ideas, you can liven up a room within your style and even improve its functionality. So get your creative brain in gear and get started on your dining room decor project. 
Sources:
8 Interior Design Styles You Can Do to Refresh Your Home | Academy of Art University
Why Lighting Design Is So Important | National Kitchen and Bath Association
50 Dining Room Decor Ideas For a Stylish Entertaining Space | The Spruce